My puppy has Parvo. Do you think she will stay alive? She is on her 3rd day.
Jessica
Answers:
Advice For A Puppy With Parvo
I assume that your puppy has been to the vet and is receiving fluids. My puppy had this 5 years ago and did recover but we had to give her IV fluids and withhold food and water for 3 days, then start giving her just a little water and pureed chicken noodle soup. If she vomited at all, we would have to start the whole process over. Good luck to you and your puppy.
If anyone thinks it is not a good idea to vaccinate your pets, you would not think so if you saw a dog with parvo. It is like having the worst possible stomach flu that lasts for days. Please get your pups vaccinated. My puppy was a rescue and got sick right after I got her, but our vet thinks that she may have had one shot because she and her litter mates all survived. (02/05/2009)
By Sue
Advice For A Puppy With Parvo
Please make sure your puppies are getting vaccinated. And be careful who you buy from and make sure you have an excellent vet. My husband and I bought a pug. She was 10 weeks old when we bought her and she died at 11 weeks of parvo. It was awful watching our little pug being sick, not eating, vomiting and going through all she went through was horrifying for us. Our vet didn't even pick up on it. The first sign of any change in your puppies behavior, get them to a vet ASAP. And make sure they get their shots on time. When picking a vet, get one who knows what they are doing and actually knows something about animals and the diseases they can get.
My husband and I have learned a very valuable lessons from the experience we have went through and I will be very careful who I buy from next, I will be very picky at selecting the next vet that will see my puppy. And always remember, just because you buy a pet from someone and they tell you they had their first round of shots, doesn't mean they actually had them. Ask for records and get the vets name and call and see if they actually got the shots. A puppy or any other animal can become just like a child to some people, so you never can be too careful when it comes to your little loved one. (02/23/2009)
By my528
Advice For A Puppy With Parvo
Hi,
I recently adopted a Rottweiler/Shepard mix at 8 weeks old. Within 4 days of having the dog it caught parvo. We are in to our 6th day with the virus now. I brought him in at the first sign of vomiting (I had no idea it was parvo though). Doc told me it was parvo and told me about it and the effects and fatality rate. My jaw drops and I'm in total shock.
He went on IV's immediately and we were hoping for the best. Next morning the vet calls and says he's really active, eating and ripping the IV out and to come pick him up. He still recommended pills and we gave them to him orally. We pick him up and he played with a ball for a while, I was totally shocked, the puppy was active again. Few hours later he just crashed. Fell asleep around 7:30 pm and had no problem sleeping till 7:00 am the next morning. Only thing I thought was that somethings wrong. We try giving him water and making him eat and get nothing. The next day got even worse, lots of vomiting especially after the dog drank water. It's now Sunday and the vet is closed.
Monday we get him to the vet in the afternoon and he looked really bad. We tried everything we could when he was here but nothing got better. Today is Tuesday 2/24 and the dog is still hooked up to fluids and has a 107 fever. He is still alive but looks very depressed and lost 1.5 lbs from his before 9.5 lb body. We have gone and visited him and will continue to do so until he's released.
Here's where I'm getting jammed. The bill at the vet for 24 hours was $1169. Luckily (I guess) he came from the Humane Society and I was only responsible for a 1/3 of the costs. He has gone back and put on fluids, vet said around $150 a day our cost after the 3rds were divided. This is a lot of money and something that wasn't prepared for. I love my dog and would do anything to save him. I was thinking that after the 3rd day (where my budget ends) I will pull him out and try parvaid. I'm willing and able to pull all nighters. Anything to save this dog. You think he still has a shot? The picture is from before the parvo got him. (02/24/2009)
By Brian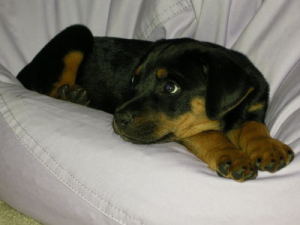 Advice For A Puppy With Parvo
My dog had parvo in this past week, when I woke up he was throwing up and not energetic at all. I tried force feeding him wet food and Gatorade but nothing seemed to be helping, but as crazy as it sounds I called my father up and he suggested I give him a few turkey basters full of ensure and pedialyte. Like magic after about two turkey basters full of it, he hopped up and began eating his food and water by himself. He also seems to be keeping it down :)
(03/01/2009)