My dog has Parvo and I don't know what to do. She started to vomit and then a day later she started to have bloody diarrhea. I took her to the vet and got an IV for two days. It is now the 5th day and I am giving her Pedialyte. She is drinking it and is starting to get up and move more. She is four months old, is there anything else I can do?
By selina from Seattle, WA

Answers:
Advice for a Puppy With Parvo
First of all, my condolences. I know this is a really tough time.
I am going through the same thing. My baby boy is on his fourth day. I have learned few things during that time I would like to share.
The internet is a great resource of success stories of dogs that have survived. They provide hope in this extremely difficult situation. I recommend that you read a couple of "happy ending" stories to help yourself through. But the internet is also chock full of very bad advice. Do not do any homeopathic remedies, without first consulting a licensed vet. There are tons of herbal tea remedies and other natural recipes that people come up with that saved their dogs. I am very happy for those people and their dogs. But I tried a couple of these in a desperate attempt to "do something more" for him and I think I may have made the problem worse. Please no home made science experiment when you pup is so sick. Very dangerous.

Daily keep the vet informed of how puppy is doing and address all concerns with him.

Your puppy needs rest. I know this sounds obvious. But there is the overwhelming feeling that you need to be there in his face 24/7 and be giving him constant attention and petting and telling him it'll be OK. This can actually work against the puppy's ability to fight the disease. Make sure you keep the atmosphere around your pup calm and quiet and just let him be. That was particularly difficult for me to do in the beginning, but my puppy has improved since I stopped obsessing and just left him alone for much of the day.

Enlist the support of family and friends. They can be great for helping to administer any treatment you give at home, support you when you are feeling down and distract you when you feel inclined to obsess again.
Well, that is all I have for now. Best of luck to everyone going through this. (04/18/2009)

By sharon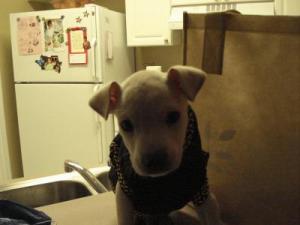 Advice for a Puppy With Parvo
My 10 week old puppy just pulled through Parvo. He fell ill and within hours was vomiting and having loose bowel movements. We took him to the vet and a 5 hour vet visit cost us $700. The vet told us we could keep him there for treatment and quoted us roughly $2000, which I refused and took the sick lil pup home with me.
I then researched the net and found a product made by Amber Technologies and we made a quick trip to the health food store and bought Parvaid and Vibactra Plus (a total of $100 for both products) and within hours of giving him this medication he was eating again and starting to return to his puppy-self. They have an 85% success rate and I would highly recommend this product to anyone who is worried about their dog or puppy coming down with Parvo. Saved us hundreds of dollars and worth every single penny.
(04/20/2009)

By Crystal
Advice for a Puppy With Parvo
Colloidal Silver saves puppies from Parvo, too. Google it and you will see. You can buy it at a health food store. It is clear and easy to give. I would recommend buying the 10ppm one and I buy the Sovereign brand but, any will probably work. Give them Gatorade or Pedialyte, too. Food is not as important as liquids. Hydration is key. Found this testimony on this site http://curezone.com/forums/fm.asp?i=75035 (04/25/2009)
By Andrea