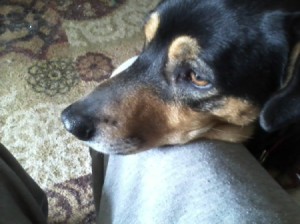 I have had a lot of success with my Catahoula/Rottie doggie, Bruno, by teaching him what the noise outside was when the rain hit the ground. Also when thunder happens. I expect a little bit of regression if there is an unusually loud clap of thunder. I will do the same thing, and say in a rather clipped voice, "rain" and then praise after three seconds.
Bruno would have an unusual response to rain that included breathing difficulty and shaking and distraction and wanting to lay close to us and not being calm and enjoying life at all.
I thought of the concept of teaching him a word that would replace whatever he had in his mind that he associated with that noise. So whenever it would begin to rain or thunder, I begin the vocabulary training. I started saying "rain" in a firm, short voice. Then about two or three seconds later I tell Bruno he is a good boy in a confident friendly voice.
The main reason I think this has been working is that the dog's mind cannot place what the noise is. I was discussing with a friend on Facebook who also has a dog that has this fear, and we decided she would do the recordings and say the word "rain" and then "good boy". I would do the word "rain" without the recordings of rain and thunder, only when it actually happened.
I am happy to report a decrease in the shaking and vibrating bed situation when it thunders and rains. The fear is not completely gone, but the reaction to it has gone down tremendously.
Before he would come over and shake himself to a frenzy. Since I have been doing this (and I have probably done it about 10 times since I had started it), he looks at me and then turns around and lays down. At this point, I tell him "good boy".
On another note, he is a dog that needs lots of jobs. He feels this is a job, knowing what the sound is. He gets praised for doing the right thing, and then lays down or goes off and gets interested in something else.
I had to share this, because, honestly, I didn't hold out much hope that it would work. One of the things that might be a reason it works, is the firm use of the word rain, and the lack of feeling sorry for the dog who is scared and reinforcing the fear again and again by showing "pity."
In training with positive reinforcement, the command is said in a not very happy tone, a firm and bored tone. Three seconds are allowed and then the dog is praised with a lot of emotion in the voice or played with a favorite toy with a lot of happiness.
So for what this is worth, save your money on the dog vests and teach your dog a new vocabulary word.