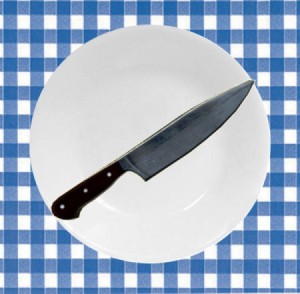 I don't care for wooden cutting boards because they are difficult to sanitize. I bought a heavy plastic cutting board. It seemed OK for a while. Then, I began to get stains in the knife marks. No amount of scrubbing, boiling water, nor pure bleach would remove the stains. I'm sure it was clean, I just didn't like the appearance. I scanned the Internet for a ceramic cutting board. I was shocked to learn how expensive they are. I thought, "There must be some way I can improvise".
I had a Corelle dinner plate and serving platter I never used. I decided to try them as cutting boards for small items. They worked beautifully. Corelle is non porous and can be sterilized, if needed. Perfect! If there is any drawback to using Corelle as a cutting board, it would be that it would tend to dull your knife quicker than a wooden or plastic board. So, easy on the pressure.
Before posting, I wanted to be sure it was safe to use Corelle as a cutting board. I found that Corelle is a three layer laminate made of Vitrelle, a tough, chip resistant and lightweight glass. Sounds good. If you don't have any Corelle, you could probably pick up a piece at a yard sale for 50¢.
Yeah, but is it really safe? Well, I just now found that Corelle manufactures it's own line of cutting boards. I found a nice 20x16 at Amazon and get this; it cost only $40.00!