March 5, 2018
0

found this helpful
Thanks. This looks easy enough, and I'm going to try it. Anything to keep those adorable squirrels at bay, not excluding a 20 gauge double barrel shotgun.
March 5, 2018
0

found this helpful
Some are worth keeping around. The ones with character, that interact, and do not bust up your beautiful garden!!!
I make no apologies. When every year, hundreds of bedding plants are dug up and die because their roots are exposed to the Sun, the only good squirrels with character are dead squirrels with character.
I worked long and hard to grow these pansies from seed, only to have squirrels dig them up, merely for the hell of it. Yes, I wish they all were dead.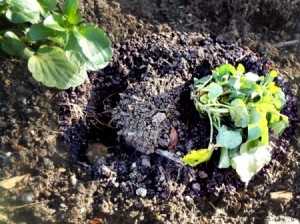 Yes, I could love a squirrel as much as any dog, cat, or bird I have made friends with. But it hurts to see what you have worked so hard for destroyed just for fun.
If a child continually came onto my property and destroyed my flowers, I could take its parents to court and have them compensate me for damages done by their child.
The squirrel can destroy my flowers and doesn't have to answer to anyone. Does our legal system deem the squirrel deserves more leniency than our children?
I think most legislators are a few bricks shy of a load.
In my home town there is still a law in the books that says it's illegal to tether your horse overnight on Main Street. Go figure.
March 6, 2018
0

found this helpful
It's illegal here in California to harm/poison/kill squirrels, but we sure wish they would go away. These flashy windmills work on some of them, the chili spray works on others, but we can't think of a way to get them all to bugger off 100%! I understand your pain... Mumzy, more so. All your hard work!
March 18, 2018
0

found this helpful
lol if a lawyer could make $$ off representing squirrels chances are they'd try it
March 11, 2018
0

found this helpful
Love the pin wheels and can't wait to make some for my garden!
**I usually get one or two visits from squirrels at the beginning of spring but after my Cairns chase them... they don't come back. :)
We even had one that we would see leave its nest and make his way up the hill to another neighbors yard but he would always stop and watch our yard for a few seconds before continuing on his way.
March 11, 2018
0

found this helpful
Haha! I guess that's what we need.. some pups :) Enjoy making these pinwheels!!
March 18, 2018
0

found this helpful
hey thanks a bunch! i never know what to do with these and i have a seltzer habit
now if only you could tell me what to do with all the little plastic hummus containers, lol, i be all set
March 19, 2018
0

found this helpful
Haha! I will come up with something just for you, Jean Genie!