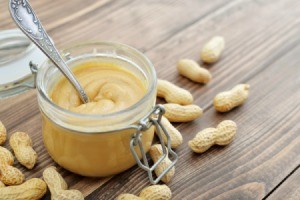 I would love to slather this spread on homemade Amish bread. Since I can't bake for a darn, and there are no bakeries in my area where Amish bread is available, I'll have to be content with spreading on toast, dinner rolls, and bagels; or to use as a dip for apple slices, strawberries or even pretzels ;-)
Ingredients:
1/2 cup packed brown sugar
1/4 cup water
1 Tbsp. butter, softened
2 Tbsp. corn syrup
3/4 cup peanut butter, smooth or crunchy
1/2 cup marshmallow creme
1/2 tsp. vanilla extract
Directions:
Combine sugar, water and butter in a medium saucepan over high heat and bring to a boil.
Reduce heat to low, stir in corn syrup, simmer for just 1 1/2 minutes and remove from heat.
Fold in peanut butter, marshmallow crème and vanilla and stir until well blended.
Keep stored in a lidded glass jar in the refrigerator. It will get rather hard after refrigerating so bring the amount you want to use to room temperature before using.
By Deeli from Richland, WA