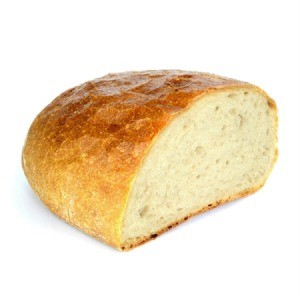 Ingredients
2 cups warm water (110 degrees F/45 degrees C)
1/3 cup white sugar
1 1/2 Tbsp. active dry yeast (not Rapid Rise)
1 1/2 tsp. salt
1/4 cup vegetable oil
6 cups bread flour
Directions
I made this with my KitchenAid Mixer.
In the mixer bowl, dissolve the sugar in warm water and then stir in the yeast. Allow it to proof until the yeast resembles a creamy foam, at least 10 - 30 minutes. Mix salt and oil into the yeast. Add about 2/3 of the flour and using the dough hook, beat for about 2 minutes on speed 2.
Continue adding flour, 1/2 cup at a time until the mixture forms a ball on the hook and cleans the side of the bowl. (you may not use all 6 cups of flour and it's OK) Continue on speed 2 for another 2 minutes.
Turn it into a greased bowl, cover with a damp cloth. Allow to rise until double in bulk, about an hour.
Punch down and knead for a few minutes, then divide in half.
Shape into two loaves and put in two oiled 9x5 inch loaf pans. Allow to rise for 30 minutes or until the dough has risen 1" above the pans.
Bake at 350 degrees F (175 degrees C) for 30 minutes.
Pop out of pans onto racks and allow to cool. You may also put butter on the tops while they are still warm.
Also, instead of two loaves of bread, make 1/2 the recipe into dinner rolls.
Source: Originally from AllRecipes.com, but I modified it by reducing the sugar and using the KitchenAid mixer.
By Lora Herrin from Milwaukie, OR