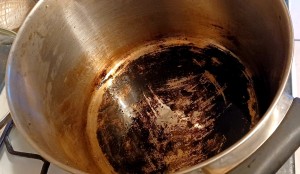 Please note that I haven't tried this on a pan with a non stick coating. However, if your pan is so burnt that you'll have to throw it out, then you may decide it's worth a try.
See in the first photograph how I've unsuccessfully tried to clean this burnt saucepan by hand.
Simply take a dishwasher tablet. Any kind with do the trick
Pop the tablet in the pan with water and bring to the boil. Simmer for five to ten minutes. You will see flakes of black start to come off immediately
Take the pan off the heat and leave it overnight.
In the morning tip out the dirty water. The burnt layer will wipe off easily with no scouring necessary
Occasionally you will need to repeat the process
As you can tell, burning pans is a frequent trick of mine and I've thrown out many a saucepan in the past. This method has saved me a lot of money!