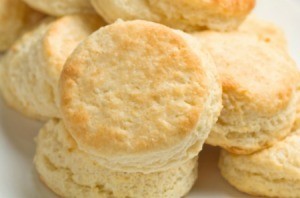 Angel biscuits are a cross between a roll and a biscuit. They are just like the biscuits in the refrigerator section of the grocery store - only better. They are an excellent introduction to yeast baking, and are very easy. You don't have to knead them or let them rise.

In addition to being delicious and easy, you can make up a large batch, cut them - and then freeze them! Then you have home-made biscuits any time you want (Serving guests a nice meal with home made biscuits and homemade jam is very impressive, by the way. You don't have to tell them how easy it is!).

This recipe makes 2 dozen large biscuit, or 3 dozen small ones. To freeze them, cut them the way you like, put on a baking sheet. Freeze until solid enough that you can put them in a bag and they won't stick together. Freeze in a good freezer bag until you need/want some more.

Then just take the number you need out in the morning and put them in the refrigerator until dinner time, or get out about 2 hours before dinner and set them out on the counter. A big time saver is to make a double batch up at the beginning of the month. You'll have wonderful biscuits whenever you want.
Ingredients:
2 1/4 cups buttermilk
1 Tbsp. instant yeast (or 1 packet)
5 cups flour
1 Tbsp. baking powder
1 tsp. baking soda
2 1/2 tsp. salt
3 Tbsp. sugar
3/4 cup lard or shortening or butter
Directions:
Using a heavy duty stand mixture makes this as easy as can be. With the regular beater, you can mix the dry ingredients, cut the lard in, and then mix it all up. I highly recommend it.
Put all the dry ingredients in the mixer bowl. Run of low for about 10 seconds. Then add the lard in, 1/4 cup at a time. When the lard is mixed in well, turn the mixer up 1, and slowly pour in the buttermilk.
The dough will be wet and sticky and hard to work with like this. But cover it up an put it in the refrigerator for at least an hour, preferably overnight, and this dough is wonderful to work with. Turn the dough out onto a lightly floured service. Cut it into 2 or 3 equal parts. Put what you are not gong to use back into the fridge until you have time to put it in the freezer.
Take the rest of the dough, knead it 2 or 3 times, then roll it into a 1/2 inch thick rectangle. Cut with a biscuit cutter, or do what I do - cut it into 12 equal squares. Place on a baking sheet you've sprayed with Pam so that the biscuits are barely touching. Brush with a little very soft, or melted butter. Bake until gold brown, 10 to 12 minutes. Serve.
Servings:
2 - 3 dozen biscuits
Cooking Time:
10 - 12 Minutes
By Free2B from North Royalton, OH

Free2B
Bronze Post Medal for All Time! 216 Posts
February 3, 2012
0

found this helpful
I forgot to add a step: when you roll the dough out, fold it over like a letter, in 2 folds. Roll it out and fold again. Then roll it out and cut. This makes layers in the dough. If you haven't tried cutting them in squares, it really works nice.
This is a dough you don't want to over work. Cutting in squares eliminates the leftover dough after cutting circles. You have to rework that dough, and it won't be as nice.