Angel Hair Pasta Recipes
Solutions
Share on ThriftyFunThis guide contains the following solutions. Have something to add? Please share your solution!
March 19, 2010
9

found this helpful
Since I absolutely love all these ingredients of course I couldn't resist trying this recipe and I definitely was not disappointed! :-)
Ingredients:
1/2 (16 oz.) package angel hair pasta
2 Tbsp. olive oil
2 cloves garlic, crushed
1-1/2 oz. sun-dried tomatoes, softened and chopped
1/2 (8 oz.) package tomato basil feta cheese, crumbled
1/2 cup grated Parmesan cheese
1/2 bunch fresh cilantro, chopped
salt and pepper to taste
Directions:
Bring a large pot of lightly salted water to a boil. Cook pasta in boiling water until done; drain. Return pasta to the pot.
Mix in olive oil, garlic, tomatoes, feta, and Parmesan cheese. Stir in cilantro and season with salt and pepper. Serve warm.
Servings:
4
Time:
15 Minutes Preparation Time
15 Minutes Cooking Time
Source: Allrecipes
By Deeli from Richland, WA
October 22, 2010
7

found this helpful
If you like the flavor of peperoncini as much as I do, you will love this recipe!
Ingredients:
8 oz angel hair pasta
2 Tbsp. extra virgin olive oil
1 1/2 lb. cherry tomatoes
1 tsp. minced garlic
2 Tbsp. jarred peperoncini, stemmed and finely diced
1 Tbsp. nonpareil capers, lightly chopped
1 tsp. fresh lemon juice
1 tsp. unsalted butter, softened
1/2 tsp. lemon zest, finely grated
Directions:
Heat the oil over medium high heat in a large skillet, add the tomatoes and cook until they begin to collapse and their juices are running and start to thicken, about 6 to 10 minutes. Add the garlic and cook for about 30 seconds.
Remove the skillet from heat and stir in the pepperoncini, capers, lemon juice, butter, and lemon zest. Season the sauce to taste with salt and keep warm.
Meanwhile, cook the pasta al dente according to package instructions, drain, place on serving plates, top with sauce, and serve.
By Deeli
Oh, this is so flavorful and screams "Italian" all the way! Though I use jar pesto sauce, I doctor it up my way. If you love pesto, you will love this 10 minute from stove to table dish. :)
Ingredients:
1 lb your favorite angel hair pasta
1 jar Barilla pesto sauce (I personally think this is the best brand) 6.3 ozs.
1/2 water in pesto jar (it rinses out the leftover pesto)
4 large cloves fresh garlic, chopped
2 Tbsp fresh butter
1/4 tsp black pepper
1/2 tsp chopped dried onion
1 Tbsp dried basil
1/4 tsp Italian seasoning
2 Tbsp olive oil
4 Tbsp butter
1 ... bag (8 oz) Parmesan cheese, shredded fine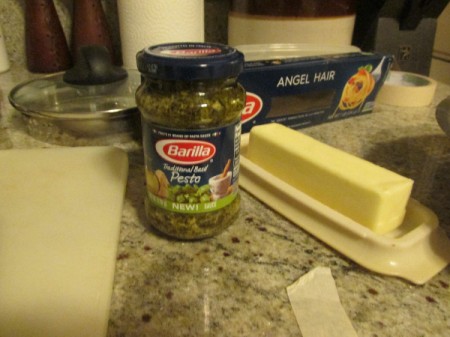 Steps:
I break all my pasta in advance into a colander into 4" pieces. It is easier to eat.
Put on a large pot of hot water on high with a tsp. salt. When it comes to a boil, put in your broken pieces of angel hair pasta. Cook as directed to al dente.
Using a small saucepan, add butter and chopped garlic, and stir in all your spices. Pour your pesto sauce in. Fill the jar halfway with hot water, put the lid on and shake. Dump it into pan and stir well. Turn down and let simmer for 2 minutes while pasta is being strained.
Put strained pasta, butter and olive oil in the pasta pot. Pour over all the pesto sauce. Add a little water to the saucepan, to get all the pesto out. Stir it well and add it to the pasta. Stir it well until it is well mixed throughout.
Add a handful of the shredded Parmesan cheese to the pasta. If the pasta seems too thick at anytime, you can add a 1/2 cup of very hot water.
Serve in large soup bowls (it keeps the pasta hotter longer). Add Parmesan to top each bowl. Wow, that's Italian! Mangia!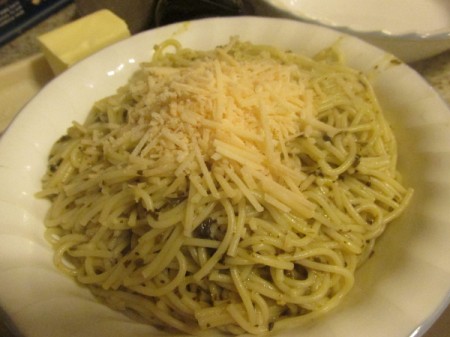 This is a recipe I learned from my mother, who is now 92 years old. It is one of the best spaghetti recipes I've ever tasted, and my family and friends agree.
Read More...
Cook pasta according to package directions. Meanwhile, combine remaining ingredients in a large bowl. Rinse and drain pasta; add to tomato mixture and toss to coat. Serve immediately.
Read More...
Related Content