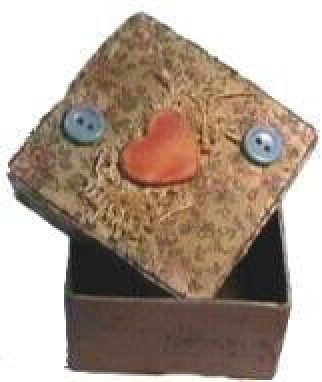 Materials:
Paper mache Square Box
pattern floral fabric
odd buttons and lace
PVA glue and craft Glue
Acrylic paints
wooden shaped heart
Instructions:
Start by painting the inside and outside of your box with a complimenting color to your fabric.
Once your box is dry, using your lid as a template cut a square of fabric that is just larger than the top of your box.
Next, place some glue onto your lid and glue down the fabric. Then place the small edge down tightly onto the sides of the lid. This will be covered up in a moment.
For the side of your lid, fold a piece of fabric about 1 cm's larger than the width of your lid's edge. Now fold both the outside edges into the middle to form a neatly folded binding the same width as your box lid's edge. You may need to iron it down to keep it straight.
Then placing folded edges in, glue it down and around your box. Use the picture above as an example.
Now using some coffee mixed in water, paint your box to give it a antique effect. Try not to use too much liquid, just a nice dry brushing of the coffee mix will be enough to stain it.
Now decorate your box with buttons and lace then glue your wooden heart on top.