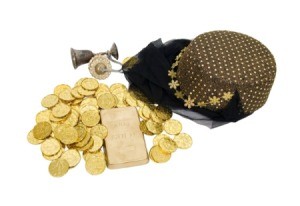 I want to have an Arabian theme party for daughter turning 13. I need tips for decorations and invitations. I need it to be as inexpensive as possible, I am a single parent.
Nicole from Dallas, TX

Answers:
Arabian Nights Birthday Party
If you have the room for it, try making the space where the party will take place into a "tent ." Find inexpensive ecru or white material ( WalMart usually has this), or cheap top sheets. Gather several together at the top, fasten in the middle of the ceiling around the light fixture (leave it turned off) and let them drape to the floor. Then take each panel and pull it back to the walls, letting it kind of billow before tacking to the wall, and finally let it drop down to the floor.

Place a brick on the material next to the wall where it can't be seen from behind. Remove most or all of the furniture and place some peacock feathers, plants, and large pillows, etc. around to make it look like you're inside a large Arabian tent. This can be done in half the room or the entire room. Cool clear twinkle tree lights can be placed behind the sheets on the floor or battery powered camping "lanterns" can be placed behind the sheets for a warm glow.
Never use lamps, candles or anything else that generates a lot of heat that could start a fire. Tassels and square shaped bells can be hung from the center of the "tent." I've done this before and it is very attractive. Have fun and Happy Birthday to you! (11/02/2007)

By Sandra Stout
Arabian Nights Birthday Party
I have my daughter's 18th birthday coming up and she has chosen Arabian night as the theme.

My problem is that there is not a confined area; We have the backyard, living room, family room and the patio all being used. There are 150 quests invited. How can I make the ares all coming together as one unit. We can not afford to have a big tent. We can use any suggestion (11/20/2007)
I have my daughter's 18th party and she wants to have Arabian nights as the theme. There are 150 guests invited. How can I bring the theme with that many people and a wide range of areas; Back year, patio area, living room and dinning area.
I need to make the area confined and it is hard for me to picture where this should be done.
Please advise.
noushin from Los Angeles, CA
Answers
By heather (Guest Post)
December 16, 2008
0

found this helpful
Best Answer
For my invitations I went to Staples and gold a gold colored paper. I printed out the invitations and used an electric stove to burn the sides and make burnt marks around the rest of the paper. Afterward, I taped incense to the bottom and rolld them up like scrolls.
Then, I bought gold string to tie them with. Everyone commented on how much they liked the invitations. They thought i got a professional to make them!
Answer

this Question