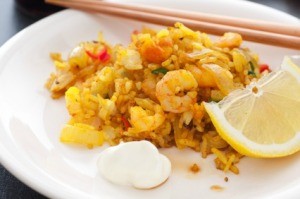 Does anyone have any ideas for cheap eats that are gluten-free, egg-free, dairy-free and that don't take much time to prepare? I'm allergic to all that and am spending far more than my budget will cover on food, plus I'm working on my master's and don't have much time to prepare meals. Thanks!
Shellee from Carson City, NV
Answers
By Mysti (Guest Post)
April 16, 2007
0

found this helpful
Spaghetti -
1 lb. hamburger meat
2 Hunt's Traditional Spaghetti Sauce
Kinnikinnick spaghetti noodles (I buy these at Whole Foods or Vitamin Cottage)
If it's just you, I'd make up a pot of sauce and just enough pasta for your meal. Then I'd freeze the leftover sauce in small containers.
By Mysti (Guest Post)
April 16, 2007
0

found this helpful
Tacos -
taco shells
ground beef
taco seasoning (McCormick's is g/f)
lettuce
tomato
By Mysti (Guest Post)
April 16, 2007
0

found this helpful
BBQ Chicken Breasts -
chicken breast with or without bone
BBQ sauce (Kraft and Hunt's have some that are g/f - just read the labels)
Bake or grill chicken until done. Put into bowl and pour warm BBQ sauce over...then toss to coat.

Jess
Silver Post Medal for All Time! 267 Posts
April 16, 2007
0

found this helpful
Soups would be a good, frugal option. You can make the broth yourself or check the ingredients, I use Pacific Foods broth. Chicken with rice or rice noodles would be delicious. Potato soups or stews will thicken up without flour, as will chili or any bean soup.
Another option would be stir fry. You need to make sure not to use regular soy sauce, but to buy "Wheat Free Tamari" It tastes almost exactly the same. Sesame oil is another way to get a nice flavor. You can add whatever meat you like or just do it with seasonal veggies. Served with rice, this is easy, healthy and inexpensive.
If you have a Trader Joe's in your area, they have a great deal of options for different dietary needs. They speak very highly of their rice pasta.
Here is a very cool website that I came across when looking for gluten/dairy free recipes recently. www.damefandango.com/
Good Luck.
Jess in Portland, OR
Read More

Answers