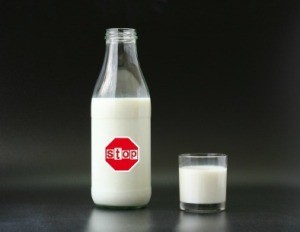 Read the news from USA Today a few days ago: More than 60% of people have problem with digesting regular milk. Here is the link:
Please do not be fooled by the news or by milk industry. If you are one of those 60%, like me, there is nothing wrong with your body. I can not drink regular milk. In the past I had to drink lactose free milk.
Then one day, I tried the organic milk, I was just fine with it. So now I consume organic milk instead of regular lactose free milk. I am suspecting that there is some chemical in the non-organic milk that our body can not digest. If you are the one who can not take regular milk, give organic milk a try. If it works, please come back visit Thriftyfun and give me a thumbs up.
By Andy from Bay Area
Read More

Comments
Does lactose free milk, rice milk, etc. taste anything like regular milk? I've started having some problems drinking milk. I don't want to buy one of these products finding out it doesn't taste anything like milk and having to put it down the drain.
By Betty
Answers
February 6, 2011
0

found this helpful
Lactose-free milk is simply milk to which the lactase enzyme has been added, since lactose intolerant people don't produce it (or produce enough of it). The resulting milk is a tiny bit sweeter than regular milk, but this is barely noticeable.
My daughter is lactose intolerant, and when she is home, I buy the lactaid (but the store brand), as if she doesn't use it up, I am happy to drink it. She also likes the "light" vanilla soymilk. She has also found that if she can get the milk with lactobacillus acidopholus, it agrees with her, too.
Similarly, yogurts with the L. Acidopholus agree with her. Most cheeses are OK, but she gets lactaid cottage cheese.
But I would not hesitate to get the Lactaid types of milk. Good luck.
February 6, 2011
0

found this helpful
Lactose-free milk is too sweet for me. I'm much happier taking a lactose enzyme tablet and drinking regular milk. Obviously, everyone's tastes are different. I'd recommend buying the smallest container of lactaid milk available the first time around. That way, you can determine what works for you. Good luck!
February 7, 2011
0

found this helpful
Please do try all the non dairy milks out there. They are great. Aside from doing your part to end the horrific cruelty to the dairy cows (sorry but it is what it is) non dairy Mylks are good. I drink coconut,rice,almond and use soy a lot though the latter is my least favorite for drinking. I am Vegan but my carnivore son who lives with me cannot consume lactose and I would not have cow's milk here anyway and he really does like the almond milk for his cereals and really likes the soy chocolate milk. Good luck. Can't hurt to try!
February 7, 2011
0

found this helpful
I sympathize with you.
The only way to find out which non-dairy milks you prefer is to buy the smallest size of each one and try it for yourself.
I like Silk soy milk (after trial and error), but have found that store brands are OK, too. Depends what is available in your neighborhood. Just be aware that very few of the rice, nut, and soy milk chocolate milks, eggnog, and coffee creamers are not diet products (and that's why they taste to great!). Read labels. Keep a chart and give ratings. Different stores have different brands of these milks. Don't forget to shake before serving.
You will like the non-dairy frozen ice cream substitutes. All of them.
Happy testing!
February 7, 2011
0

found this helpful
Aged cheeses (cheddar, Swiss) are better than Jack.
Breyer's makes a lactose-free vanilla ice cream. I also like Tofutti. The less cream there is in milk the more you'll react (or I react) to the lactose, skim milk, forget it. I can only get by with 1/4 c. of regular milk. I tolerate fat-free 1/2& 1/2 but then I only use maybe 1/4c at a time. I don't like any of the substitutes (so you see, everyone is different). If there's a health food restaurant near you, ask if they have non-lactose milks and explain your problem and see if you can taste what they have
February 7, 2011
0

found this helpful
Have you tried 2% milk? It might make a huge difference because of your possible milk intolerance and is easily adjustable flavor wise once you get used to the non-rich whole milk flavor.
Tone102, small dairy farms and organic dairy farms treat their cows very well and every human's body needs different types of nutrients so dairy cows do supply necessary nourishment. One example is that dairy products give a body so much more natural calcium than double and triple the amounts of veggies do and without the risk of not receiving enough zinc. Just food for thought. ;-)
February 8, 2011
0

found this helpful
2% milk contains more lactose than whole milk as it's more concentrated. If you miss the taste and texture of whole milk then try 2% Lactaid milk. Skim Latcaid tastes more like 2% in regular milk. I cook with it and make my own yogurt. Powdered milk is high in lactose. I can have small amounts of products with lactose like a 1" cube of cheddar but more than that and I suffer the consequences.
February 8, 2011
0

found this helpful
Try the other milks, like soy and rice. My son who is three and has kidney disease, has rice milk in his cereal and oatmeal, and he doesn't seems to mind the difference. I've tried it too and it seem fine. I put it in most recipes that call for milk, that don't require the fat from the milk. I myself, use, skim milk, because I had my gallbladder removed and cannot handle any other milk except rice and skim milk.
February 8, 2011
0

found this helpful
Betty, I want to let you know that the reason I suggested 2% milk is because it's low in fat and because it's low in fat it moves through your intestinal system much more quickly than whole fatty milk does so it is a much less likely chance of having intolerance symptoms.
February 10, 2011
0

found this helpful
So Delicious Coconut Milk tastes more like cow's milk than any other non-dairy beverage. They even have an unsweetened version! My kids love it, and the little one who doesn't like regular milk loves it, too!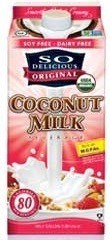 February 13, 2011
0

found this helpful
My friend Bill is lactose intolerant and loves the Lactaid and Smart Balance Lactose-Free Fat-Free milks, and even store brands. He says it tastes just like regular milk. He also uses "milk pills" because he eats regular cheeses and must counteract them. Bill convinced me to use Fat Free milk, because I need to diet, and I like it too. They really make it taste as good as whole milk. (I am not lactose intolerant - I use regular fat-free milk.) If you try it and don't like the taste for drinking or cereal, you can use up the rest in baking or pudding, so it doesn't all have to go to waste.
Answer

this Question
Does anyone know if homemade yogurt affects people who are lactose intolerant? I have intestinal problems, and have heard (and read) how homemade yogurt helps with that. But I'm also lactose intolerant, and am wondering if all that milk will cause further problems. Or does the body handle the lactose in yogurt differently?
By Martie from Mankato, MN
Answers
September 1, 2009
0

found this helpful
I am lactose intolerant as well, but am able to eat yogurt, cottage cheese, ice cream, and chocolate. It's just something in milk that upsets my system completely. I've heard, and now believe, that yogurt will help adjust your system, but you may never be able to drink milk or eat ice cream in great quantities.
September 1, 2009
0

found this helpful
I'm lactose interolerant as well and have always been able to handle yogurt (but not ice cream, milk, or cheeses with high milk content). My Aunt is so sensitive she can't even eat the smallest amounts of cheese or baked good containing butter. It must depend a lot on the person. Oddly ever since I was pregnant with my first baby, I've been able to handle warm milk (not cold milk) and am less sensitive to cheeses. Of course I use this to rationlize a latte addiction. It's one of the only ways I can handle dairy without becoming ill.
September 2, 2009
0

found this helpful
I'm lactose intolerant but yogurt doesn't affect it because the the the lactose is broken down by the active yogurt cultures.
"Some studies have shown that the active live bacterial cultures (also known as probiotics) found in yogurt help lactose digestion."--www.healthcastle.com/herb_lact.shtml
December 7, 2011
0

found this helpful
Yogurt helps heal the gut lining in two ways: beneficial healthy bacteria and the texture of yogurt. If you have a sensitivity to dairy, it is best to avoid it completely- most especially if you are looking to heal from the allergy. Avoid it at least 3 months if you are doing a stomach lining healing.
Allergy/intolerance are usually caused by a damaged intestinal lining, so any exposure the the thing it is telling you to stop eating is a must. Research what some good brood-spectrum "pro-biotics" are. Watch out, though. There are some really awful ones that are practically useless and whose bacteria are derived from animal, not human cultures, or that is not refrigerated or heated up while processing- rendering it not "live" anymore.
For a yogurt alternative, try making a non-dairy pudding (look it up online but it is something like heating a non-dairy milk up with sweetener, adding vanilla and egg on low/med til thickened), then add your pro-biotic blend in- about a 1/2 to 1 tsp full per cooled pudding cup. Mix in and let this set in the fridge can increase it's healthy bacteria count even more and be so much more beneficial than any regular store bought yogurt anyway.
If you need a brand name to look for a probiotic, I know that Klaire Labs has a few great ones. I think you can get this on Amazon, but make sure it is always kept refrigerated and shipped cooled. As far as the other reason yogurt is healing, the texture itself makes it easy to digest. In fact, anything slimy is easy for the stomach lining to absorb (avocado, jello/gelatin, etc)
Answer

this Question
I am on a lactose free, gluten free diet and furthermore have been advised to eat a lot more complex carbohydrates (lentils, chickpeas, or even more adventurous foods).
Does anyone have any suitable recipes that I can use in the slow cooker (crockpot) and leave cooking all day whilst out at work?
Katey Nixon, England
Answers
By C. Romaine (Guest Post)
May 2, 2005
0

found this helpful
Try http://www.recipezaar.com and click on crockpot (or slow cooker) recips. Maybe you could check with 'Robin' on this thriftyfun site. Seems to me she's on every day with some recipe or other. She must have lots and maybe some to help you. For recipes though - a RECIPE site like recipezaar is really the best place. Good luck.
May 2, 2005
0

found this helpful
Kraft.com has some great resources for you
June 17, 2005
0

found this helpful
I have heard that if you salt the food at the beginning of the cooking, it will make the beans tough. So, salt to taste at the end of the cooking cycle.
When you read a recipe that will not be made in a crockpot, be aware that the fresher beans will cook more rapidly than the older ones. If made in a crockpot, there won't be much difference as those pots can cook for additional hours with no damage to the food.
Also, if you cook the beans with a piece of kombu seaweed (aka sea vegetable), it is supposed to substantially cut down on the gassiness.
I have had better luck with cooking beans in a crockpot than in a kettle on the stove. They seem to come out more tender.
If you are planning on pre-soaking the beans, replace the soaking water with fresh water for cooking!
Holly
September 7, 2009
0

found this helpful
Slow Cooker Lentils and Sausage, Slow Cooked Baked Beans, Slow-Cooked Vegetables, Slow Cooker Barbecue Beans, Slow-Cooked Chili , Slow-Cooked Chowder ,Slow Cooker Homemade Beans, and Slow Cooker Vegetable Soup are some of the recipes at allrecipes.com ...search for slow cooker recipes.
I think that any recipe you find making beans, lentils, or dry peas could probably be easily adapted to the slow cooker. Add a little extra liquid and try it for the longer time ...8 hours on high. If you get home before it is done, check it and see if it is ready then adjust the length of time next time.
Garbonzo beans are chickpeas and can be used in bean salads. We have added them to 3 bean salads making it 4 bean salads for years. If the recipes call for milk, use lactose free milk. Hope you find some recipes that you enjoy. H-
Answer

this Question