By Cynthia Smith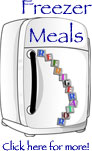 There aren't many recipes this good that call for only five ingredients! With just a couple of short cuts and a little effort, you can enjoy your own Sloppy Joes whenever you want to!
3 pounds of ground beef
3 cups of catsup
2/3 cups sweet pickle relish
1 envelope onion soup mix
When ready to serve: 14 hamburger buns
In a large saucepan (Dutch oven), cook beef over medium heat until it is no longer pink and then drain the excess fat. Stir in the catsup, relish and soup mix and then heat thoroughly. Cool and freeze in a container for up to three months.

To serve Sloppy Joes, thaw in the refrigerator, heat thoroughly in a saucepan and serve on hamburger buns.

Awesome Sloppy Joes yields 14 servings.
Answers:
Awesome Sloppy Joes (Freezer Meal)
These sound great. I am going to make a batch and divide up for freezer, as dh doesnt care for sloppy joes, but dd and I like them. Thank you for sharing. (05/04/2006)

By jmz2005
Awesome Sloppy Joes (Freezer Meal)
haven't had a sloopy joe so it sounds good (05/04/2006)

By meoowmom