Freezer Meal Dinner Recipes
Recipes
Share on ThriftyFunCheck out these recipes. If you have made this recipe please submit a photo and let us know how it worked. Or, add your own recipe variation.
Cynthia Smith
0

found this helpful
Say goodbye to generic jarred pasta sauces and experience your own restaurant quality meaty pasta sauce any day of the week. Prepare large batches in advance, freeze and enjoy with every pasta meal.
Ingredients:
1 lb. of ground beef
1 lb. bulk Italian sausage
1 cup of chopped onion
1 can (28 oz.) of crushed tomatoes
2 cans (6 oz. each) of tomato paste
3 cups of water
2 jars (4 1/2 ounces each) of sliced mushrooms, drained
1 cup of chopped pepperoni
2 Tbsp. grated Parmesan cheese
1 Tbsp. sugar
2 Tbsp. Italian seasoning (can substitute oregano, basil and parsley)
2 tsp. garlic salt
1 tsp. dries parsley flakes
1 tsp. crushed pepper
Directions:
In a large saucepan (Dutch oven), cook the beef, sausage and onion over medium heat until the meat is no longer pink and the onions are tender. Drain the excess fat. Stir in the tomatoes, water, tomato paste, mushrooms, pepperoni, Parmesan cheese, sugar and seasonings. Bring to a boil. Reduce heat, cover and simmer for about 30 minutes. Cool the sauce before freezing in serving sized portions.
To use the frozen spaghetti sauce, thaw in the refrigerator overnight, heat it in a saucepan and serve it over your favorite dish.
This recipe yields 11 1/2 cups of sauce.
Amy Mahoney
0

found this helpful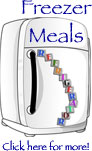 Great as an appetizer or main meal, these beef-filled cabbage rolls are sure to please.
Ingredients:
1 lb lean ground beef (uncooked)
1 tsp salt
1 tsp pepper
1 cup cooked rice
1 head of green cabbage
1 48 oz. can of tomato juice
Directions:
In a large bowl, mix meat and rice together.
Pull individual leaves off cabbage and spread out on parchment paper or large cutting board.
Place 1/4-cup meat mixture in a long meatball shape in the center of each leaf.
Fold in sides and roll ends over meat.
Place carefully in pot, pour tomato juice over rolls and cook on low for 1 hour.
Try to disturb cooking cabbage rolls as little as possible. If you feel you must mix cooking cabbage rolls, do so very carefully.
Freeze entire mixture in plastic container
Directions for preparing frozen meal:
Allow time to defrost on counter or in refrigerator. You may defrost in microwave, but do so very slowly. Carefully transfer defrosted mixture into large pot and bring to a simmer until rolls are cooked all the way through.
Amy Mahoney
0

found this helpful
A perfect addition to any brunch or an easy supper for two, this quiche is delicious with a mimosa in the morning or a salad and white wine in the evening.
Read More...
April 27, 2006
0

found this helpful
When I'm preparing a meal on a weekend, it's just as easy to double the amount and freeze a meal to eat later in the work week. Here are some great recipes that you can double up on and pull from freezer to oven on a busy day.
Stuffed Green Peppers
Ingredients
6 green peppers, sliced in half lengthwise
2 lb. of ground beef or ground turkey, cooked and drained
1 cup chopped onion
4 cups of cooked white rice
2 cans of tomato soup
5 Tbsp. of chili powder
1 tsp. ground black pepper
1 - 1/2 tsp. garlic powder
16 oz. shredded cheddar cheese
Directions
In a large skillet, brown meat and onion. Drain and add cooked rice, tomato soup and seasonings. Add water to produce desired consistency. Simmer for 10 minutes, then add shredded cheese, cooking only until the cheese melts. Lay six of the peppers halves flat in a baking dish. Lay the remaining six flat in a freezer container. Fill each pepper half with meat and rice mixture. To bake immediately, cover the peppers in the baking dish with aluminum foil. Cook at 350 degrees F. for 40 minutes.
Freeze the remaining six stuffed peppers in a covered freezer dish. To bake, transfer frozen to a baking dish and cook at 350 degrees F. for 50 minutes or until tender.
---
Leftover Beef Roast Pie
This pie is an excellent way to use leftover beef roast. You can make as many as you want at a time, and freeze them for later use.
Ingredients
2 Tbsp. shortening
1-1/2 cup chopped celery
1-1/2 cup chopped onion
1-1/2 cup chopped green pepper
3 cups beef cubes
1 can tomato soup
2 Tbsp. mustard
1/4 cup ketchup
Pastry for a 2 crust 9 inch pie
Directions
In a skillet, heat shortening, and add celery, pepper, and onions. Saute until soft and onions are clear. Stir in beef, soup and seasonings. Place entire mixture on top of one pastry shell in a 9" pie pan. Top with remaining pastry shell, pinching edges together to prevent seepage, and slash top pastry to vent. To cook immediately, bake at 425 degrees for 40 minutes, or until pastry is golden brown. To freeze, place pie in a freezer container and cover. Cook frozen pie at 425 degrees for 50 minutes or until pastry is golden brown.
---
Other Make Ahead Meal Ideas
You can also double soup recipes and eat one tonight, while freezing the rest for later. Soups that freeze well are split pea, bean soups, vegetable soups in a beef broth, French onion, and soups with a chicken broth. They can be frozen in gallon size freezer bags, or in covered freezer containers. Just thaw and simmer until done! One of the added health benefits of freezing soup is that any fat in the soup will rise to the top and harden, so it can be removed prior to cooking.
By Patti
Cynthia Smith
0

found this helpful
When you need something that looks like it took a lot of effort to make but you don't have the time, these Chicken Wonton Rolls are just the thing! Try serving with chicken gravy to make a complete meal!
Read More...
Amy Mahoney
0

found this helpful
This versatile, crowd pleasing favorite can be served over pasta accompanied by garlic bread, salad and a great Cabernet for an elegant, easy dinner party. Or, serve on Italian Bread as a special addition to a casual barbecue.
Read More...
Amy Mahoney
0

found this helpful
This heart-healthy dish is low fat, high fiber and packed with protein and veggies. However, the authentic South West flavor will ensure that it is a family favorite when topped with shredded cheddar and coupled with warm corn bread.
Read More...
Solutions
Share on ThriftyFunThis guide contains the following solutions. Have something to add? Please share your solution!
My best tip for me is to have all the ingredients for a dish all in a bag. I freeze onion, green peppers, celery and okra in a bag along with chicken cubes. Toss in a pot with chicken broth, garlic. canned tomatoes and you have soup, serve with rice that has been frozen.
In another bag, I have chili beans, chicken stock and chili spices. Add frozen onions and green peppers and you have chili. Find a dish that you like, keep all the ingredients marked for just that along with the directions. Freeze taco meat for salad or tacos.
By linda from Port Orchard, WA
Questions
Ask a QuestionHere are the questions asked by community members. Read on to see the answers provided by the ThriftyFun community or ask a new question.
I have a target goal of trying to spend no more than 300 dollars a month for groceries for me and my fiance. My spending for food usually is not very frugal. I have this impulsive urge to buy take out when I don't want to cook. I forget to pack lunches and snacks with me when I go out and end up buying take out.
Cooking meals like casseroles and soups is something I would like to do more. I just don't know where to really start. Any sites that suggest how to make easy simple soups and casseroles, that can be frozen? Or does someone want to share any ideas of your own?
By ChildGoddess from Kenora, Ontario
Answers
March 15, 2010
0

found this helpful
Best Answer
Both of these are Crockpot recipes and both are freezable ;-)
Crock Pot Orange Chicken
6 skinless boneless chicken thighs
1 can orange soda
1/4 cup of water
1 cup diced celery
Place chicken in crock pot and pour soda and water over the chicken and then top with celery. Cook on low and test for doneness at 6 hours but, depending on your crock pot, it could take up to 8 hours.
Zesty Minestrone - Slow Cooker
A yummy full bodied meal when served with crusty bread smothered with unsalted butter and a mixed green salad tossed with a vinaigrette dressing.
1/4 cup zesty Italian salad dressing (I use Kraft)
1 onion, chopped
1 stalk celery, chopped
1 carrot, peeled, chopped
1 can (14-1/2 oz.) diced tomatoes, not drained
1 can (19 oz.) kidney beans, white beans or garbanzo beans rinsed
2 cans (14 oz. each) vegetable broth
2 cups water
1 tsp Italian seasoning
1-1/2 cups small shell pasta, uncooked
1/2 cup Parmesan cheese, grated (fresh or packaged)
Heat dressing in large nonstick skillet on medium high heat. Add onions, celery and carrots; cook 2 minutes or until crisp yet tender, stirring occasionally. Transfer in to a slow cooker. Add tomatoes, beans, broth, water and seasoning and stir. Cover with lid. Cook on low for 6 hours. Stir in pasta and cook 10 to 15 minutes or until pasta is tender. Sprinkle with cheese just before serving.
Answer

this Question

...
August 30, 2018
0

found this helpful
Tomatoes, garlic, onions, and olive oil, are roasted and then put through a food processor with added olive oil, balsamic vinegar, and pepper. The sauce can be frozen for future meals. Try this delicious sauce on pasta, toasted bread, or even homemade pizza. This is a guide about making roasted tomato pesto sauce.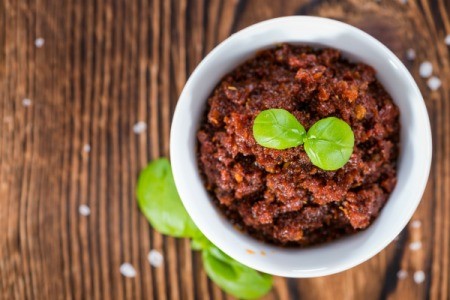 March 9, 2017
0

found this helpful
Beef stew can be an easy thing to make lots of. Save some for meals later by freezing some serving of beef stew. This is a guide about beef stew (freezer meal).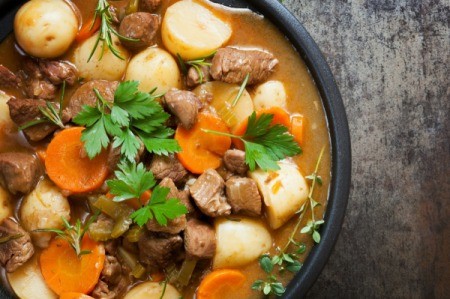 Related Content