We all crave comfort food on trying days, but often lack the energy to make it for ourselves. Enjoy this frozen casserole whenever you want by preparing it ahead for any occasion!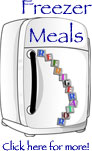 Ingredients:
1 1/2 pound ground lamb
1 chopped large onion
2 small fennel bulbs- trimmed, cored and chopped
6 minced garlic cloves
2 teaspoons of crushed, dried oregano
1/2 teaspoon of crushed pepper
2-14 1/2 ounce cans of whole Italian-style tomatoes cut up
2- 16 ounce tubes of refrigerated cooked polenta
3/4 cup of crumbled feta cheese
1- 15 ounce can of Italian style tomato sauce
Directions:
In a large skillet, cook the lamb, fennel, onion, garlic oregano and pepper until the lamb is completely brown before draining the excess fat. Add the undrained tomatoes to the skillet and bring to a boil. Reduce the heat and simmer uncovered for 10 to 15 minutes or until most of the liquid is evaporated stirring occasionally. In the meantime, coat 2 1-1/2 quart casserole dishes with nonstick cooking spray and set aside.
Slice each polenta tube in half lengthwise 14 inches thick. Press 1/4 of the slices into the bottom of one of the prepared pans and another 1/4 into the bottom of the second pan. Spoon half of the lamb mixture over the polenta in each of the pans. Sprinkle 1/4 cup of the cheese evenly over each casserole. Arrange the rest of the polenta slices along the edges of the casseroles. Cover the casseroles with plastic and freeze for up to 3 months.
To serve the frozen Lamb and Cornmeal Bake, allow to thaw overnight in the refrigerator. Bake the thawed casserole at 350 degrees for 50 to 60 minutes or until heated through. Allow to cool for 10 minutes. Heat the Italian-style tomato sauce just to boiling to serve over the casserole.
Each Lamb and Cornmeal Bakes yields about 4 servings.