I need ideas for baby shower games and party favors.

Beverly from Parkersburg, WV
Answers:
Baby Shower Games
Do a search on ThriftyFun for ideas. They will have lots. My favorite visit a thrift store for clothes pins, and good baby clothes, blankets etc. Pin them to a clothes line to mimic streamers. Baby Diaper Cake is on here too. (03/17/2009)
By Dedeswrkshop
Editor's Note: Here is the link to that category on ThriftyFun:

https://www.thriftyfun.com/Parties_Baby%20Shower_Games_1034_1037_4791.html
Scavenger Hunt
I had never seen this done at a baby shower before so I did one for my daughter. Everyone loved it and I have seen friends do it since.

My daughter and I took baby items that we had bought already for the baby such as a binkie, diaper, bottle, booties etc and hid them around the area where we were having the baby shower. We made a list of things we hide and put the list in the game booklet that we printed out and put together. Our time limit to hunt was 10 minutes.

In the instructions part, this is what we had The items listed below is what you will be looking for. They are to be found but not taken by you. Beside each item write where you found it. The one who finds the most in the time allowed will receive a prize. Hope you have fun at the shower.
(03/19/2009)

By BeccaD
Baby Shower Games
At my great niece's shower we made birthday cards from construction paper and stickers and put words of wisdom or verses in them and dated them for the day of her shower and signed our names to the card from her first birthday to her 18th and then they are put into a box given to the mom (we drew numbers from 1 - 18) if more 18 guests have extra set of number from 1-18 happy showering. (03/19/2009)

By sillepeanut
Baby Shower Games
Make stiff paper triangle, form into a diaper and pin with a small safety pin. Add jellybeans or other small candies tied in the circles made for weddings inside and use as place settings or small prizes. A nice hard back notebook could be passed around and each guest would write in a piece of advice, a wish for the baby and her parents and sign it. A lovely keepsake. (03/19/2009)

By thriftmeg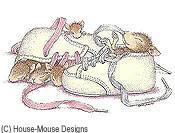 Baby Shower Games
One thing that is always fun is to make a bunch of necklaces with those tiny plastic pacifiers, baby bottles, or something like that. You can just use ribbon to put it on. Give everyone one to put on when they arrive. Whenever someone says "baby", they lose their necklace to the person that catches them. At the end of the party, the person with the most necklaces wins a prize. It's pretty funny to see everyone trying not to say baby at a baby shower!

You can have several jars of baby food and have everyone try to guess what it is, either by just looking at it, or having to taste it!

Pass around a roll of toilet paper and have everyone tear off what they think will equal the width around mom's belly.

Put a bunch of different baby items - bottle brush, nose squeezy thing, pacy, etc,...into paper lunch bags, and have everyone feel them and guess what's in there.

Put pieces of different candy bars into a disposable diaper, and everyone has to guess which candy bar it is! :) Of course, it also looks like a poopy diaper!
(03/19/2009)

By dellajo
Baby Shower Games
The last baby shower I attended, the hostess created a "baby bingo" game. We played several rounds, and each winner received a small, dollar-store item.

Another game we played was to create new words from a significant phrase connected with the baby.
A baby shower I attended many years ago, we played a memory game. The mom-to-be walked among us with small items afety-pinned all over (rattle, binky, etc.) After she walked out, we had to remember as many of those items as we could. The one who remembered the most, won. (03/19/2009)

By JustPlainJo
Baby Shower Games
Years ago we did this one. Put all kinds of house things,in a container. Pass it around 1 time, and have them list what was in it. The winner gets to pick a wrapped prize. (03/19/2009)

By hummm