I need party ideas for a friend's baby shower (girl), games, gifts, food, etc. I have never thrown or been to a baby shower before.

Kim from Nashville
Answers:
Baby Shower Ideas
An easy-to-do game I have used before is fun, easy and very frugal.
Make a list of items a baby uses or needs or even an action word will work. Sample list:

PARDISE
CARPFIE
ETOBLT

Ask the players to unscramble the letters as quickly as they can. Set a timer (according to how long the list is). Every player will need a copy of the list, pencil or pen and paper. It's likely they will be writing on their laps so make some magazines available to use as a writing surface.
When the time is up, the person with the most correct answers wins.

The dollar stores have fun little items that you can use as "prizes". They are even more special if they are wrapped up in pretty paper with cute bows.

If you plan on playing more than one game set the "prizes" out on a table and let the winner choose which one they want. Be prepared for a tie. If prizes are limited, have a second list you have made up ahead of time and let the tied contestants do a play-off. This time the one who gets all the words unscrambled first wins.
By the way, the answers to the scrambles above are:
DIAPERS
PACIFIER
BOTTLE

I did not check my own spelling, so please go ahead and do that. To add a little something special to another person's post regarding the guests each bringing a bag of disposable diapers, add something to the invitation that says everyone who brings a bag of diapers will get a raffle ticket or be in a special drawing (you can make these up yourself, something as easy as dropping a slip of paper into a hat or bowl with the guests name on it). Have a great time.

Oh, one more game I think is hysterical is to have a ball of string or yarn and a pair of scissors handy. Have each guest cut a piece of the string or yarn to the size of the mommy-to-be's belly, where she is widest around. There will be very short and very, very long strings. The one closest to the actual size wins. If there are a lot of people measure the mommy's belly then cut a string to that size to measure up against. If there are fewer people it's really fun and can become hysterical for each guest to measure her string around the guest of honor's tummy. Be sure to take lots of photos. (10/21/2008)
By Nancycorinne
Baby Shower Ideas
This is a corsage I made for my daughter's shower and it wasn't really expensive. Here's what you need:
Plastic spoons, pin backs, cotton balls, little bottles and babies, ribbon and flowers.
How to make:
Glue a cotton ball inside spoon, then glue baby and bottle onto cotton ball. Glue pin back to handle.
Insert ribbon through pin back and bring to front and glue down to front on handle. Then glue flower or what every you might want to use as decoration. Everyone like them. I got most of my stuff from the Dollar Tree and Wal-mart.
Good luck.
(10/21/2008)

By Pauley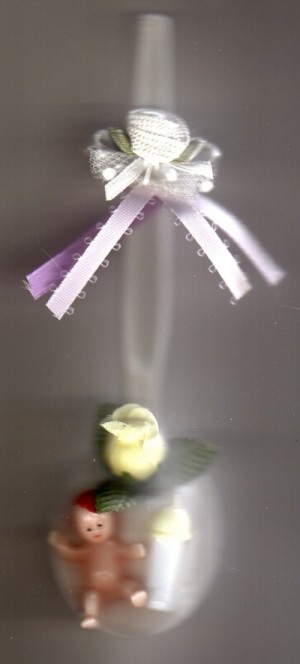 Baby Shower Ideas
Here's a funny and semi-yucky ice breaker-door prize game for a baby shower.
Take a stack of white paper napkins, and fold each one into a diaper shape. Pin the "diapers" shut with small safety pins. Make sure you have enough for each person to get one.
However, in the middle of one diaper, smear a bit of mustard on the "diaper", to simulate baby poop. Dijon mustard looks more realistic, but regular yellow mustard works, too.
After each guest selects a diaper, have the guests open them. The one who gets the "poopy diaper" wins a prize.
It's been a fun game and well received at every shower I've attended. It's very inexpensive to put together too.
(10/22/2008)

By KJ
Baby Shower Ideas
For decoration you can make a diaper cake or a diaper wreath. They are really very easy to make and a whole lot less expensive than buying them pre-made. (05/25/2009)
By tambri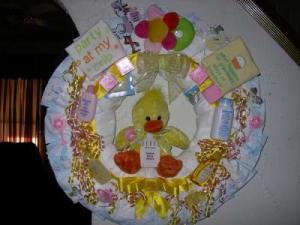 Baby Shower Ideas
(05/25/2009)

By tambri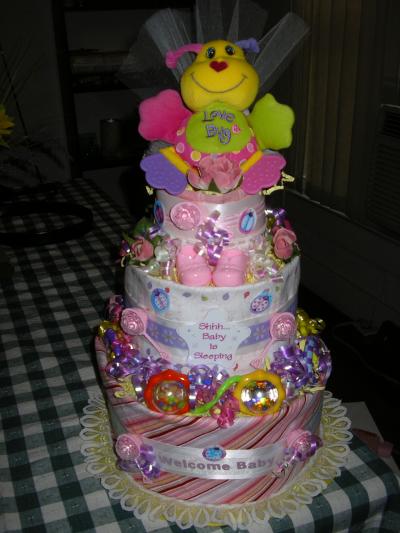 Baby Shower Ideas
(05/25/2009)

By tambri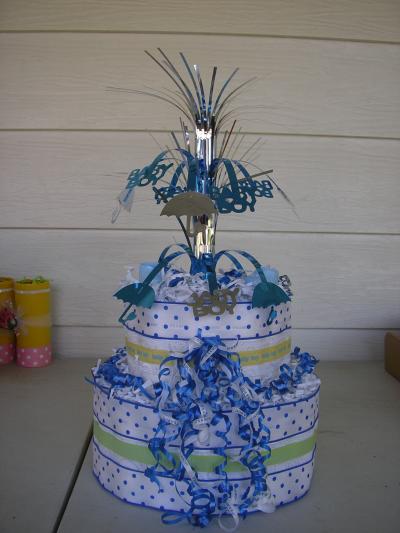 Baby Shower Ideas
These baby rattle balloons are really easy to make as well and don't cost much at all. If you search youtube for balloon baby rattle it will show you step by step how to make them.
Hope these pictures helped you. (05/25/2009)

By tambri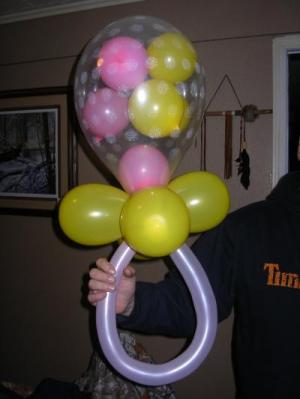 Baby Shower Ideas
A baby clothesline is a great decoration at any baby shower. Very cute. (05/25/2009)

By tambri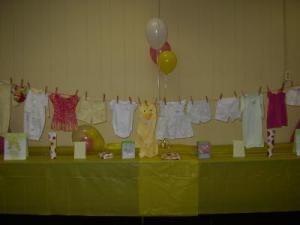 Baby Shower Ideas
I decorated a whole table for the mommy and daddy to be. I set the guest tables in a U shape facing the parents to be table. (05/25/2009)

By tambri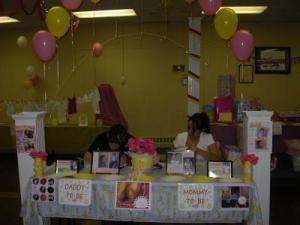 Baby Shower Ideas
(05/25/2009)

By tambri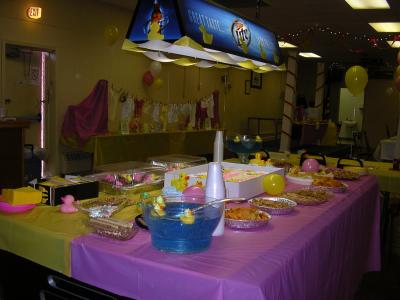 Baby Shower Ideas
(05/25/2009)

By tambri