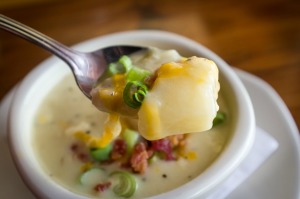 Baked Potato Soup I
Ingredients
8 slices bacon -- retain drippings
1 cup yellow onion -- diced
2/3 cup flour
6 cups chicken broth
4 cups baked potato -- peeled and diced
2 cups half and half
1/4 cup chopped fresh parsley
1 1/2 teaspoons garlic powder
1 1/2 teaspoons dried basil
1 1/2 teaspoons tabasco sauce
1 1/2 teaspoons coarsely ground pepper
1 cup grated cheddar cheese
1/4 cup green onion -- diced
Directions
Chop cooked bacon. Set aside. Cook onions in bacon drippings over med. high heat until transparent. Add flour stirring to prevent lumps. Cook for 3 to 5 minutes until mixture begins to turn golden. Add broth gradually, stirring constantly with whisk until thickened. Reduce heat to simmer and add potatoes, cream, bacon, parsley, garlic, basil, tabasco and pepper. Simmer 10 minutes. Do not boil. Add cheese and green onion.
By Anna
---
Baked Potato Soup II
Ingredients
2 1/2 lbs. baby red potatoes, quartered
1/2 lb. raw bacon
1 large yellow onion, diced
3 stalks celery
4 cups milk
4 cups water
1/2 cup chicken base
1 tsp. salt
1 tsp. pepper
3/4 cup margarine
3/4 cup flour
1 cup whipping cream
colby cheese. shredded (if you like)
green onions, chopped (if you like)
Directions
Boil potatoes in water for 10 minutes. Drain and set aside. In a large heavy pot, over medium heat, saute' the bacon, onions and celery until the celery is tender. Drain the bacon grease and return the bacon, onions and celery to the pot. Add the milk, water, chicken base, salt and pepper. Heat over med-high heat until very hot - DO NOT BOIL!!! In a large, heavy saucepan, melt the margarine and add flour. Mix well and allow to bubble, stirring for 1 minute. While constantly stirring the soup, slowly add the margarine and flour mixture. Continue stirring the soup until it is thick and creamy. Stir in the parsley, potatoes and cream. Garnish with shredded colby cheese, fried bacon bits, chopped onion or all three. Serve while good and hot.
By Robin from Washington, IA