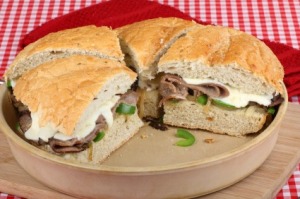 Ingredients
8 slices whole wheat bread
4 slices cheese
24 slices shaved smoked ham
2 egg whites
1/2 cup fat free milk
Directions
Preheat oven to 450 degrees F. Top 4 of the bread slices with cheese slices, ham and remaining bread slices. Beat egg whites and milk in shallow dish or pie plate. Dip each sandwith into egg mixture, turning to coat both sides. Place sandwiches on baking sheet sprayed with cooking spray.
Bake 6 minutes, turn. Bake an additional 5 minutes or until sandwiches are golden brown. Cut sandwiches diagonally in half. Makes 4 servings.
By Robin from Washington, IA
Read More

Comments
One of the groups I belong to posted a recipe for Baked Sub Sandwiches. Does anyone have the recipe?

Suzi from Juliette, Georgia

Answers
By Robin in Orlando (Guest Post)
January 27, 2008
0

found this helpful
I like to bake ham and cheese subs. First I make sure the roll is split, open it up and stick it in the oven just for a minute to toast the inside of it a little. Then while that's toasting, I go ahead and stick my ham in the microwave just to warm it up so when the sub rolls are toasted I just add the ham on the roll and top with mozzerella cheese (or your favorite). Stick the side of the roll with the ham and cheese back in the oven just to melt the cheese. While the cheese is melting I start adding toppings to the other side of the toasted roll. Putting the ham in the microwave for a minute insures that the ham is warm and it cuts down on the time in the oven. I usually have to make about 8 of these at a time so being able to start with the toppings while the bottom part of the sub is in the oven, helps cut down on time. I top with mayo, onions, lettuce and tomoate. They are yummy! I also bake meatballs subs which are yummy!
January 29, 2008
0

found this helpful
Baked Deli Sandwich - from Taste of Home
A friend brought these to a "women's night out" for my Bible study group, and they are DELISH! Serves 4-6
INGREDIENTS
1 loaf (1 pound) frozen bread dough, thawed (I make my own in the bread machine - dough cycle.)
2 tablespoons butter, melted
1/4 teaspoon garlic salt
1/4 teaspoon dried basil
1/4 teaspoon dried oregano
1/4 teaspoon Italian seasoning
1/4 pound sliced deli ham
6 thin slices mozzarella cheese
1/4 pound sliced deli smoked turkey breast
6 thin slices cheddar cheese
Pizza sauce, warmed, optional
PREP 20 min. COOK 10 min. TOTAL 30 min.
DIRECTIONS
On a baking sheet coated with nonstick cooking spray, roll dough into a rectangle. Let rest for 5-10 minutes.
In a small bowl, combine the butter and seasonings. Roll out dough into a 14-in. x 10-in. rectangle. Brush with half of the butter mixture. Layer the ham, mozzarella cheese, turkey and cheddar cheese lengthwise over half of the dough to within 1/2 in. of edges. Fold dough over and pinch firmly to seal. Brush with remaining butter mixture.
Bake at 400° for 10-12 minutes or until golden brown. Cut into 1-in. slices. Serve immediately with pizza sauce if desired.
January 29, 2008
0

found this helpful
Toasted subs are called "hogies" and have been big in the NE part of the country for decades. I'm so glad that they're finally coming mainstream throughout the country. Simply make any type of sandwich you want (meat and cheese on a roll) and place it in a toaster oven or under a broiler until hot/toasted, remove and put toppings (lettuce, tomato, pickles, onions, pepper rings, cucumber, green pepper strips, etc) and dressing on, and serve hot. One of my favorites is hot roast beef with melted provolone and mozarella, then topped with marinara sauce.
Answer

this Question