Barbecue Bean Recipes
Solutions
Share on ThriftyFunThis guide contains the following solutions. Have something to add? Please share your solution!
I found this recipe that is supposed to be a copycat of El Pollo Loco. I didn't have all the ingredients, so this is an adapted version. The beans are smoky, tangy, and a little sweet. Everyone loved them. I had to keep shooing the kids away from the fridge until it was time for dinner. They still snagged a few bites, though.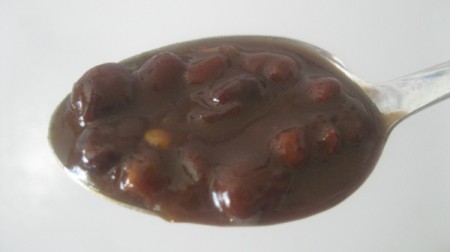 Total Time: about 2 hours, total
Yield: 6 or so
Ingredients:
1 32 oz. can black beans
1 1/2 cup water
1 cup chicken broth
1/2 cup brown sugar
1 Tbsp molasses
3 Tbsp ketchup
3 Tbsp bacon fat
2 Tbsp red wine vinegar (I had none, so used balsamic vinegar instead).
2 Tbsp green chiles, chopped
1/4 tsp cayenne (I had none, so used smoked chipotle)
Steps:
Combine all ingredients. Cook on medium heat. Simmer uncovered for 1 hour 15 minutes, until thickened, stirring occasionally.

When you start out, there is a lot of liquid, compared to the amount of beans. But, don't worry. When the beans simmer, the liquid will reduce down. Mine reduced almost by half.
Let cool a little. The beans will thicken as they cool down.
Ingredients:
2 (15 oz.) cans butter beans, rinsed and drained
3/4 cup packed brown sugar
1/2 cup ketchup
1/2 cup chopped onion
3 bacon strips, diced
Directions:
In a bowl combine the beans, brown sugar, ketchup, and onion. Transfer to a greased 1 1/2 quart baking dish. Sprinkle with bacon. Bake, uncovered, at 350 degrees F for 1 1/2 hours. Makes 4-6 servings.
By Robin from Washington, IA
Ingredients:
6 slices uncooked bacon, cut into pieces
3 cans green beans, drained
1 onion, chopped
1 cup ketchup
1 cup brown sugar
Directions:
Mix all ingredients and bake in a covered casserole at 275 degrees F for 3 hours.
By Robin from Washington, IA
Ingredients
3 slices fully cooked bacon
1 28 oz. can baked beans
1/3 cup barbecue sauce
Directions
Chop bacon and place in small saucepan. Add beans and barbecue sauce. Cook over medium low heat to thicken slightly and blend flavours, about 10 minutes. This is good with chopped wieners, I just put it in the microwave for about 3 minutes.
Source: My own recipe (have been using this recipe for over 20 years, have no idea where the original idea came from.)
By Cinnamon from Williams Lake, BC
Ingredients
1 lb. ground beef
1/2 cup onion, diced
1/2 tsp. salt
1/4 tsp. pepper
1 large can pork and beans
1/2 cup ketchup
1 Tbsp. Worcestershire sauce
2 Tbsp. vinegar
5 drops Tabasco
Directions
Put the ground beef, onion, salt and pepper in a skillet and brown. Drain off all fat. Add the remaining ingredients and mix well. Pour into a casserole and bake 30 minutes in a 350 oven.
By Robin from Washington, IA
Related Content