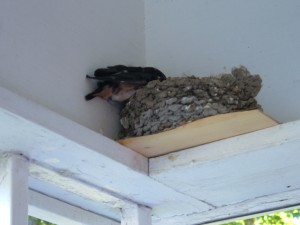 Barn swallows were building a nest on the ledge of our porch. It did not look like a good place for a nest as the ledge is just an inch wide. Maybe we didn't need to do this but my husband put a little piece of plywood across the ledge to make a shelf for the nest.
Although we were trying to help the birds, until we were well away from the location of their nest, they dive-bombed us every time we went outside. And what a fuss they made telling us to leave. The nerve of those birds.
I was curious as to how they are able to build a nest out of mud and looked it up on the internet.
"Both male and female build the nest cup using mud. They collect mud in their bills and often mix it with grass stems to make pellets. They first construct a small shelf to sit on, then build up the nest's sides. When reusing nests, Barn Swallows clean out old feathers and add new mud to the nest's rim."
They are great birds to have around as they eat insects. Since they may come back to use the nest again, we will just leave it there. According to the article, swallows can make more than 1,000 trips in the process of building a new nest. It is best to leave the nest as you never know when a new pair will come to investigate.
I cleaned up the mess they made, however, I am leaving the nest as is and hope to watch some more hatch before the season is gone. Every evening, we watch them fly around like bats catching bugs in the air. Maybe they will get to know us and leave us alone when they raise the next batch of babies.