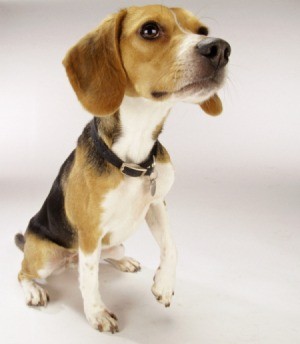 Breed Description:
This sturdy, compact scent hound was bred to pursue its quarry in packs. When on scent, the Beagle has remarkable stamina and tenacity. It will block out everything around it - including its master. The Beagle's charming, upbeat personality makes this breed an excellent family pet.
Group: Hound Group
Purpose of Breed: Hunting rabbits and hares
Country of Origin: England
Average Size: Beagles are typically from 10-16 inches tall. In the United States, Beagles are divided into two distinct heights for competition-under 13 inches tall and from 13 to 15 inches tall. Most Beagles average between 18-30 lbs.
Color(s): The color most people associate with Beagles is white and tan, with a black saddle marking, but they can be any combination of "true hound" colors.
Coat Type: Beagles have a short, shiny, hard coat.
Grooming: Beagles are minimal shedders and their coats are easy to care for. This breed requires standard care for eyes, ears, pads and nails.
Exercise Needs: Beagles need companionship and daily exercise to prevent them from becoming bored. They possess a pack mentality and do not enjoy being left alone for long periods. Because they have a tendency to "follow their nose," they should be exercised on a leash and have a fenced yard. Beagles make good apartment dogs, but they are prone to howling and barking, especially when in pursuit of prey or suffering from boredom.
Temperament: The Beagle has a cheerful disposition and is good with children. Beagles have an independent nature and instinctively always "follow their nose", sometimes ignoring your commands to come back. Early obedience training is recommended.
Common Ailments: Susceptible to glaucoma, epilepsy, intervertebral disc disease and congenital heart disease.
Life Expectancy: Averages 10-15 years
Trivia: The most famous Beagle is perhaps, 'Snoopy", who was first introduced to the public in the 1950s comic strip "Peanuts" created by Charles Shultz.
More Information: National Beagle Clue