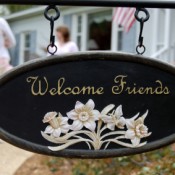 An amicable guest is as important as being a very gracious host. I enjoy having guests at our house. Since we live in one of the five boroughs of New York City, we have had many guests (family and friends) of different characters and personalities. Most of them have made themselves at home and enjoyed their stay while visiting the city. This in turn always made us feel happy that they were our guest. I like to help our guests to plan their sightseeing and provide all the comforts necessary. My experience as a host has made me aware on what I should do as a guest.
Not all our guests make themselves desirable. I feel that being a guest is an art that is forgotten and needs to be polished. Here are some guest etiquette tips that I am sure will be useful to make the host and the guest all smiles:
Inquire if your host can host your visit before you make travel arrangements.
Communicate and keep your host informed about your date and time of arrival, length of your stay, and how many members will be visiting.
Always inform your host if you have diet restrictions, food preferences, and any other specific requirements that need to be arranged.
If you are traveling with children and need particular gear like car seats or high chairs, please request early so that it can be arranged.
When you arrive, please make sure to put your luggage in the provided place.
Inquire if you can wear outdoor shoes indoors.
Feed your children before you eat, so as not to waste food. Take care of their needs before you relax and socialize. Make sure they respect the host's house.
Please do not leave a mess or your belongings in the bathroom, do not leave wet towels on the bed, do not leave the lights on, do not abuse the use of television, radio, and other electronics, and do not leave empty coffee cups and plates around the house. The host's house is not a hotel and nor is the host a housekeeper.
Inform the host if you are going to return late from your sightseeing. Also, inform if you are going to have dinner at home or outside. The host will prepare dinner accordingly.
Please do not hang around the kitchen while the host is preparing food or stand too close to distract the host. Help if you can and the host permits. (I personally do not like to socialize with guests while I prepare food. I cannot concentrate).
If you need any assistance please speak up, the host is not a mind reader.
If you cannot bring them an appropriate gift, observe what they may like during your visit so that you can buy appropriate gift before you leave.
Most important do not forget to thank the host for their hospitality upon arriving home. The host wants to make you feel at home during your visit, therefore treat their house like yours and not like a hotel. Also remember, you may become a host someday.
By Raji from E. Elmhurst, NY
Read More Comments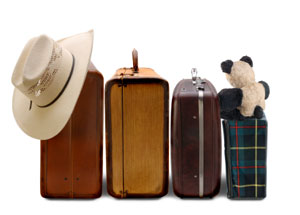 Staying with Family
Well, it was a busy summer for me, I made two trips this summer to visit my children; first to my son's house in Oklahoma City to see him get his master's degree in Business Management, and then to help out my daughter in Sacramento after our only grand- daughter was born. These were real eye openers as my daughter in law is pregnant and was suffering with the heat and my daughter worked full time up to the time of her delivery.
As these trips were also mini vacation for us, I felt that it was important that I made myself as useful as possible but also I wanted to have a little fun. At my son's graduation, other relatives also from out of town were present. Here is a short list of things that you can do to be a big help and make sure things go smoothly.
Sightseeing
If you know that there will be other guests there from out of town and will want to site- see, research the area and Google maps with driving directions so that your host or hostess does not have to take you to see all the sites. If you have not rented a car, see if you can borrow a car and take everyone who wishes with you. Sometimes this can be more fun you are not within time constraints and can explore that antique shop to your heart's content. I took my ex and his family to the Oklahoma City Memorial and we explored downtown.
Meals and Going Out
Plan and cook for everyone; my husband, and I did a Taco Buffet and let everyone make their own tacos and tostadas. It kept my daughter in law out of the kitchen and everyone enjoyed themselves. Make sure you clean up afterwards. I also offered to baby-sit for some of the young couples so they could also go to dinner and dancing after the graduation, not something I was interested in. I also babysat my grandson and the new baby so my daughter and her husband could go out to dinner to celebrate the birth and return of good health to my daughter and her baby.
Be Helpful
My son and daughter in law are both in the Air Force so my husband looked around for quick easy repairs that he could make that they had not had time to do, with them both working. Of course, he did this in the off time when other festivities were not planned. He helped set up the new crib and helped with the baby proofing that needed to be done with a 19 month old in the house. Helping keep things picked up and keeping the kitchen clean is one thing that my daughter was grateful for. Pick up after yourself and spruce up the bathroom for the next guy. My daughter only had one bathroom for 4 adults so this was something we were all grateful for. Spring for dinner one night if this is a multi night stay but be sure you stay with in your budget. Pizza and a great movie can be relaxing for everyone.
One of the great things about staying with relatives is you can always use the washer and dryer to wash your own clothes so you don't have to bring as much. Always offer to do a load for them too. I stripped and washed the guest room bedding right before I left and then made up the bed so that it would be fresh for the next guest. My son's graduation party was held at his house and because of the heat, he made it a pool party. We did a couple of loads of towels so my daughter in law did not have that hassle to contend with. People with kids always have things that need doing, so make yourself available. You might help with homework or add that special touch to a school project. After a long sleepless night with the new baby, I took her and let my daughter sleep while my son in law took his son to daycare. It was only a couple of hours but it made her day. Every mother could use a nap every once in a while, so make the offer if your hostess is looking weary. If you know your way around their kitchen, surprise everyone with breakfast one morning.
These are quick and easy ideas that everyone can do and should make you the most welcome of guest in the future.
Read More Comments
My sister and I are soon going to my cousin's house to meet her and him for the first time and we are having a sleepover/visit thing for 4 days and I would like some tips for being a good guest and making a good impression!

Thanks,
Mackenzie from Millington, Tennessee
Answers
By joan (Guest Post)
May 31, 2007
0

found this helpful
Mackenzie
Take it from somebody who's had a lot of bad houseguests, your kin will appreciate the following:
pick up after yourself -- they are not your servants. Eat whatever they serve and say it was good whether it was or not -- they are not running a restaurant for you. Live on their schedule: go to bed and get up when they do, eat when they do, etc.... Offer to help with the chores. If they take you someplace, offer to pay some of the expenses. Don't hog up the TV, and watch what they watch. Don't use up all the shampoo, toothpaste, etc.... Don't be afraid to ask questions like, "What do you want me to do with the wet towels?" If you want something, ask -- don't go looking around in other people's stuff. Say "please", "thank you", and "may I" a lot -- your relatives like to hear it, too. Bring a nice gift that the whole family can enjoy(e.g., a box of candy, a puzzle, etc...). When you get back home, send a handwritten thank you note. Give it a personal touch by mentioning something that happened or something you did while there. As you can see, being a good guest is mostly consideration. Have a good time meeting your cousins!
Joan(who now tells her relatives to go to a hotel)
By r (Guest Post)
May 31, 2007
0

found this helpful
take a stash of snacks in your personal luggage, just to have in an emergency. Give your hosts time away from you at least once a day, especially after the second day, tell them you are going for a short walk round the block or down the road, just a 15 min or so walk to give them a few minits to be "off duty" as hosts. be low maintenace, leave the cell phone off and devote your visit to them, not the folks back home (my inlaws spend more time on the cell phone with relatives 'back home' while they are here than talking to us who they supposedly came to visit! have fun and be positive, and thank them for everything!
By Mitzi (Guest Post)
May 31, 2007
0

found this helpful
I'm with Joan! Clean up after yourself. Clean the bathroom upon your departure and at the very least make up the bed unless they want you to strip it. Don't put your feet on the sofa even if they do. Have a great time and be the kind of guest you would dream about having in your home! Mitzi
By (Guest Post)
June 1, 2007
0

found this helpful
I'M WITH JOAN ON THIS ONE TOO
June 4, 2007
0

found this helpful
Hey, it's great that you even thought to ask. If you continue to be this considerate, you'll have no problems. Everything everyone else wrote is perfect.
June 4, 2007
0

found this helpful
A lot of good tips here and I don't know that I can add anything else other than don't be demanding, be grateful for the free accomodations, meals and whatever else is offered. You might consider taking your cousins out for a meal one day too.
June 4, 2007
0

found this helpful
Clean up after yourself, make dinner, wash dishes, take them to dinner and bring a nice food gift (cookies, cheeses, cake, brownies) when you arrive. When you leave mail them a nice thank you card with a gift if their hospitality needs to be rewarded.
Sweep their floors, vacuum for them ... all the little touches that will lift some of the responsibilities off their shoulders.
By Nancy from Florida (Guest Post)
June 4, 2007
0

found this helpful
Hi, Mackenzie,
Take your camera (or buy a disposable one) and take some pictures of the host and hostess and their family. It's a sure bet that either the host or the hostess is the regular family photographer and is rarely included in pictures. Then send them prints of the pictures after they are developed back home.
Also, be sure you tell your other relatives how much you enjoyed the wonderful hospitality of your cousins.
You might also ask any family members where you live if there is anything they'd like you to deliver to your host and hostess.
And, I suggest that you tell them that you'd like to treat them to a meal out while you are there, and that you'd like them to choose the place. If that will be too expensive, offer to put $10 of gas in the car, or get out and pump $10 worth and go right in and pay for it! That would be a nice surprise that they are sure to appreciate, espcially if they are driving you around to see the local sights.
Write back and tell us how your visit went, OK?
Have fun!
Nancy in Florida
June 4, 2007
0

found this helpful
I just have to say.. I have alot of guests that come out to our house and spend the weekends with me and my husband. The one thing that really helps me is knowing that they are comfortable and feel at home. If your cousins tell you it's ok to do something... they mean it!!
They are just as stressed as you are and wondering how they will be able to make you feel comfortable and at ease. I guess the only added thing is to bring them a momento from your side of the family. Something you put some thought into. My sister brought me a picture, framed of our home when we were little :)
Have Fun and be yourself
June 4, 2007
0

found this helpful
Family is all important...Treat them the same way you want others to treat you. If you follow what Joan has said and the others that have written here ,you will be the best guests..Have a great time and don't forget to take and share pictures..They will be your memories later on. Leave their home as clean as it was when you got there. Have fun and be sure to invite them to your home for a visit. Taking fresh flowers or flowering plant for them is also very nice. Great Granny Vi
By Mackenzie (Guest Post)
June 5, 2007
0

found this helpful
Thank you everyone! I had a great time but there was one problem... I forgot to add that I am 11 and my sister is 8, and my cousins are 11 and 6! Im sorry... But great advice anyway!
Answer

this Question

...