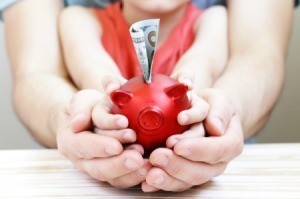 The basic principles of survival are shelter, warmth, food, drink and hopefully love. Everything else is just "wants".
Most homes have access to bathing facilities so a simple bar of soap, deodorant, shampoo, toilet roll, hairbrush are all that is needed to stay clean. They can all be bought at the pound (dollar) shop.
Make sure your children get enough sleep in a clean bed and wear clean clothes. Every stitch of clothing except for underwear and shoes can be secondhand. All washing can be done at economic times (e.g. evenings) to conserve electricity, at a low temperature and using frugal home made or cheap washing powder. Most clothes that are hung straight up don't need to be ironed.
So that's sleeping, bathing, appearance and clothing for next to nothing.
Keep up to date with dentists, eyesight checks, medical appointments and apply for any rebates, discounts, or exemptions possible. This will save money in the long run as problems won't grow from neglect.
School supplies can all be purchased from the pound shop/dollar store and books can be bought second hand from leaving students, eBay or Amazon.
You can buy toys, books, baby clothing and supplies from the pound (dollar) store, even seasonal items such as sunglasses, buckets and spades, hats, scarves, gloves, toiletries, perfumes, makeup. The list is endless.
For supermarket food shopping, buy the cheapest brand of everything, buy reduced, use vouchers. Buy from your local markets and home make as much as possible; whether is cooking, knitting or sewing.
Stop shopping or going into town which involves petrol or spending money on nothing. Stick to one day a week, take cash and come home when it's gone. Don't charge anything.
Plan ahead for holidays, school trips, beg or borrow equipment, tents, rucksacks, anything. Ask for discounts. If you are eligible, contact the schools for nominal payments or complete waivers. Constantly save money, even loose change in pots. Designate an area of your home for gifts and wrap and work at it all year. Make as much as possible or buy when reduced at least 75% off. Swap skills such as babysitting and hairdressing.
By carol
Comments

March 27, 2012
0

found this helpful
Top Comment
As a retired school social worker, I want to add ideas for kids in economic stressful times. Call the public school and confide in a social worker or school-home partnership professional. They can help you apply for a free or reduced breakfast and lunch for the children.
If the school has an After School Program, it probably includes a nutritious snack as well as homework help. Places like WalMart always contribute book bags and supplies to the social workers to distribute when the school year begins. There are also special programs for kids who need to live in shelters or transportation can be arranged if the child temporarily lives with relatives.
Read More

Comments