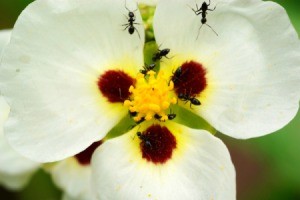 If you are like a lot of homeowners and gardeners, when you see ants or an ant hill your first reaction is to get rid of them. But before you grab the scalding water or pesticide, stop for a moment and consider the benefits of having ants in your garden.
Before I extoll their benefits we can all agree that some ants, such as fire ants, are very undesirable because of their painful bite. Others, such as leaf cutting ants, may enjoy nipping at your plants to carry the bits to their nest for their fungus gardens. However, generally speaking ants are not a bad thing to have in the garden. These tiny tillers turn over as much soil as earthworms, aerating the soil and redistributing nutrients.
The leaves and insects collected on their food forays are brought into their nests and some of it decays and helps fertilize nearby plants. Additionally, as they gather food they play a role in seed distribution and pollination. Many flowering plants such as violets, viola, and other wild flowers benefit from these tiny gardeners. According to an article by Steven N. Handel and Christina M.K. Kauzinger in Fine Gardening, "This enterprise is so beneficial that plants appear to have adjusted the timing of flowering and fruiting to take advantage of high ant activity early in the year."
Most ants are predators, they are constantly hunting for garden pests such as slugs, caterpillars, and other insects that attack lawns and gardens. According to the University of Arizona Cooperative Extension, they eat pests that are harmful to crops and orchards. They eliminate garden pests, killing larvae and culling aphids before they can kill the plants they are attacking. "Ants kill 40 percent of newly hatched plant-feeding bugs and 30 percent of flies, making them more effective than some pesticides."
Again, according to Fine Gardening article, some plants reward ants for their protective behavior by providing them with delicious food sources. Others may offer safe housing. According to information posted on abugblog.blogspot.com, cherry trees, which often come under attack in spring as caterpillars and other herbaceous insects attack their new leaves also encourage ant intervention. The cherries secrete a type of nectar in tiny glands (nectaries) at the base of their leaves. As the ants scout the cherry trees for these sweet fast-food stops, if they encounter insects feeding on the cherry tree they will attack and defend the tree in the same way they protect aphids.
We all know that ants farm aphids for the honeydew that they produce and will defend them from aphid predators, such as ladybugs. This may not be one of their activities that we generally approve of, but they have been found to protect certain caterpillars that also produce honeydew. This symbiotic relationship can help increase the butterfly population. Ants help to create a balanced ecosystem. They are predator and prey, as they are food for other insects, birds, lizards, spiders, frogs, fish, and some mammals - the aardvark being a famous example.
So next time you see ants in the garden or a hill in the lawn, consider the bigger picture. Perhaps, you will determine that ants may just be more helpful than harmful in your yard.