Identification
Carpenter Ants:
Easy to distinguish by their size, carpenter ants are large in comparison to other species, up to 1/2 inch in length. Most species are dark colored, often black. Carpenter ants do not sting, but they have powerful jaws that can inflict a painful bite. They emit an unpleasant smell (formic acid) when disturbed. Winged ants leave the nest to start new colonies and are sometimes confused with termites. Carpenter ants can construct nests containing thousands of individuals indoors or in trees near buildings. There can be 20 or more satellite nests in a colony featuring one queen.
Leafcutting Ants:
(also called Cut Ants, Cutter Ants, Fungus Ants, Parasol Ants, Texas Leafcutting Ants, Town Ants)
These ants are rust colored with visibly large (wide) heads. The worker ants 1/10 to 1/2 inches long. Leafcutting ants live in large colonies that consist of crescent-shaped mounds on above ground and extensive underground chambers. The mounds may be contained within a small area or cover several acres. Foraging trails devoid of vegetation are usually found near the mounds.
Fire Ants:
Adult fire ants look like many other ants. They are reddish to dark brown in color and worker ants are from 1/8 to 1/4 inch long. The females are about 1/3 of an inch long. There are also winged males and queens. Mounds can vary in size and shape, but usually the larger the mound the larger the colony.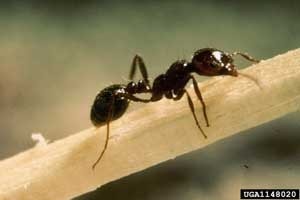 Pictured: Fire Ant
Citation: USDA APHIS PPQ Archives, USDA APHIS, www.insectimages.org
Damage
Carpenter Ants:
Carpenter ants bore into wood to make their nests. This complex network of tunnels and chambers usually starts in an area of soft decay. Indoor carpenter ant nests are bored into the wooden parts of the building, sometimes causing serious structural Damage. They may also nest in walls, hollow doors, cracks and crevices, furniture, and empty termite galleries. New buildings can become infested when land clearing disturbs existing nests.
Leafcutting Ants:
These ants attack hundreds of trees, shrubs and ornamental plants by stripping off the leaves, flower buds, and stems. They don't actually eat the leaves, but use them as a food substrate for the fungus that ants grow and feed on back at the nest. Usually found in the southern U.S., these ants are capable of destroying large numbers of pine seedlings by removing the needles, buds, and bark during months when other green vegetation is scarce or unavailable. Leafcutting ants can also inflict a painful bite when disturbed.
Fire Ants:
When their nests are disturbed, these ants inflict painful stings on humans by clamping down with their powerful jaws and attacking repeatedly. With each sting they inject venom that creates a burning sensation. The stings cause itching blisters that may become infected and leave scars. Certain people may have severe allergic reactions to their stings (including death from anaphylactic shock). Fire ants cause minor injuries to livestock. Their mounds can be unsightly in the landscape and may cause minor Damage to farm equipment working in fields. Fire ants were accidentally imported to the U.S. from South America. They are currently found in 14 southern states and appear to be expanding northward.
Organic Methods of Control:
Cultural or Mechanical
Keep ants out of buildings by sealing cracks and crevices with caulk (Carpenter Ants).
Replace decayed of Damaged wood and correct moisture conditions that cause decay (Carpenter Ants).
Store firewood off the ground and several feet away from buildings (Carpenter Ants).


Pictured: Leafcutting Ants
Drench mounds with citrus-based products (Leafcutting Ants).
Use diatomaceous earth around trees, shrubs and plants frequented by ants (Leafcutting Ants, Garden Variety Ants).
Repeated flooding of the mounds can also be effective. Do this every few days to be effective (Effective on all types of ants).
Eliminate food sources indoors with good sanitation practices and by keeping food in ant-proof containers (Carpenter Ants).
Wash counters with vinegar and water (1:1) to repel ants in the kitchen (Effective on all types of ants).
Trim tree and shrub branches so they don't touch buildings and provide a bridge so ants can gain access (Carpenter Ants).
Biological
Encourage beneficial insects (Effective on all types of ants).
Control aphid populations (Effective on all types of ants).
Chemical
Use a broadcast bait of 1-cup sugar, 4 teaspoons of boric acid and 24 ounces of water in a glass jar. Close the jar tightly and shake the mixture thoroughly until all the crystals dissolve. Pour 1 cup of this mixture into a smaller jar filled partially with cotton balls. Screw the lid back on, seal around the lid with weatherproof tape and punch a few small holes in the center of the lid. Draw a skull and crossbones on the jar as an extra precaution for passers-by and keep pets and children away from the jars! Put one of these near the entrance to each mound. The ants will get into the jar to eat the sugar and return to the nest and pass it on to the rest of the colony. If you start to see a lot of dead ants next to the jar, the solution is too strong. Adjust it accordingly so ants don't die before sharing the food with others in the colony (Effective on all types of ants).
Pour 1/2 cup of Epsom salts into the nest and all around it (Effective on all types of ants).
Use sticky traps along baseboards and behind appliances, but keep them away from pets and children (Effective on all types of ants).
Spray entrances to the home with a mixture of 1-cup water, 1/4 cup of Tabasco, 1/4 cup of liquid dish soap and 1 teaspoon of peppermint flavoring, or sprinkle crushed cloves or red pepper around areas ants are seen frequently (Effective on all types of ants).
Pennyroyal, tansy and mint leaves scattered around the corners of the room are said to deter ants (Effective on all types of ants).