I woke up this morning and found this black mass of I don't know what on my bathroom wall, but it may be eggs of some kind of insect. Does anyone have any ideas?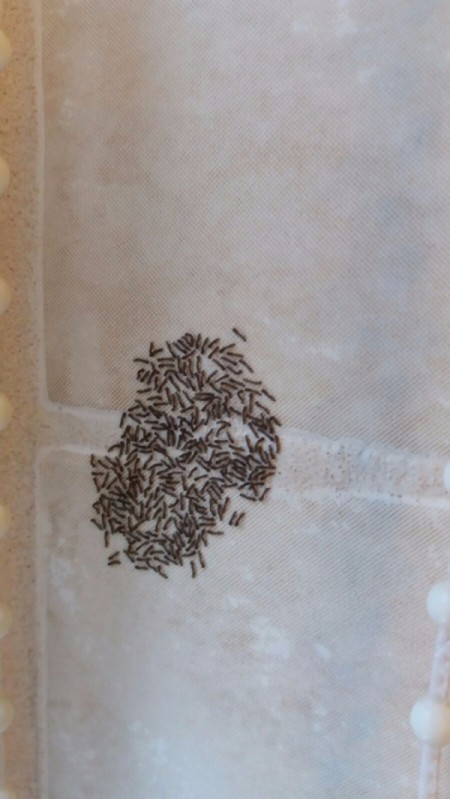 Answers
September 29, 2017
0

found this helpful
Best Answer
Yikes! Looks like larvae. Get rid of it:
Step 1
Pour boiling water on them, gather the waste, and dispose of them far from your house
Step 2
Flush the drain with bleach and boiling water
Step 3
Deep clean your shower
Step 4
If you see any full grown after these steps, they can be eliminated with any commercial insect-killing spray.
Answer

this Question

...
Can you please tell me what type of insect eggs these are? I found them in the corners of my office kitchen. They are behind boxes and cardboard. I also found them in-between the broom bristles and along the edge of the wall.
There are quite a few of them.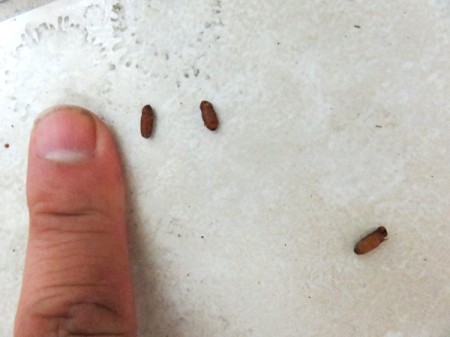 If you could please provide me some tips on how to avoid getting these eggs or killing off the main insect would be helpful.
Answers
September 16, 2017
0

found this helpful
Best Answer
To identify an egg is not that easy. However, there is a way to find out what the insect egg is.
Step 1
Take the eggs that you have gathered and put them in a plastic bag.
Step 2
Go to a pet exterminator company and show them the eggs.
Step 3
They will help you identify the eggs and the insect.
Step 4
Find out if you can take care of this at home on your own.
Step 5
You might need a professional to come in to spray for the insect and the eggs.
Answer

this Question

...
Anyone know what laid these eggs on my outdoor lily plant? I live in Florida. If it's something beneficial, great. But if it's not, I'd like to know before they hatch! If you "stretch" the pic you can see them pretty clearly. I will appreciate anyone's help who may know. And if I should get rid of them will appreciate any good ideas how.


Thank you!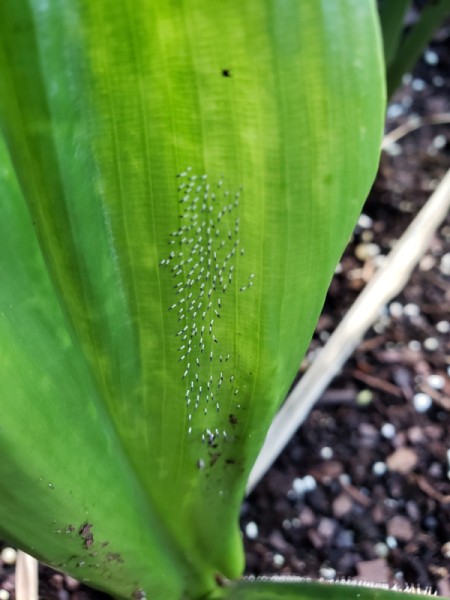 Answers
June 3, 2018
0

found this helpful
Take them to a garden shop to have them identified. Perhaps they are butterfly eggs, or some other beneficial insect. Enjoy
June 3, 2018
0

found this helpful
They may be root maggots. Check out this link and hold the example up to the stem. They look like they are white with a black tip like these pests.
If it isn't a match, I would scrape some off carefully with a disposable plastic knife (leave outside in the trash when done) into a clean glass jar with a tighly sealed lid and inmedately take them to a garden center to help identify them.
You may want to put the jar in a sealed plastic bag before transporting. I would not want to risk them being free in a car. Ick!!
June 3, 2018
0

found this helpful
It could be a lily leaf beetle.
I sent the photos to 3 entomologists. So far one has answered - doesn't have any idea what they are. Sent photos to my Orkin guy too so will keep y'all posted if I get an answer!
DEFINITELY will seal anything I decide to carry them in - so far just waiting to get answers from 2 entomologists and my Orkin guy.
Checked out the root maggot possibility, and I don't think there's a match. When I looked into them it says they lay eggs on or under the soil, and the plant shows signs of distress.
These are on the stem and leaf, and the plant appears to be perfectly healthy. Will keep this group posted if / when I learn more. I'm leaning toward some kind of fly or moth right now. Thanks though!
June 4, 2018
0

found this helpful
Let's know. Glad it isn't root maggots. They can be brutal to the plant.
June 5, 2018
0

found this helpful
Checked out lily leaf beetle eggs. Nothing like these but thank you!
June 7, 2018
0

found this helpful
This is kinda strange looking as it appears to have a black tip.
I believe you should cut the leaf below the "eggs" and place the whole thing in a large gallon size zip lock baggie so you can carry it with you (safely).
Get addresses of your local Agriculture Agency and your County Extension Office. Here are a couple of links to help you.
You may also have a Master Gardener group in your area and they are many times very helpful with plant problems.
Any one of these offices should be able to help you but seeing the leaf will be the biggest help for them.
If you cannot locate an office in your area then take your leaf to your local Ace Hardware or True Value Hardware as they usually have more experienced people in their plant departments.
If you live anywhere near a university that has an agriculture department then that may be the best place to start.
Answer

this Question

...
My vegetable plants have been very healthy overall and I check them every day for aphids, spider mites, etc. And out of nowhere one day one plant (broccoli I believe) had two or three of these little egg sacs? They look kind of like dead bits of a tapeworm parasite that has fallen off a dog or a cat. But they are stuck on the top of the leaf pretty tightly.

I've tried to look it up, but all the eggs look different with the bugs I've seen than the ones on my plant and are on the bottom of the leaf not the top. Could anyone please help me identify what these are? Also it started with just one or two and now there are a bunch, but not in clusters like most eggs.
*update * on one plant they finally started showing up on the underside of the leaf, but only on one leaf the rest are on the top.

Answers
July 23, 2018
0

found this helpful
Looks like mealybugs. Spray with an insecticide
July 23, 2018
0

found this helpful
Tis the season for the creepy crawlies to surface! The pic is too small for me even magnified. Blurry it resembles midges, maggots, mealies or cutworms.
I suggest that you scape some into a jar, seal it good and take them to the hardware store or garden center. They can give you a definitive ID and safe treatment method.
Good luck!
July 23, 2018
0

found this helpful
Sorry I didn't realize the other ones loaded onto here blurry they were ok in my camera gallery. Here are a couple more pictures. I haven't been able take them to a gardening store yet and the hardware store cashier just kinda shrugged her shoulders.
They are only on my broccoli, cauliflower and brussel sprouts. Not my cucumber, peas, tomatoes etc. And if location helps im on the Oregon coast.
As far as natural insecticides go do you guys have any recommendations?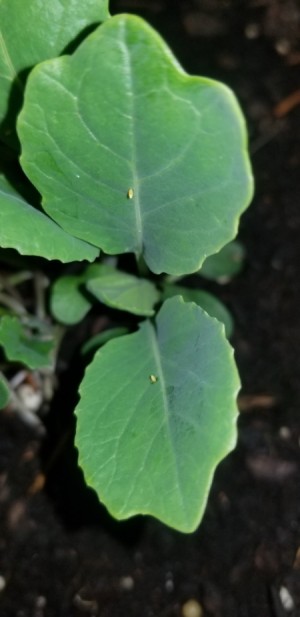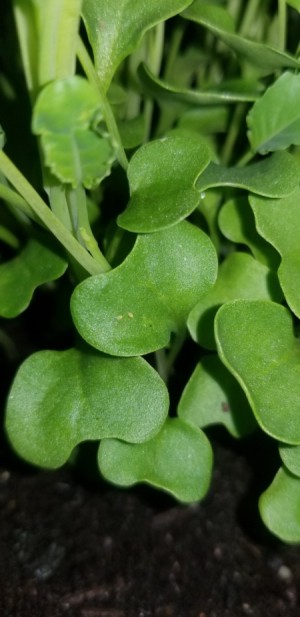 Read More Answers
Answers
July 9, 2018
0

found this helpful
I'd say a moth laid eggs there. We had similar on our tomatoes and soon enough we had caterpillars.
July 9, 2018
0

found this helpful
If they are both the blue black and the yellow, that may be cutworms:
www.google.com/search?client=firefox-b-1&tbm...
They are quite repulsive and the most natural way (and one the creeps me out the most) way to get rid of them is to hand (gloved) pick them off and drop them in a cup of soapy water.
There are lots of other solutions but because we have a dog and small children neighbors, I don't do the chemical ones.
This is is a good resource:
Good luck! Sorry you are dealing with this!
July 9, 2018
0

found this helpful
Yellow eggs could be Colorado potato beetle, which also affects tomatoes.
July 12, 2018
0

found this helpful
What you have on your plant is Cinnabar moth eggs.
This is a very interesting subject and probably not well known unless you live in an area that has cultivated the Cinnabar moth to eradicate the very harmful ragwort weed. Oregon and Washington seem to have been the first US states to use them on a wide scale basis but the UK and other parts of Europe use the Cinnabar moth also.
You do not say where you live but perhaps it is in one of these areas?
The problem seems to be that no one really researched what to do with these moths when/if they started laying eggs on "good" plants.
Here is a statement from a university site:
I don't believe much thought has yet gone into methods for controlling the moths when they devour non-target plants. I would guess that you could attempt to look for eggs and remove them manually, or, attempt to control the larvae of the cinnabar moth (Tyria jacobaeae). We can't recommend pesticides as we are librarians and not licensed pesticide handlers, but you might investigate whether something like Btk (Bacillus thuringiensis kurstaki) is registered for controlling moths in their larval stage. Oregon Health Authority has information about Btk's use on gypsy moth. This should give you an idea of how Btk works.
Here is another statement from Oregon agriculture department:
"In 1976, the Oregon Department of Agriculture declared tansy ragwort a noxious weed. In the meantime, researchers were searching the original home of tansy ragwort, Europe, for biological control agents. Cinnabar moth was one of three natural enemies released to control the weed. It was first released in the 60's with additional releases thereafter.
The grayish-black moths with red patches on the wings established and provide biological control of this weed.
The moths lay their eggs on the underside of the leaves of tansy during the late spring. Soon small orange and black caterpillars hatch from the eggs. They feed first on the lower side of the leaves on which the eggs were laid, then move onto the developing flower buds and leaves. They pupate on the ground in the leaf litter. There is one generation a year."
"Caterpillars are feeding from July early September and are initially pale yellow but soon develop bright yellow and black stripes to deter predators.
The caterpillars feed on poisonous ragwort leaves. The poison from the leaves is stored in the caterpillars body (and even remains when they are an adult moth). Any birds or other predators that ignore the caterpillars bright warning sign will be repulsed by how foul they taste."
Finally:
I do not know what type of plant you have but I believe you should contact your Agriculture Agency/Extension Office and send them your photos and ask for their help in how to take care of these moths.
In the US:
If you are in another country you should have a similar office/agency.
Additional information:
depts.washington.edu/.../resource_search.php?term=2611
Answer

this Question

...