I woke up this morning and found this black mass of I don't know what on my bathroom wall, but it may be eggs of some kind of insect. Does anyone have any ideas?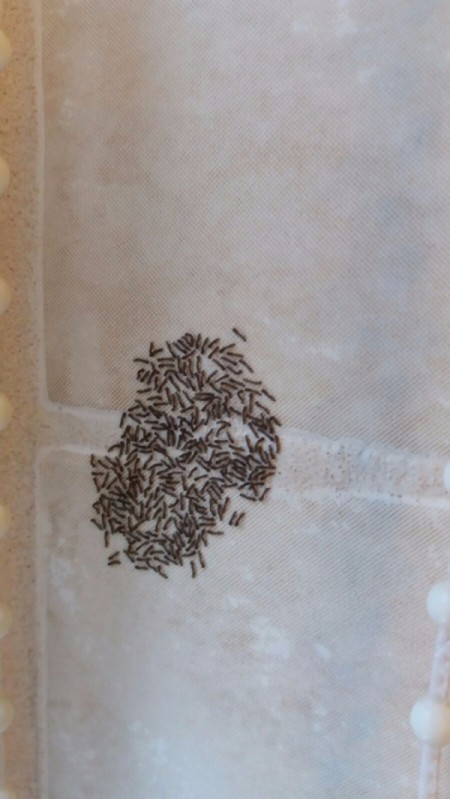 Answers
September 29, 2017
0

found this helpful
Best Answer
Yikes! Looks like larvae. Get rid of it:
Step 1
Pour boiling water on them, gather the waste, and dispose of them far from your house
Step 2
Flush the drain with bleach and boiling water
Step 3
Deep clean your shower
Step 4
If you see any full grown after these steps, they can be eliminated with any commercial insect-killing spray.
Answer

this Question

...
Can you please tell me what type of insect eggs these are? I found them in the corners of my office kitchen. They are behind boxes and cardboard. I also found them in-between the broom bristles and along the edge of the wall. There are quite a few of them.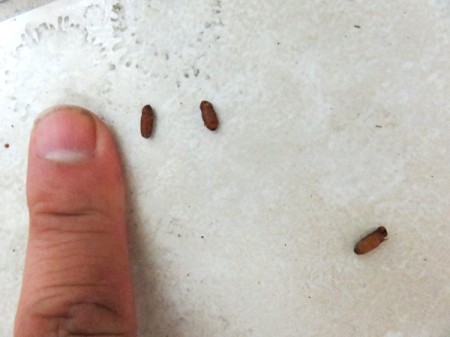 If you could please provide me some tips on how to avoid getting these eggs or killing off the main insect would be helpful.
Answers
September 16, 2017
0

found this helpful
Best Answer
To identify an egg is not that easy. However, there is a way to find out what the insect egg is.
Step 1
Take the eggs that you have gathered and put them in a plastic bag.
Step 2
Go to a pet exterminator company and show them the eggs.
Step 3
They will help you identify the eggs and the insect.
Step 4
Find out if you can take care of this at home on your own.
Step 5
You might need a professional to come in to spray for the insect and the eggs.
Answer

this Question

...
Anyone know what laid these eggs on my outdoor lily plant? I live in Florida. If it's something beneficial, great. But if it's not, I'd like to know before they hatch! If you "stretch" the pic you can see them pretty clearly. I will appreciate anyone's help who may know. And if I should get rid of them will appreciate any good ideas how.


Thank you!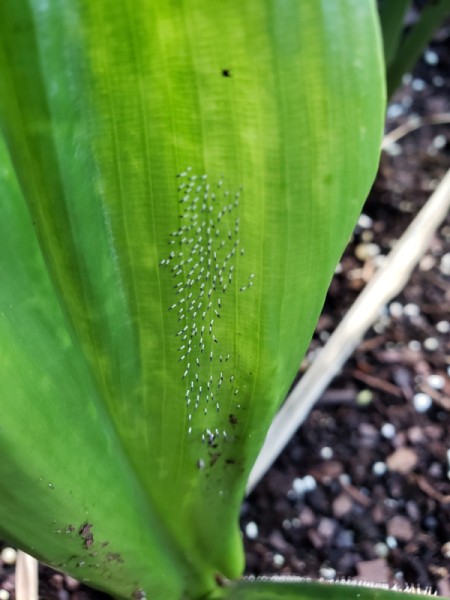 Answers
June 3, 2018
0

found this helpful
Take them to a garden shop to have them identified. Perhaps they are butterfly eggs, or some other beneficial insect. Enjoy
June 3, 2018
0

found this helpful
They may be root maggots. Check out this link and hold the example up to the stem. They look like they are white with a black tip like these pests.
If it isn't a match, I would scrape some off carefully with a disposable plastic knife (leave outside in the trash when done) into a clean glass jar with a tighly sealed lid and inmedately take them to a garden center to help identify them.
You may want to put the jar in a sealed plastic bag before transporting. I would not want to risk them being free in a car. Ick!!
June 3, 2018
0

found this helpful
It could be a lily leaf beetle.
I sent the photos to 3 entomologists. So far one has answered - doesn't have any idea what they are. Sent photos to my Orkin guy too so will keep y'all posted if I get an answer!
DEFINITELY will seal anything I decide to carry them in - so far just waiting to get answers from 2 entomologists and my Orkin guy.
Checked out the root maggot possibility, and I don't think there's a match. When I looked into them it says they lay eggs on or under the soil, and the plant shows signs of distress.
These are on the stem and leaf, and the plant appears to be perfectly healthy. Will keep this group posted if / when I learn more. I'm leaning toward some kind of fly or moth right now. Thanks though!
June 4, 2018
0

found this helpful
Let's know. Glad it isn't root maggots. They can be brutal to the plant.
June 5, 2018
0

found this helpful
Checked out lily leaf beetle eggs. Nothing like these but thank you!
June 7, 2018
0

found this helpful
This is kinda strange looking as it appears to have a black tip.
I believe you should cut the leaf below the "eggs" and place the whole thing in a large gallon size zip lock baggie so you can carry it with you (safely).
Get addresses of your local Agriculture Agency and your County Extension Office. Here are a couple of links to help you.
You may also have a Master Gardener group in your area and they are many times very helpful with plant problems.
Any one of these offices should be able to help you but seeing the leaf will be the biggest help for them.
If you cannot locate an office in your area then take your leaf to your local Ace Hardware or True Value Hardware as they usually have more experienced people in their plant departments.
If you live anywhere near a university that has an agriculture department then that may be the best place to start.
Answer

this Question

...