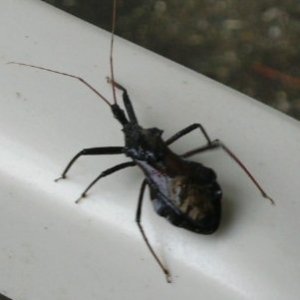 Can anyone identify this bug? One shows up every year in early fall.
By Joan from Lewes, DE
Answers
October 6, 2011
0

found this helpful
Hello ~
I just found one of those bugs yesterday and I identified it as a sort of stink bug. Its official name is a western conifer seed bug according to the web.
October 6, 2011
0

found this helpful
To MOKAIS. Thanks but I think this is different. I checked all different types but this one has a different shape and different colors for example, the antennae are bright red which doesn't show in the pic. Thanks for the input though.
October 7, 2011
0

found this helpful
I forgot to add to my bug request that this bug is about 1 1/4 to 1 1/2 inches long from head to other end. He appears very aggresive as he turned not only his head but entire body to track my every movement!
October 7, 2011
0

found this helpful
I think it is a "wheel bug" or known also as an "Assasin Bug". I hope I am correct and I hope this helps you. They can be harmful to humans. Clara
Read More Answers
May 30, 2011
0

found this helpful
I found a small insect that looks like a cross between a common house fly and a miniature bee. Any idea what it might be? The insect has the body size and color of a fly (green and blue) and looks like a bee with six legs and small stinger. I tried to take a picture of it, but it was too small for the camera to focus on.
By Janette G from Paradise, CA
Answers
May 31, 2011
0

found this helpful
Without seeing a picture, my guess would be a that it is a blue bottle fly. We have them around here and they are harmless. Here is a link that tells about the blue bottle fly.
http://en.wikip mitoria_edit.jpg
May 31, 2011
0

found this helpful
My initial thought was a sweat bee. But if you are concerned catch one (dead-but recognizable or alive) and take it to your local agricultural office. It may have a different name but it should be listed in your phone book near other local govt offices. Another choice would be to take it to a state park if there is one in your area. Those rangers are pretty knowledgable about most of the critters in their state.
June 1, 2011
0

found this helpful
I'm gonna say it's a blueberry bee. This picture best matches the coloration you describe.
A picture can be found at:
http://en.wikip Osmia_ribifloris
I hope this helps!
July 5, 2013
0

found this helpful
I think you may be talking about this bug in pic. I'm trying to figure this out myself. I seen it in Long Island (Mineola)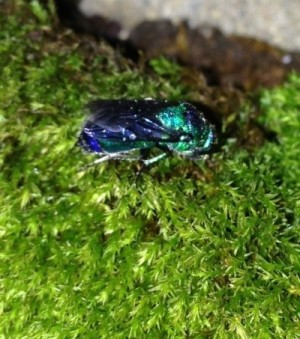 Answer

this Question

...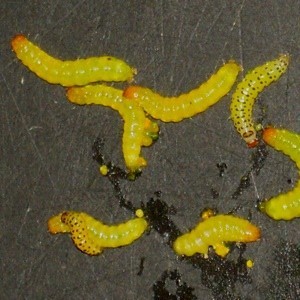 I am a complete novice learning about home vegetable gardening, mostly by trial and error. I need some help. Can you help me identify the pest in the attached photos? It is killing my zucchini and has already killed our banana peppers. I don't know what will fall next.
I am concerned about using a toxic pesticide. Knowing little, I fear I could damage my soil, and/or at least alter some local ecological systems. I would feel better understanding what confronts me. Where do I go? What do I do? I am grateful for any reply, and thank you in advance for your time.
Hardiness Zone: 11
By bob lapsley
Answers
December 15, 2009
0

found this helpful
This isn't going to be helpful at all, just a reaction to the photo. Ack!
I have issues with caterpillars. They give me the heebie-jeebies. And those would probably have me running/screaming out of my back yard (possibly running into something and knocking myself out).
I found aphids that popped up on my cucumbers overnight, and used some insecticidal soap on them. I think I used it two days in a row, and that took care of the problem. It looked like the safest thing when I was at the store (said it was safe to use right up to harvest).
Maybe someone will come on and help you identify those brightly-colored, healthy-looking caterpillars (shudder!). If not, check out this link to Dave's Garden BugFiles:
http://davesgarden.com/guides/bf/ Best of luck!
December 16, 2009
0

found this helpful
You can spray your garden with the liquid soap from the kitchen. Fill the bottle almost full of water then put 1 tablespoon of soap in the bottle. Call your County Extension off for all the info on gardening. It's free, good luck.
December 17, 2009
0

found this helpful
Diatomaceous Earth
Kills Ants, Fleas, Ticks, Cockroaches, Earwigs, Slugs, Beetles, Flies, Silverfish, Bed Bugs, worms and many other pests, naturally, without harsh synthetic chemicals!
Not only that! It works on pets, dogs, cats and equines for worms and parasites. Human grade though. And it isn't costly! It is great stuff!
December 17, 2009
0

found this helpful
Try your local college, or extension service. E-mail your pictures. Also a local garden center, just keep the bugs in a capped jar so they can't escape. I have read that diatomacous earth can be deadly to pets. Check with you vet on that one.
What ever you do please use care. Sadly big business agriculture over does the weed killers, and genetic engineered food which can withstand massive doses of roundup is not good for any of us humans.
Dreaming about my garden as the temps are in the teens, and a large snow storm may blanket the landscape this weekend. Good luck with eliminating those awful bugs.
December 30, 2009
0

found this helpful
If your garden is enclosed, get some chickens. They'll clean up those critters in a hurry.
Answer

this Question

...
I am an American, living in London, England. Recently, we had a problem with mice in our home. They were so numerous, you could hear them fighting and smacking into each other in the walls and behind cabinets.
I'm a vegan, and against killing animals, but it got so bad, they were coming out into the living areas of the house, despite our 4 indoor cats! My husband eventually put down Rentokil bait, and within 3 days, they had all apparently died, though we only could locate 3 dead mice.
A week later, a fly began to appear in the house. I have never seen anything like this fly before. It looks a great deal like a flea, but with wings. It has black, 'not' red eyes, long, jointed flea-like legs, bristles on the head, and it is a brown reddish color with alternating black or dark brown 'stripes' on the thorax. The ventral part of the thorax is light cream color.
They are not attracted to sugar or any sweet food items. They only seem to want meat, ie., cat food or the jelly on the food, and they attack the saliva left in the bowl, immediately after the cat eats.
They fly right at me, and they are very insistent about it. I do not know if they bite, as I do not let them land on me, and if one does, I get rid of it fast. They are extremely hard to kill. You can try to crush them when they have landed, but they seem to be able to withstand a lot of pressure, like a flea can. I've sprayed them with Flash with bleach, and it stops them, but once they dry off, they just fly away! They won't go out a window if they are on it and I open the window to let them out.
What is this fly? It's driving me insane. Rentokil has asked me to try to post a few to them, for i.d purposes, but that will take 2-3 weeks before they get back to me. Can anyone help? By the way, they are 'not' drain flies or fruit flies, wrong morphology. Please help. Thank you!
By Leslie
Answers
July 18, 2011
0

found this helpful
It would help if you post a picture.
July 18, 2011
0

found this helpful
Agreed.
July 18, 2011
0

found this helpful
Please post a picture for us it won't take 2 or three weeks. I am sure to tell you what it is.
Answer

this Question

...