How can I identify these tiny bugs that are almost invisible, although they are black? We have almost white carpeting in most of the rooms and you have to look very closely to see them. When you are just ready to pick them up, they begin to move. I now use the method of getting them on paper and then placing them in an tight used medicine bottle. Some live for weeks some so tiny the look like this: ( . ) others looks like tiny beetles. You don't notice they have wings until they are turned upside down. I cannot see legs, nor antenna, just this ( . ).
They have been found mostly by our PC tower, others in the master bedroom. I am going zonkers trying to find out if I need an exterminator and are they dangerous to our health. Anyone, someone, please help or refer me to an authority on bugs. The exterminators will not come out unless you identify them, dud, I can't. Thank you and please help.
By CR
Answers
June 15, 2011
7

found this helpful
Best Answer
Sounds like you have either a flea infestation (Note fleas are very small but do not fly they jump) or the start of a termite infestation. Best thing to do either way is bomb fog your whole house. Good luck.

June 16, 2011
11

found this helpful
Best Answer
I think your problem is even simpler than you think. First if you have an extension agent for your area he will usually come out or you can take him a sample of the bugs and if he doesn't know he will send them to the state university, free, and they will identify them.
But, I think you have a mold problem and these bugs only eat mold, hard to see but with a bright light you probably can see the tiny things on the wall and when the light gets near them they will move. I had to use bleach just a little in a spray bottle will do and they are gone, if you do have mold then you have moisture and that is your big problem. You will have booklice or mold bugs as long as moisture creates mold. I thought I was crazy when I found them on my brand new house with white walls, almost like black spots but they moved if you stared long enough. Smile, this did go away with a little staying with the spray. And a dehumidifier on the ac because our house was too airtight.
Answer

this Question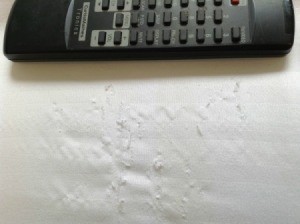 Since last fall, when I purchased a new bed spread, I have been plagued by tiny (head of a pin) black bugs. They live in my bed, which I have sprayed so much I have sinus problems. There is the tiny black stage. There is the cloth and larvae stage, the feeding on the sheets stage, and the depositing stage (they have a drain field of "or and" spots 6 to 12 inches X 4 inches. The University of Minnesota saw no insects, the building management said it was in my mind; the pest control, well, I can't say here. I have pictures.
By Bob R from Plymouth, MN
Answers

April 21, 2013
2

found this helpful
Best Answer
The next time you see these black bugs, try using some Scotch tape to grab a few (try not to crush them). Stick your sample to an index card. Show this to an entomologist or professional pest control person.
For eradication (once you identify them), I suggest contacting a professional pest control company.
Answer

this Question

I keep finding this bug all over a house we are renting. It's really small as you can see in the first picture. It would fit on my thumbnail. In the up-close photo you can see it has whitish spots and one wide whitish stripe.
They are really a nuisance and we've sprayed a ton, but they're still here.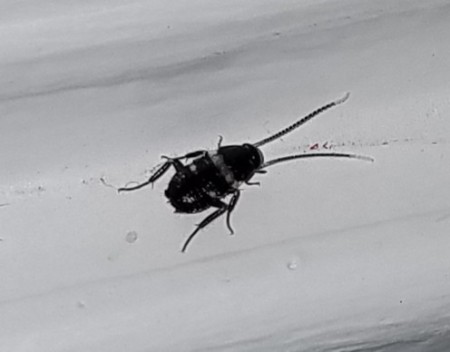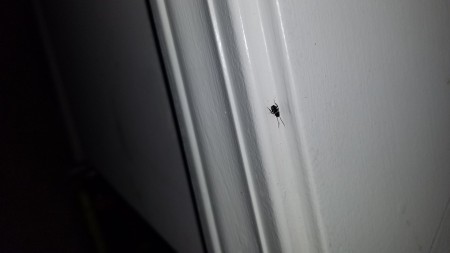 Answers
haydemon
Gold Answer Medal for All Time! 617 Answers
May 30, 2020
1

found this helpful
Best Answer
This is actually a really good photo; unfortunately, it is hard to tell whether it has wings or a hard shell. Does it fly? Does it congregate mostly in dark areas, wet areas, or is it an equal opportunity nuisance?
It is possible that this is an old house borer. It feeds on wood, and bears its name because traditionally it infests older homes. However, any wood on any home 10 years old or so could be infested.
This would explain why spraying doesn't seem to work; if it is the borer, it's a structural thing.
source: cdn.orkin.com/.../orkin-insect-id-guide.pdf[/downloads/orkin-insect-id-guide.pdf]false

June 2, 2020
1

found this helpful
Best Answer
No matter how good the photos are, it is still difficult to identify a but as so many are very similar and change completely during different stages of life. Some are more prevalent in one area also.
It looks a lot like an Oriental Cockroach to me but they do get larger than you are saying.
Take a look at the photos and see what you think.
Since you are seeing these quite often it means that whatever you are spraying is either not the correct type or you are not getting to the breeding places.
I would suggest you do one of two things (or both).
Send your question to this site but be sure to tell them where you live.
Take your pictures to either Ace Hardware or True Value Hardware and ask for help as they usually have experienced people who can assist you where other stores generally do not.
Answer

this Question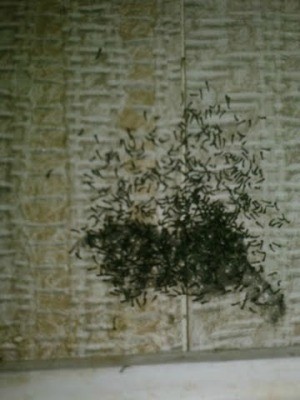 I walked into my bathroom (small bathroom with no window that's able to open) to notice a black spot on the wall about a inch and a half wide. I got closer to realize it was a cluster of little black bugs! They move like worms. Does anyone have any idea what these are?
By KaleyM from US.
Answers

Pixiedust7
Gold Feedback Medal for All Time! 679 Feedbacks
July 8, 2012
0

found this helpful
Best Answer
I just saw this tonight. If they're wormlike, they might be maggots, which turn into flies. There might be a water problem in that spot, and flies lay eggs in water. The eggs hatch into maggots. Kill the maggots and try to fix the wetness, if any. I've seen them on the bathroom sink counter, if water splashes behind the faucet and puddles there, for instance, in hot muggy weather. It only takes a day or so for them to appear. I wash them down the drain with hot, hot water. I have to remember to dry up stray splashes on muggy days.
Answer

this Question

Can anyone help me identify this little bug? I first saw them on the pantry floor and now I find them all over my first floor. The house is only 4 months old. They don't fly, just crawl.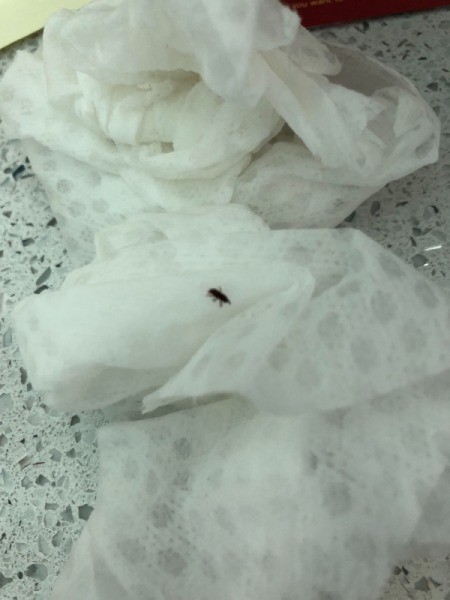 Answers

Judy
Gold Post Medal for All Time! 677 Posts
February 15, 2018
0

found this helpful
Best Answer
It looks like some kind of beetle. Make sure all food is wrapped up, and check for any moisture or leaks.

February 16, 2018
0

found this helpful
Best Answer
Looks to me like a granary weevil. Dispose of old, out dated flour, rice, cereals, dry beans, etc. Thoroughly vacuum the carpet and mop the flooring. Wipe down the shelves in the pantry.
Answer

this Question

I've noticed these tiny black bugs in our bathrooms and a few in the kitchen over the past few weeks. They were even in folded towels in the linen cupboard.
We've lived in our house almost 20 years and have never seen them before. What are they? How can we get rid of them?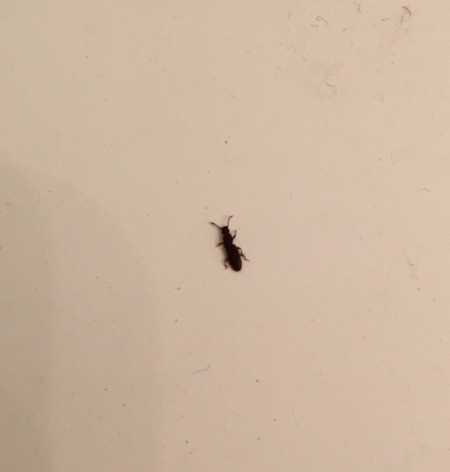 Answers

poehere
Bronze Post Medal for All Time! 105 Posts
November 2, 2019
2

found this helpful
Best Answer
There are much safer ways to get rid of gnats than spraying them with a bug spray. I would rather go the homemade way than buy the sprays and get sick.
In a jar mix some apple cider vinegar with a few drops of liquid dish soap. Put the jar in the areas that you are seeing the gnats and fruit flies in your home. Once they go in the jar and they will because the smell attracts them they can't get out again because the dish soap holds them in the liquid and they drown.
These are cheap and easy to make and you should make several of them for your home.

Iceskater
Silver Answer Medal for All Time! 320 Answers
November 2, 2019
0

found this helpful
Best Answer
I believe this is a rice weevil. They are harmless to humans (other than eating the grains in your pantry!) Check your flour, rice, cornbread, etc. containers. Another thought: do you have one of those rice-filled shoulder/neck heating packs stored in your bath or bedroom? Good luck!
Answer

this Question

One day all of sudden I found 4 to 5 small black insects in my room. The same day I cleaned each and every corner of my room, every piece of furniture.
But the next day I again found 4 of these insects in my room. They are slow and climb the walls.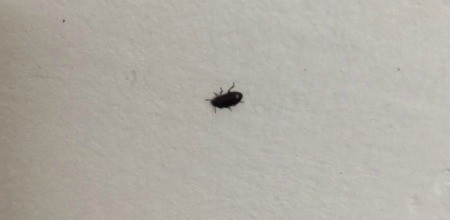 Answers

poehere
Bronze Post Medal for All Time! 105 Posts
February 26, 2018
0

found this helpful
Best Answer
They look like a small house beetle that come inside for the winter to get out of the cold. If they still sell house bombs, I'd set off a few of them in your home and leave for a few hours. That should do the trick.

March 1, 2018
0

found this helpful
Best Answer
Killing a few will help, but you need to find where they are coming in. If you have access to the basement, it might be time to seal the floor edges where they meet the wall.
And check the windows, as well. If you put some double back tape on the window sills and the corners of the room, it might capture them and you can see where they are coming in.
Also check the vents. If you think they are coming in through there, stretch some old panty hose over the grate and that will keep them out, too.
Answer

this Question