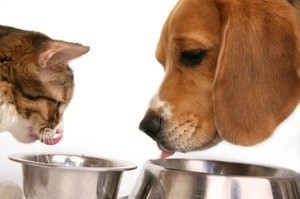 When it comes to human health, few people would argue that a healthy diet plays an important role in longevity and overall quality of life. The same can be said for the health of our companion animals. A surge in organic and natural consumer goods has started to spill over into pet products. And while feeding organic food may not guarantee your pet lives happy and healthy forever, it certainly can help increase the overall quality of their life.
What is Organic Pet Food?
Organic pet foods/treats are made with ingredients that have no pesticides, no synthetic fertilizers, no antibiotics, no growth hormones, no bioengineering (no GMO's), and no by-products. Each ingredient is reviewed by an organic certifying agency that operates under the federal USDA National Organic Program.
The Benefits of Feeding Organic
Weight Control: Animals are a lot like humans in that diabetes, organ failure, and joint ailments are all aggravated by obesity. Overweight dogs and cats have less energy and more physical problems. Organic foods contain more nutrition and lack the bulk fillers and preservatives found in commercial pet foods. Because organic foods tend to be more nutrient dense, your pet is more likely to consume only what it needs to maintain balanced bodily functions.
Reduced Allergies And Skin Irritations: Many pet owners have struggled to find solutions to allergies and irritating skin conditions. Special creams, ointments, and medicines all treat the symptoms, but they never provide a cure because they don't get to the core of the problem. Organic foods are made without artificial colors or flavor enhancers, chemical additives, or toxic pesticides all of which can contribute to allergic reactions in our pets. High quality proteins and grain support your pet's immune system and help them combat allergies and skin infections.
Reduced Digestion Problems: Higher quality sources of proteins and grains, without all of the chemical additives and fillers make organic food easier to digest for your pets. It works the same way in humans. Fresher, healthier food leads to less gas and bloating, and less digestive disorders.
An Increase in Physical Vitality: Owners often cite noticeable differences in the appearance and behavior of their pets after switching to organic foods. Their pet's hair and coat becomes softer and shinier, eyes look brighter, bad breath disappears, energy increases, skin conditions improve, and senses sharpen. In the long term, that translates into greater quality of life and fewer trips to the vet.
If You Can't Afford Organic
Not everyone can afford buying organic food for their human family members, let alone for their pets. If that's the case, all you can do is educate yourself on pet food labeling and select the highest quality food you can afford for your pets. Here is a link to a wonderful article by David A. Dzanis, DVM, PH.D, DACVN. In it, he describes how to interpret pet food labels so consumers can select the highest quality food for their pets possible.
Comments
January 27, 2009
0

found this helpful
While going organic is a good choice, even more important especially for cats is NOT ever feeding them any kibble, only canned and higher quality canned and preferrably without grains. Cats must exist with a PH of 6.00 - 6.50 or they will produce calcium or struvite crystals... Most vets charge $600 - 1200 to correct this life threatening situation. Buy feeding them the proper foods, high quality canned foods, this will be avoided. Males are far more prone to having crystals that won't pass... Higher quality foods will have meat ingredients as the first 3 or 4 ingredients and preferrably no or very low grains. Meats have a Ph of 6:00 - 6:50, grains are much more alkaline and will produce struvite crystals if too much is consumed. It is also important to ensure cats have a high fluid intake, they seldom will go to the water bowl for this. Struvite crystals are caused by too alkaline of a diet and urine concentration. Kibble has 10% water content, far to low, canned food has 60 - 80% water content and this is a must for cats.
Anyone who has cats and wants to learn more about their health and diet, I would strongly suggest you join the Whole Cat Health support group, Rosemary the owner is very knowledgable about cats.
You won't find higher quality cat foods at the supermarket or even a pet supermarkets, they are typically found by online sellers such as (PetFoodDirect.com)
I would also opt for high meat ingredients for dog foods as the first ingredients. They are more adaptable to kibble as they will find and use the water bowl.
I would not ever feed my dogs and cats anything with "meat-by-products in it as this can consist of beaks, nails, road kill, etc and this is what the pet food companies call protein and they never tell us what's in the meat-by-products... The only kind of protein should come from whole meats.
Invest in quality foods for your pets and they will live longer healthier lives and will spend much less time at the vets office.
Jim in Jax
January 27, 2009
0

found this helpful
I make my dog's food every day! Not too hard just a little time and love. I feel so much better this way knowing what he is eating.
January 28, 2009
0

found this helpful
I feed my cats organic holistic cat food, even when we don't have much money we buy it as it's really preventative healthcare for them. One of my cats is almost 14 years old and still VERY playful and full of energy. My cats are never sick and their fur is soft, they look/are very healthy. I could never go back to feeding them Whiskas or any of the other brands, it's like feeding them junk food. I would opt to make them homemade food, but cats are carnivores and I can't bring myself to be around meat or have it in my house...so holistic food is perfect! Dogs are herbivores so if I ever get a dog I will make them their own veggie food! :)
January 29, 2009
0

found this helpful
I buy Innova dog food for our dogs and also feed them meat often. We had deer meat and I cooked it with rice and green beans and they loved it and there was plenty for another serving the next day.
I've also made salmon pattie cookies for my dog's birthday and they too were enjoyed. Their fur is soft and shiny and both are in excellent heatlh and vitality.
Read More Comments