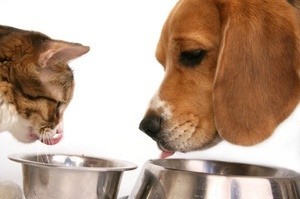 When it comes to human health, few people would argue that a healthy diet plays an important role in longevity and overall quality of life. The same can be said for the health of our companion animals. A surge in organic and natural consumer goods has started to spill over into pet products. And while feeding organic food may not guarantee your pet lives happy and healthy forever, it certainly can help increase the overall quality of their life.
What is Organic Pet Food?
Organic pet foods/treats are made with ingredients that have no pesticides, no synthetic fertilizers, no antibiotics, no growth hormones, no bioengineering (no GMO's), and no by-products. Each ingredient is reviewed by an organic certifying agency that operates under the federal USDA National Organic Program.
The Benefits of Feeding Organic
Weight Control: Animals are a lot like humans in that diabetes, organ failure, and joint ailments are all aggravated by obesity. Overweight dogs and cats have less energy and more physical problems. Organic foods contain more nutrition and lack the bulk fillers and preservatives found in commercial pet foods. Because organic foods tend to be more nutrient dense, your pet is more likely to consume only what it needs to maintain balanced bodily functions.
Reduced Allergies And Skin Irritations: Many pet owners have struggled to find solutions to allergies and irritating skin conditions. Special creams, ointments, and medicines all treat the symptoms, but they never provide a cure because they don't get to the core of the problem. Organic foods are made without artificial colors or flavor enhancers, chemical additives, or toxic pesticides all of which can contribute to allergic reactions in our pets. High quality proteins and grain support your pet's immune system and help them combat allergies and skin infections.
Reduced Digestion Problems: Higher quality sources of proteins and grains, without all of the chemical additives and fillers make organic food easier to digest for your pets. It works the same way in humans. Fresher, healthier food leads to less gas and bloating, and less digestive disorders.
An Increase in Physical Vitality: Owners often cite noticeable differences in the appearance and behavior of their pets after switching to organic foods. Their pet's hair and coat becomes softer and shinier, eyes look brighter, bad breath disappears, energy increases, skin conditions improve, and senses sharpen. In the long term, that translates into greater quality of life and fewer trips to the vet.
If You Can't Afford Organic
Not everyone can afford buying organic food for their human family members, let alone for their pets. If that's the case, all you can do is educate yourself on pet food labeling and select the highest quality food you can afford for your pets.