We have one cat who stays on a prescription food. Most of our cats are elderly, too. I realized after buying name brand, but less expensive dry food, that my older cats threw up a lot. They did not do this with more expensive food such as Purina One and other more expensive brands.
Purina One is on sale a good bit in our area and you can often find coupons on coupon websites for it. So, if your cat is throwing up a lot, it may be from fillers in the dry or wet food. My cats will throw up with Nine Lives canned food, too, and not Friskies canned food. I give my cats one tsp. of canned food and I leave a bowl of dry food out, at all times, since overeating dry food has not been a problem.
By julrobs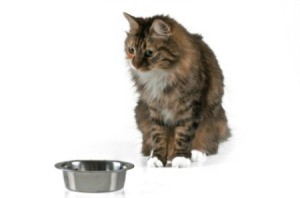 When it comes to chowing down, there are a lot of chow options for your dog or cat. How do you pick the "right" food? There are several factors to keep in mind:
Your pet's age: You want to try to pick a food that is appropriate for your pet's life stage, baby, adult, or senior.
Your pet's body condition: An overweight pet needs different nutrition than an underweight pet. If your pet is in good shape, you want to maintain that shape!
Your pet's health history: A pet with particular allergies or long-term medical conditions may need a special diet.
Your budget: You want to feed your pets the best food you can afford.
As you stare down the colorful bags and cans in the pet food section, you still have some things to consider.
Look at the ingredients: For cats, you want a food that is high in protein. You want a food with amino acids and fatty acids, plus the right mix of vitamins and minerals. For cats AND dogs, you should look for a food with meat, fish, or eggs listed as the first ingredient.
Consider your pet's preferences: Some like dry food, some like wet food, and some like a mixture of both.
One more thing to think about: pet foods come in three basic classes.
Generic brand: These are found in grocery stores and mass-market retailers. The ingredients are usually on the low end, making generic brand foods an inexpensive choice.
Premium brand: These are found in grocery stores, pet stores, and at your veterinarian's office. The ingredients are higher-grade, but may still contain fillers and artificial this and that. A little more expensive than the generics.
Health foods: These can be a little harder to find, you may have to go online or directly to the manufacturer. These foods often use fresh fruits and veggies, real meat, and whole grains. You should not see preservatives and artificial ingredients here. These will probably be the most expensive, but because they are so rich in nutrients, you may not need to feed as much at mealtime.
Your vet can always recommend a particular brand of food if you have trouble deciding. In the end, it is your pet who will make the decision. If they turn up their nose at the special diet food you picked out, you may have to try another flavor to end the hunger strike!