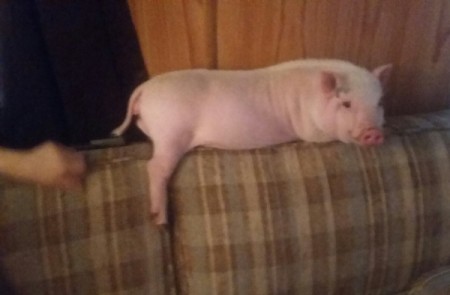 Your Pet's Age
5 months
Your Pet's Breed
Pot-bellied Pig
How and when did you get your pet?
We bought our pig when she was six weeks old as a companion for our daughter.
What does your pet like to do for fun?
Bessy is companionable, snuggly, and affectionate, but can also be riotously fun with bursts of playful energy. She enjoys eating treats, rooting in the earth, learning tricks, and playing chase. She always has a smile and a tail wag for her friends, but especially for her best friend, our daughter Gail. Bessy is an outdoor pig who comes inside to visit, and she enjoys laying on the couch, including on the top of the couch where she lounges like a cat. I think her back-of-the-couch days will soon come to an end as she grows, however!
Do you have anything else to share about your pet?
These pets are not for everyone as they can grow to be very large and due to their size, strength, and intelligence can be destructive if not given enough mental stimulation. They are very smart and need lots of daily interaction and companionship as well as an area in which to root about and dig. This is not an "easy" pet for a child, but our daughter has the time for her friend (being homeschooled) and has proven herself responsible with her other pets. Although many breeders will make unrealistic weight claims (such as only being 30 pounds as an adult), these pigs continue growing for years and can quickly exceed an unprepared owner's expectations as they grow out of the adorable tiny piglet stage. Pigs are wonderful, thoughtful, and charming friends, but a potential pig owner should be well-educated on the needs and realities of having a pig as a pet. These go far beyond the babyish cuteness one sees in internet videos.
Add your voice! Click below to comment. ThriftyFun is powered by your wisdom!
October 24, 2017
0

found this helpful
Aww glad your daughter has a companionship with Bessy. Very interesting about owning a pig. :) I don't know if that's allowed in the city, but I love reading and learning. Is Bessy a good climber to get to the top of the couch?
October 24, 2017
0

found this helpful
Heyitsthao,
Thanks for your comments. Some towns have strict zoning laws about keeping pigs, even pet pigs. Some pet pig owners have had to go to court regarding the legalities of keeping what many municipalities consider a "farm animal." Some win, and sadly some lose and must either move or relinquish their pig.
Regarding your question about the couch, she actually springs up there in one leap!
Add your voice! Click below to comment. ThriftyFun is powered by your wisdom!