Guinea Pig Photos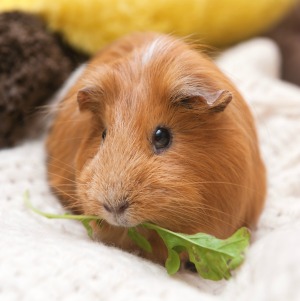 The guinea pig is believed to have been domesticated around 5000 BC. These cute, social rodents make good pets. This page contains guinea pig photos.
Photos
Share on ThriftyFunCheck out these photos. Click at right to share your own photo in this guide.
Molly is 1 year, and 1 month old She is a mix of a American Smooth haired and Coronet guinea pigs. I got Molly at a great pet store that was experienced and knew a lot about each animal.
Molly loves playing with large cardboard tubes, running around in the grass, and sitting in my lap. Molly can do many tricks, like following a carrot in circles, running up and down a toy tower, and pushing your elbow with her nose when she wants to go to her cage.
By Cara from Farefield, IL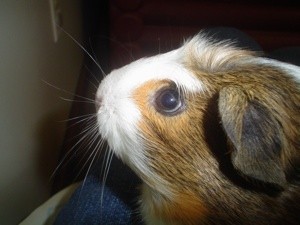 Baby is a 6 month old Guinea Pig. We adopted our pet at the Johnson City Animal Shelter. They had an overabundance of guinea pigs that day. We took three of them.
They like to romp on the bed and chase their shadows, kiss the dogs on the nose, and play around under the blankets. They love to sit and sniff the air. When they hear plastic from the kitchen, they all start squealing at once in anticipation of what treat I will bring them.
They live in a huge wire dog crate on a table with a blanket under the crate. They are a happy bunch!
By Robin F. from TN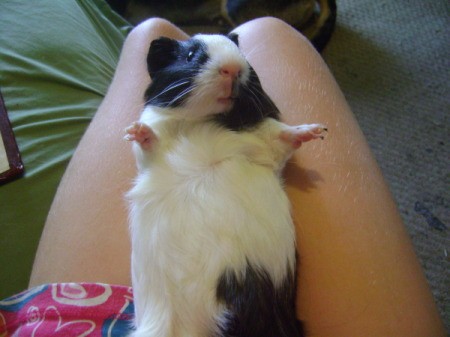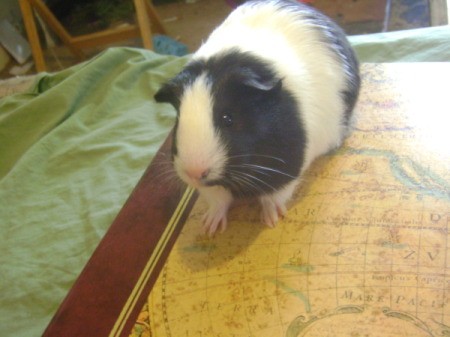 Marco Piggy Piggy is a 3 month old guinea pig. I got Marco from a locally owned pet store in my city. I've had him for about two months. He was born March 29th.
Sometimes when I take naps, I give him a separate blanket that he hides in to sleep. I love bringing him outside to watch the sunset and get fresh air. I named him after the male singer from one of my favorite bands "Nightwish".
By captain_reno from OH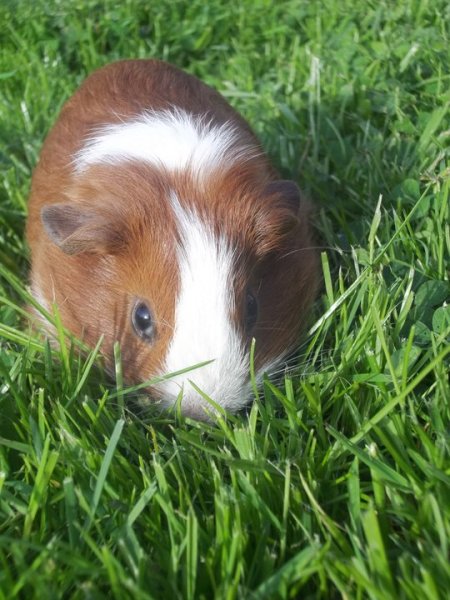 Ashley, Tay Tay, and Baby are under 4 month old Guinea Pigs. We always go by the animal shelter to give contributions of some sort or just to look at the babies there. We saw these darlings there, and now they are at our house. :)
They were just teensy, tiny, little guinea pigs when they came home with us. The long haired one, Ashley, and Baby are in the picture. There also is Tay Tay, not pictured because she is so shy. I took this of them peeping out of their little huts. They are so adorable!
They love human interaction, talking, picture taking, and not being held so much yet. They love to hear and watch all that is going on. That is why they are in the center of the house to see all and be talked to by all. They hop and chortle, and show their happiness. They really love their little huts, are so happy. When they want a snack or attention, they whistle all at once. It is something to see and hear.
We put the guinea pigs in a wire dog kennel. I like the airy feel of this kind of home for them, even if it means more cleaning. I had to cover the edges when they were smaller, or they would walk out and explore the area. We didn't want that in case the ferrets were out. I will probably put their home up on cinder blocks before long, so I can sweep under it and keep it all nice and tidy.
These animals are so sweet, they hop, whistle, and jump with joy when you pass by or talk to them. They always are up for a treat, especially when they realize I am by the cage. I usually get them lots of Timothy Hay. :) They, like rabbits, don't mind being held, but will always panic a bit when being picked up until they are used to it.
We just love our baby guinea pigs! I adopted them for our daughter who wants to be a vet. She has a way with animals, and I like to see her carry on rescue work like we did when we were younger.
By Robin F. from TN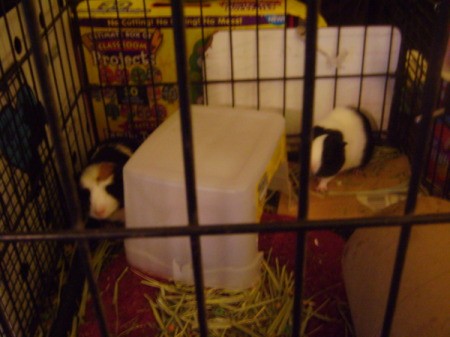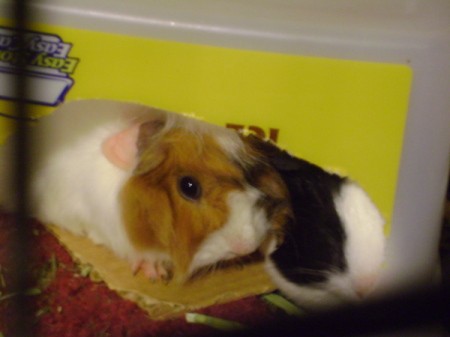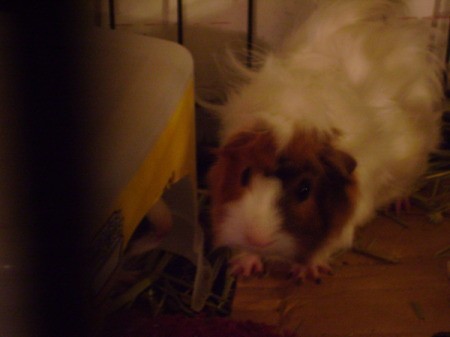 The Three Little Piggies are less than a half year old Guinea pigs. We were so happy to get our three little angels from the shelter when they were only babies.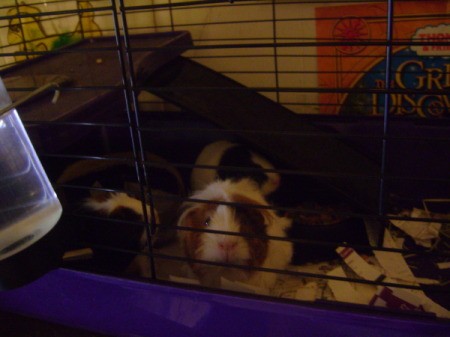 Read More...
I am supervising floor time outdoors for the three piggies, and Whiskers the new baby kitten, has decided to come and take a look.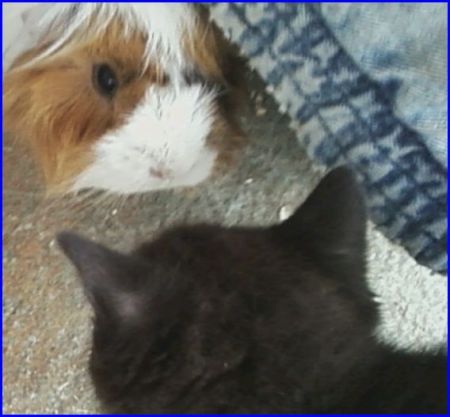 Read More...
I got her in 2014, the owner could not have her so she was a rescue. She likes to eat. She loves cucumbers, carrots, and specialty greens.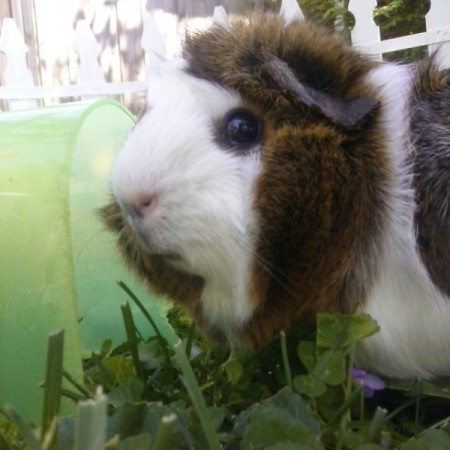 Read More...
She is our newest pet. She was the only female at the pet store in Johnson City.
Read More...
June 29, 2006
0

found this helpful
Don Vito is a 7 month old short haired guinea pig. We adopted Don Vito a while back from a local petshop who has local rescued animals up for adoption...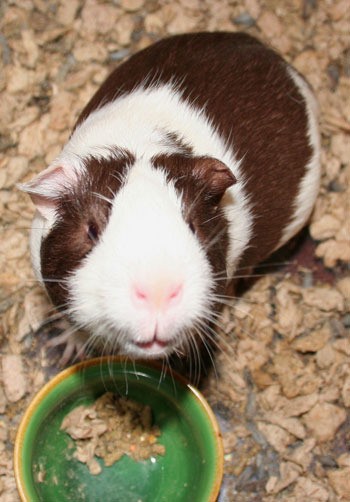 Read More...
Related Content