January 25, 2013
1

found this helpful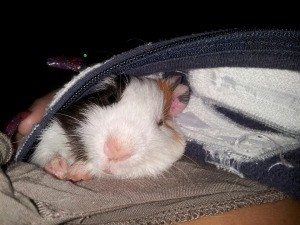 I had 2 guinea pigs and one died a week or so ago. Since then the other one doesn't want to do anything. He only eats a little and will sleep the whole day. I am worried about him. I took him to the vet and they told me that he was lonely, so I got another one, a female. She tries playing with him, but he just sleeps. So, now I have him with me all day trying to make him feel better. Can someone help me please?
By Chamaya from Mayaguez, Puerto Rico
Answers
October 9, 2013
0

found this helpful
Best Answer
Your guinea pig is probably stressed from loosing your other piggy. How long had the pigs been together? If they'd been together for a while, then it's probably separation anxiety.
February 27, 2014
0

found this helpful
Best Answer
Hi, I think your guinea pig could possibly just be stressed from the other ones death. Just give it lots of love and if it doesn't get better bring him to a vet.
January 26, 2013
0

found this helpful
Hi,
Are you supplementing the guinea pig's diet with vitamin C, and giving a large bunch of Timothy hay each day?
Are you seeing normal stools, and is there a runny nose, or a crust around the nose?
Let me know, disinfect the cage with vinegar and water, and then put him in a nother cage, a nice cage but with no drafts and with lot sof light. Make sure he is drinking and put a heating pad on low under one half of the cage.
Hope he feels better soon.
June 20, 2013
0

found this helpful
Hi. You might want to try to get some exciting toys for him to play with to excite him.
Read More Answers