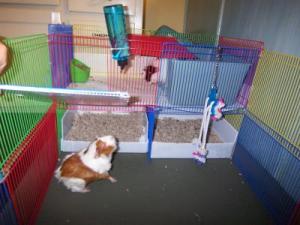 Can they be litter box trained? Do they give off strong urine odor? I would like to get some for my grand daughters, and they would have to stay at my house, so I would like to know about caring for them and cleaning up after them.
Thanks,
Cindylou
Answers:
Litter Box Training a Guinea Pig
I know a woman from online who raises guinea pigs, I sent her your question and here is what she wrote to me about them:

"Guinea pigs cannot be litter box trained as a rule. they will usually use just one corner of their cage to pee in but poop everywhere and if it were loose in the house all bets are off on the peeing too.
there is a strong ammonia smell from the urine- I clean my cages every five days and spray the trays down with vinegar water to negate the ammonia (cheaper and safer than other cleaners too) and there's no smell that way, even with over 40 pigs. They are cute and fluffy, but not so smart"

Hope that helps. (03/28/2006)

Litter Box Training a Guinea Pig
My daughter has 2 guinea pigs and we have not been successful in litter training them the biggest thing is to make sure they have enough room in their cage. Also, care fresh litter works very well, it's expensive but I find it worth it. You are never to use pine chips it can cause lots of problems. Have fun they are great pets. (03/29/2006)
By Shari
Litter Box Training a Guinea Pig
Cedar shavings are extremely harmful to the respiratory system of guinea pigs so never use cedar for their bedding. They should be kept in a cage which is made especially for guinea pigs, never in a wire bottom rabbit cage (where the droppings fall through). The guinea pig's foot is not the same as a rabbit's, thus the piggies require a flat cage bottom with bedding to burrow in if they wish. They do like little "huts" in which to hide / sleep. They should be placed away from drafts or heat. No drastic temperature changes.

If you get a cage w/ multiple levels or shelves, the guinea pig will generally use them. You can also purchase or make an area for them to run around but so that they cannot escape. Like the other poster stated, protect the area, tho, guinea pigs will "go" when they have to. At times the piggies can be quite vocal. They will let you know they're happy to see you or they want food / water. They do like to be held & petted but should not be free to roam the house.
They are still members of the rodent family, chew, hide, pee, poop. You get the idea. They should be held often when young so they become accustomed to being picked up & handled. It is often wise to put a towel on your lap for protection from "accidents". Provided you keep the cage clean & change the bedding regularly when needed, at least once per week, your cage shouldn't smell really bad. It seems almost any pet will have some sort of smell or mess or habit associated with it. Read up on them on the internet & decide if they would be a good choice for your home. (03/29/2006)

By kidsNclutter
Litter Box Training a Guinea Pig
Guinea pigs make such wonderful pets to litter box train them all you have to do is put a litter pan in the corner (of the cage) fill it with newspaper and a few droppings and slowly but surely after lots of rewards they will use the litter box (p.s there pee only stinks if you have a 2 males or a male and a female because he has to mark his territory but if you keep the cage clean it should never stink!) (07/16/2006)
By Lyndsay
Litter Box Training a Guinea Pig
Guinea pigs can be litter trained, as can rabbits. It just takes patience. And if you are successful, and piggy-proof the house, they love having the whole house to play in. (12/10/2006)

By Kylene
Litter Box Training a Guinea Pig
Nope guineas can be trained. Mine are litter trained and each individual guinea comes to his or her name and have run of the house they even climb the stairs and wake me up for feeding in the morning there the smartest rodent i've ever had! (06/09/2007)

By guinea lover
Litter Box Training a Guinea Pig
Germanbini, I disagree with what she says! My guinea pig can walk on a leash, (indoors) recognize colors, come to me, turn around, and is litter trained! Some guinea pigs aren't as bright as others, but they are trainable. Try using the same color, such as red (yes, guinea pigs can see colors!) for "poopy places" With patience and rewards (the edible kind :D) you can train guinea pigs to do many things! (07/20/2007)

By Guinea Pig Crazy
Litter Box Training a Guinea Pig
I recently decided to give litter training my guinea pig a try. After doing research online I figured it would be worth a shot given that if it didn't work there wouldn't be a great investment made. So, I went to the pet store and picked up some dust free kitty litter along with a corner litter pan big enough for Magnum to use.
I brought everything home and set it up in Magnum's pen. I figured that I would start with putting his poop in the litter. Once I had his litter set up I went back to the computer to have another look at the sites that I researched on the subject, this site being one of them. I looked back to take a peak at Magnum and there he was using his litter pan.
Since then he won't pee anywhere but in his litter. Slowly but surely I'm getting him used to pooping in his litter too, but I most happy that he is peeing in his litter. If anyone has any questions on what I did or the products I used, feel free to email me at l_osmond AT hotmail.com. (10/14/2007)

By Larry & Magnum (My Angora GP)
Litter Box Training a Guinea Pig
My guinea pigs are both litter trained. Our first one practically trained herself. I used a cat litter box and filled it with yesterdays news on top of training pads(just makes it easier and cleaner to get out when cleaning), she automatically started using it. The rest of the cage has a fleece blanket with training pads underneath to "catch" the pee.

Our second guinea, well she is another story. When we got her, she just pooped and peed wherever-it drove me nuts, especially since the first was so easy. I decided to put yesterdays news all over the cage on top of a bunch of newspapers for about 2-3 weeks. Then I took the yesterdays news out of the entire cage, put the fleece blanket back in and made 2 litter boxes with corrugated plastic filled with yesterdays news. Luckily it worked!:)

Both are now using the litter boxes, but they have their own and get upset if the other comes in their space. They play together fine in the rest of the cage-just don't want to share potty space I guess? Now I use the cat litter box for their hay. They love it. I added a pic of their cage, had to hold up the ramp to get bath litter boxes in the pic. Pinky was wondering just how in the world she was going to get to her food without that ramp. (06/18/2008)

By Heather