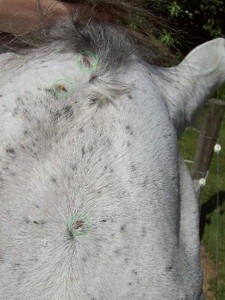 My new horse has relatively small black lumps on her face, mainly in the space between her eyes and forelock. The vet thought they were either insect irritations or melanomas (she's grey) but said it wouldn't stop her from purchasing her.

Anyway, yesterday I noticed that three of the lumps have yellow crusty stuff on them. We put manuka honey on it last night, but that doesn't seem to have made a difference.

She's on limited grass, but she's fed hay (as much as she feels she needs) and she gets two hard feeds a day. The day before the crusty stuff appeared she had her first strangles and tetanus vaccinations. They don't appear to bother her, but they bother me! In the attached photo I have circled the three lumps with the yellow crusty stuff in green, and you can see some of the other lumps too. Suggestions please!
Answers
By Lollie (Guest Post)
December 8, 2008
0

found this helpful
The picture doesn't appear to be working.
I've now tried washing them in a watered down solution of betadine to get the crusty stuff off, then dabbed betadine straight onto them and applied filtabac over top. It seems to have improved them slightly, but I am still looking for ideas on what they might be, and the best way to go about treating them.
December 9, 2008
0

found this helpful
I think you've done exactly what I would do at this point. Now I would just leave them and hopefully they will just dry out and go away. I have only seem melamonas under the tail on a grey, never on their head, not to say they don't get them, just that I have never seen them.
Since they are weeping I would think it more likely that they are insect irritations. I can see your pic!
December 9, 2008
0

found this helpful
This might seem a bit odd of a question. Does she take her feed from a plastic pail/tub?
Our cat, Skip was prone to "spots" on his face, when I took him to the vet, she said not to feed him from plastic bowls, as a type of bacteria formed on the plastic that resulted in a form of acne in cats and dogs.
I don't know that it is the same sort of spotting/crusting acne thing the cat had, but you never know.
Also, honey & olive oil, mixed in together, make a superior natural antibiotic healing ointment....also might be worth a try.....Good Luck.
By Lollie (Guest Post)
December 9, 2008
0

found this helpful
Thanks for that, the picture is working for me now too :D It appears they are starting to heal, but two more have now appeared down near her mouth :o( I am now pretty much certain that they are insect bites though.
Yes, she does eat out a kind of plastic/rubber bucket, so perhaps I should try to find something else to use?
Read More Answers