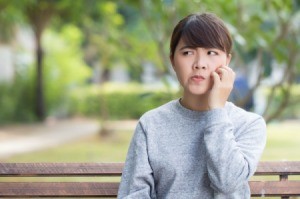 I'm searching for a solution to something I think is kind of odd.
Almost every single day, I will randomly get a small itchy bump on my face. Pretty much like a bug bite. Either this bug is completely microscopic or this is just something my skin is doing. Anyone know? Do I have FLEAS?! I would think that if something is on my face getting ready to bite me, I would be able to see it. These bumps just magically appear it seems like. I don't change soaps, I DO have animals, and I bathe regularly. Any idea on what is causing this? Thanks!
Amber from Colorado
Answers
By Norma (Guest Post)
September 15, 2007
0

found this helpful
Best Answer
Change your laundry detergent to All Free and Clear or some other allergen sensitive formula. Wash your linens and PJs on the hottest possible temp and use your dryer to dry. Do not use dryer sheets or softeners. Also, encase your mattress and pillows in high quality allergen covers. If that is not the solution I can only think of using an anti fungal cream.
By Teressa (Guest Post)
September 17, 2007
0

found this helpful
Best Answer
This sounds like what I struggled to deal with for many years. I got a kind of "hive" that actually was in response to things that I'd eaten or just a "allergic" response to something unknown. I took allergy medicine (Zyrtec) but have had more luck with a very low dose of monocycline. I've finally got it under control! Talk to your family doctor. This is the same treatment for Roscea.
By (Guest Post)
September 18, 2007
0

found this helpful
Best Answer
I hope it is not true for you, but that is how my Rosacea started. Have you been under any unusual stress lately? Stress triggers it. If you find out it is Rosacea, this is a great rescource http://www.rosacea.org. I went through years of medical trial and error, the only thing that keeps is cleared up for me is Oil of Olay Total Effects 7X.
February 13, 2010
0

found this helpful
Best Answer
I get these, too! I am a clean person and unfortunately, several months ago, a neighbor's child spent the night but they had bedbugs! I started experiencing what I thought were mosquito bites every night on my back and front torso, then I figured maybe they were hives. Then a huge one appeared on my hand and thought a spider bite.
After searching the web, I realized they were bedbugs! It took months to get rid of them because they're hard to find/see if you don't know what you're looking for (they only come out at dawn, feed and hid back in wood, panels, bed frames, etc). I threw out beds, mattresses and exterminator did an excellent job (several treatments) but I have been paranoid whenever I find a "hive" on me!
I recently have been going through a lot of stress and came down with 2 hives on my face and almost forgot I used to get these time to time with stress, but since I just came down with them a few days ago, I became so paranoid and starting checking my sofa, beds, etc. I hope these are just "stress hives". One went down tremendously since last night (bed bug bites don't tend to do that just over night). Reading all of these comments made me recall that I used to suffer from stress hives off and on so I feel a little better at ease! :-)
December 26, 2016
0

found this helpful
Best Answer
You might have a dairy allergy! It would probably be a good idea to get an alergy test done. Sometimes your body can become allergic to something it wasnt before
March 6, 2017
0

found this helpful
Best Answer
It is hives. Sometimes chronic urticaria is to blame. I've had it all my life since I was a child. Dermatologists usually won't be able to pin point what the specific cause is unless it is an obvious food allergy.
Narrowing it down is nearly impossible since stress can bring it on as well. I have them daily upon waking and randomly throughout the day. I'm dairy free, organic, raw, vegan now for 3 years. It has not stopped the hives.
I use a sprayable Benadryl every morning to combat the swelling and itch. I have an autoimmune disease since 2005. The hives aren't from the disease.
Witch Hazel astringent soothes the deep painful ones. Sorry but there is no cure. And one day they may just disappear.
Read More

Answers