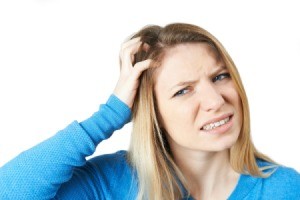 I have really oily hair and dry scalp. In the summer I get heat bumps on my head. I have tried every kind of shampoo, treatments, and have even tried vinegar. Any suggestions? Thanks
By lynn from Big Stone Gap, VA
Answers

August 4, 2009
0

found this helpful
Best Answer
If I were you, I would probably go to a good dermatologist, to get down to the root of the problem, but there is a very good shampoo by Neutrogena that you could try called T-Sal that helped with dandruff. You can buy it off the shelf at most grocery stores. Someone mentioned Pine Tar soap, that helps with eczema and other skin conditions. You can find that at: www.vermontcountrystore.com in the Apothocary section. Good Luck!

June 18, 2009
0

found this helpful
It sounds like maybe you're allergic to shampoos and conditioners. That's the problem we were having, anyway. My daughter and I both had very oily hair and our scalp itched all the time. First, we tried switching to homemade organic shampoos and conditioners. They worked for a while but then we started to itch again. About two weeks ago, we started washing our hair with baking soda and no conditioner. The results were surprising. It doesn't dry hair like I thought it would. Instead, our hair is about like it would be after a shampoo with no conditioner, but it's breaking off less and it's far less oily, and there's no more itch.
One problem, though it's a minor one, is that it makes hair look a bit dull. I'm going to try to remedy that by rinsing with a vinegar/water solution, which I've read will make hair shiny. It would be nice if we could find a way to condition our hair, too; but I'm not going to use any commercial conditioners because I already know we're allergic to them.

June 19, 2009
0

found this helpful
I had that problem when I was a teenager ( along with facial acne); in the summer, I switched over to strictly a mild baby shampoo and no conditioner, as the oiliness of that just exacerbated my scalp.
Limit the towel drying time; just blot your hair a little and brush ( not comb)through when still very wet to make it easier to get the hair under control.
If it still persists, you may want to ask your haircutter for suggestions ( or see a dermatologist).

July 10, 2009
0

found this helpful
Try pine tar soap or cold processed patchouli soap.
Read More

Answers