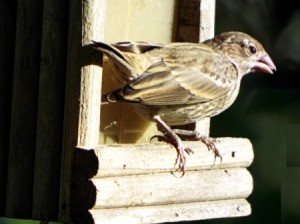 Usually, I have trouble photographing in full sun. I don't have filters, and without them, everything takes on a washed out effect.
For reasons I can't explain (I wish I could), today I took pictures in full evening sun that were not washed out. In fact, they were better than most taken in indirect sunlight.
The subjects are some of those I've posted pictures of before. But with the sun casting a fiery glow on them and still getting crisp pictures, I thought they would be good for posting.
The first picture is of a female house finch.
The second is of a male house finch.
The third is of a female mourning dove and a female house finch.
I hope you like them.