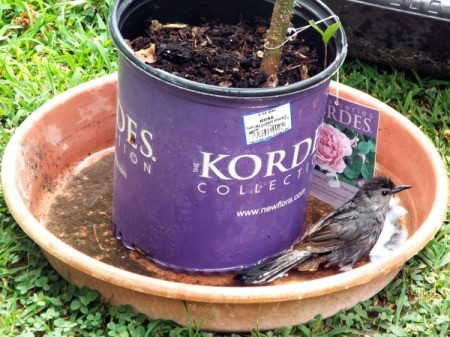 Photo Description
In the innocence of my youth, I bought food for squirrels to encourage their presence. Little did I know, I was aiding and abetting future mass destruction. Unlike our editor in chief who had an abundant supply of Stella cherries and didn't mind the squirrels partaking; I had a limited supply of blackberries, blueberries, and grapes.
I don't mind the animals taking a share, or I wouldn't if they weren't so wasteful. You can have 50 ripe tomatoes and the robin will not come and dine on the one biggest and best. No, instead, he will peck large holes in each and every one. If those tomatoes were grown for market, you would lose every invested penny and hours of labor.
This little bathing catbird is just as thoughtless and uncaring. He managed to find a hole in the netting I placed over my blueberry bushes. Once inside, he was gulping down berries. I thought, 'What the heck. Let him have a few'. As I watched him dine, I noticed, not only was he eating ripe berries, he was plucking off the green as well. Finding these unpalatable, he threw them to the ground. There goes my future berries. I shooed him away and closed the hole in the net.
Now sated, the little imp makes his way to the bain communal and playfully washes his transgressions away.
Add your voice! Click below to comment. ThriftyFun is powered by your wisdom!