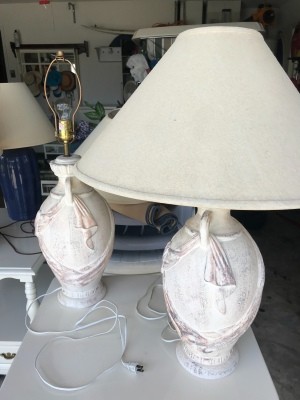 I bought these two lamps at a garage sale about 20 years ago. I found some on eBay and Poshmark and other sites with the same logo selling for up to $250 to over $1000. Any help is appreciated to figure out their value. I have shades, but they look like they have been spray painted. I need to get rid of them.
Thank you!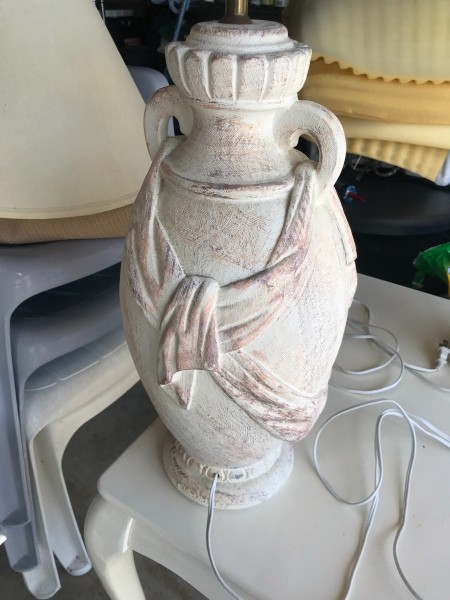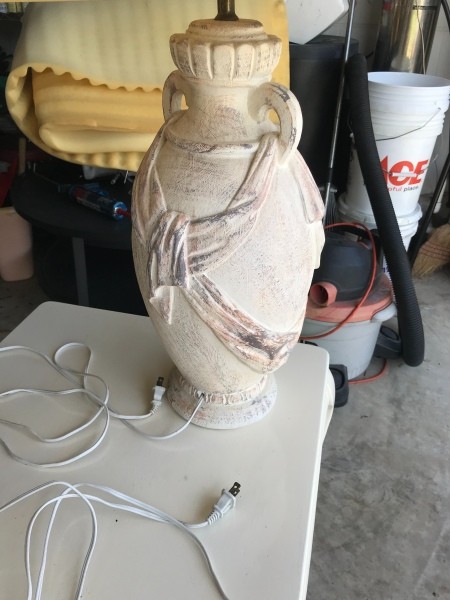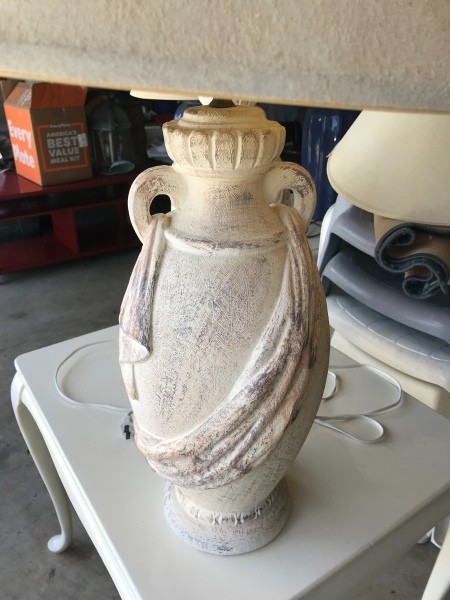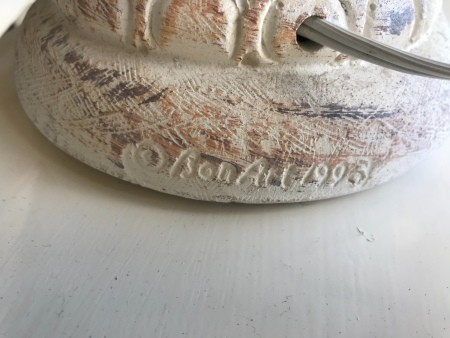 Answers

Pghgirl40
Bronze Feedback Medal for All Time! 196 Feedbacks
May 27, 2021
1

found this helpful
Best Answer
I never heard of Bon-Art so I had to do some research. They were a New Jersey based company called Bon-Art International that sold lamps primarily through interior designers and high end furniture stores. I don't think they are still around--but I didn't get that far in my digging. What I can tell you from what I saw is that people must have loved their job there because I saw more than one obit where it says they worked there as a lamp maker! That is impressive!
Anyhow....they were very expensive for the time--selling at over $200 a lamp back in the 1980s! The were often described as "stone washed" which I guess is in keeping with the jeans that were popular--not sure which came first--stone washed lamp bases or jeans :)

In looking at a bunch of old newspaper ads for the lamps, your shade is most likely original (they favored that shape--they often referred to their shades as being made from "high linen"). If it is spray painted, that will devalue it considerably, unfortunately. Spray painting lampshades is a trend I truly never understood...but I know people who did it!
That they were so expensive new is probably why people ASK so much for them now. Unfortunately, as Judy said, most have not sold, which tells me people are asking too much for them either because they are the original owner and know what they paid for them new OR they are flippers and seeing original owners ASK a lot and aren't paying attention to the fact that they are not selling at those crazy high prices.
That said, you can always go high and take best offer. That yours to appear to have been painted and the shade is painted and the lamp paint looks to be pretty worn, may significantly reduce what people will pay--but you can always come down in price with a high start.
These are super hard to sell online (because shipping). A local venue or local pick up or a local consignment shop is your best bet--plus much less chance of them getting broken.
Have fun with it--and see how much you can get from them. Use words in the ad like "post modern" and "stone washed" and maybe that will add to the cache!
Post back what you fetch for them!! That will be the current market value!

DianaHM
Silver Answer Medal for All Time! 440 Answers
May 30, 2021
2

found this helpful
Best Answer
Your lamps have maker's mark Bon Art and the year of manufacture 1995. Bon Art is known for its electric lamps of plaster. It is difficult to find information about this company, this why I had to do a little investigation.
I found a Bon Art lamp with a label that says the name of the company that made it: Bon Art Industries Inc. www.chairish.com/.../1980s-postmodern-plaster-table-lamp This company was founded in Fair Lawn, New Jersey, presumably in 1965. Here is information about the registration of this trademark in 1987 trademarks.justia.com/.../bon-art-73630860.html. The trademark registration was canceled in 1994. Goods and Services: electric lamps, statues of plaster and fiberglass, vases. First Use In Commerce Date: 1965-04-13. Canceled Sec. 8: 1994-01-18. The registration was canceled because the company did not provide data on the use of the trademark between the fifth and sixth year after registration (in 1993-1994).
Here it is written about a man who "was a Lamp Manufacturer at Bon Art Industries, Fair Lawn for 35 years before his retirement in 2000." www.legacy.com/.../obituary.aspx?n=joseph-f-lagnoni...
As you can see, your lamps were manufactured in 1995 when the trademark registration was canceled. But most likely this company continued to manufacture its lamps under this trademark.
I found many Bon Art lamps:
The 1986 Postmodern Plaster Table Lamp, from base to socket 22.5 inches, for $ 319 www.chairish.com/.../1980s-postmodern-plaster-table-lamp.
The 1986 Bon Art Postmodern Plaster Table Lamp, from the bottom to the socket 17 inches, for $ 359 www.chairish.com/.../bon-art-postmodern-plaster-table....
The 1989 Monumental Bon Art Faux Bois Plaster Lamp, base height without harp 22.5 inches for $ 360 www.chairish.com/.../monumental-1989-bon-art-faux-bois...
The 1989 Bon Art Vintage Plaster Lamp Base No Shade www.proxibid.com/.../53123096
The 1990 Bon Art HUGE 29" Pottery Table Lamp Black with not high base www.ebay.com/.../254204287605?_ul=IL
The 1990 Vintage Hollywood Regency Style Ram Head Plaster Table Lamp by Bon Art, from the bottom to the socket 22.5 inches for $ 350
www.chairish.com/.../vintage-hollywood-regency-style-ram...
-plaster-table-lamp-by-bon-art.
The 1990 Vintage Large Painted Plaster Cactus Floor Lamp Western Decor Art Folk, from base to socket about 48 inches, $ 850
www.ebay.com/.../184353322464
.
The 1990 Vintage BON ART Plaster 60" Tall Saguaro Cactus Floor Sculpture Lamp, from base to socket about 47 inches, $ 995
www.ebay.com/.../124487669272
, and here for $ 850
www.ebay.com/.../184353322464
.
This 1990 Bon Art Soft Green Barrel Cactus Lamp, Shade and Bulb Not Included, from base to socket about 14 inches, sold for $ 115
www.etsy.com/.../1990-bon-art-soft-green-barrel-cactus...
The 1992 Bon Art Plaster Floor Lamp, from base to socket about 50.5 inches, for $ 404 www.chairish.com/.../1990s-bon-art-plaster-floor-lamp
The 1992 Pair Of Architectural Scale Plaster Sculpture Lamps Marked BON ART, from base to socket about 21 inches, $ 750 www.ebay.com/.../303957286578.
The 1995 Vintage Bon Art Plaster Ceramic Fish Scene Table Lamps Set, approximately 31 inches to top of finial
avaluer.org/.../2904704-vintage_bon_art_plaster_ceramic_fish_scene_table_lamps_set
Perhaps in 1993 this company for some reason stopped producing its lamps and therefore did not provide information on the use of the trademark in 1993-1994.
I don't know the size of your lamps. It seems to me that the height is about 31 inches. So, the price is about $ 700-800 per pair.

Judy
Gold Post Medal for All Time! 677 Posts
May 26, 2021
1

found this helpful
They are asking a lot of money on ebay. However, I used the filter to see how much they sold for and nothing sold. www.ebay.com/.../i.html?_nkw=bon+art+lamps&_trksid...

May 27, 2021
1

found this helpful
Neat lamps.
Lamps are not fast sellers and the sellers who continue to keep asking high prices are mostly dreaming as it is difficult to find even one Bon Art lamp that has sold.
I did find this pair that was sold (date?) on a high end auction site; reduced from $1,400 to ?
www.1stdibs.com/.../
PGHgirl has very good information/suggestions so I hope you will be able to sell your set for some 'serious' money.
Be sure to take several good pictures as pictures sell items like this.
I would suggest taking most pictures without the shades but I believe you should include the shades in some pictures as it is sometimes difficult to 'visualize' lamps without a shade.
You can always describe condition of shades and offer shipping both ways - with or without shades.
Local pick up only is the best way to go as shipping for items like this will be very expensive and VERY difficult to pack so that it will arrive in one piece. Just the shades by themselves would probably cost up to $50 to ship (due to the size of box and not just weight).
This may be a good item to place on Facebook Marketplace as they also have 'local area' sites.

May 7, 2022
0

found this helpful
Wow! I worked there in 84. Every single lamp was made right there in Fairlawn, NJ. And they were all decorated and painted by hand. Id have my lunch quick then spend the rest of the time watching them work. My job was filling and tracking orders for Spiegel Catalog. When I left, they gifted me a set of my favorite. They were amazing!
Answer

this Question