July 16, 2012
1

found this helpful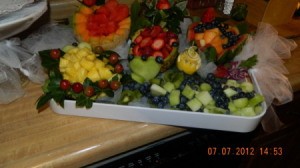 Serves approximately 25.

Time to prepare: 9 hours.
Ingredients:
One large white rectangle tray with handles.
two pedestal serving dishes
a ceramic wedding couple
tulle for decorating purposes on tray and serving dishes
two heart shaped dishes on pedestals decorated with tulle, ribbons and faux pearls.
tongs, serving scoops and small serving ladles with ribbons tied on handles
Fruit: watermelon, cantaloupe, honeydew melon, blueberries, kiwi, lemons, limes, oranges, grapes (white and red seedless), strawberries, raspberries and a whole pineapple
Directions:
The fruit tray was lined with a rectangle paper doily, then hydrangea leaves were placed on the inside of the tray. The halves of a small watermelon and cantaloupe were carved into boats. The pineapple was cut in half; the leaves of one half were cut off and discarded. The fruit of the melons and pineapple were cut into balls or cut into cubes and refrigerated until the tray was assembled.
The lemons and limes and oranges were used for fruit carvings, plus a few of the strawberries were carved into roses for garnishments. English ivy and other types of greenery were used to adorn the garnishments which were used on the completed tray. The heart shaped pedestal bowls were used for fruit dip; these bowls are adored with tulle and resemble a wedding veil. Serve with chocolate and vanilla fruit dip or any fruit dip of your choice.
The fruit tray assembled is:
The cantaloupe on the left side with melon and blueberries in it; garnished with strawberry roses.
In the center is the pineapple boat with the pineapple greenery. The greenery was garnished with variegated ivy, strawberry, rose, and a lemon garnishment.
The watermelon boat was filled with the remaining fruit.
The other half of the pineapple was placed in front of the cantaloupe boat; it was filled with pineapple chunks and loose grapes, and a garnishment of ivy and grapes.
The kiwi and honeydew melon balls filled in the empty places in the front of the tray.
The two-tiered pedestal had grapes filled around the bottom tray. The top tray was adorned with the ceramic wedding couple draped in tulle with faux pearls. A LED light was lit under the bottom of the pedestal which glowed through the tulle which was draped over the top of the second pedestal to the bottom of it and puddled on the table with ribbons tied to the ends.
By JOSE from Collierville, TN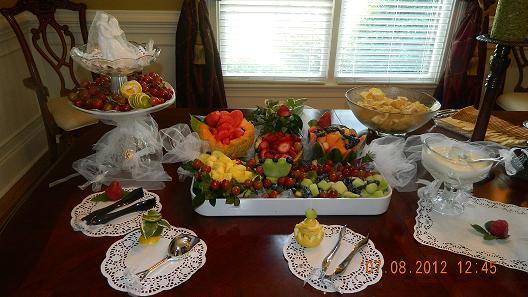 With this being the time of year for bridal showers, all the women involved with our bridal shower decided to make finger sandwiches. To make it easier, everyone shared in making the food and each of us had something else to do as well as making the sandwiches. It really was easy and we had a fun time getting everything together. And we all got together to make the sandwiches. It amazes me how you can get these made when you are laughing so hard!
We bought our bread from a bakery. We also had it tinted to match the colors, yeah we are a different bunch! But fun we did have! Next we cut off the crust, we also used fancy toothpicks stuck in the sandwiches. Not in all of them just here and there. Now there are different spreads you can use. So everyone found one they wanted to make.
Seafood Filling
1- 6 1/2 oz. shrimp, tuna or crab (in cans)
2 Tbsp. chopped dill pickles
2 Tbsp. mayonnaise or salad dressing
1/2 tsp. lemon juice
In small bowl combine all filling ingredients. Mix well and then put your sandwiches together and cut into quarters. Makes about 1 cup.
Chicken Salad Filling
3/4 cup cooked chicken, finely chopped *
2 Tbsp mayo or salad dressing
2 Tbsp. pimento or dill relish (optional)
1/3 cup finely chopped celery
salt and pepper
*Note: The amount you want to make will determine how much chicken you will need. You can use 1-2 chicken breasts, or 1 (5 oz.) can of chicken can be substituted.
In small bowl, combine ingredients, mix well. You can make the night before. However, do not put sandwiches together the night before.
Ham Salad Sandwiches
8 oz. cooked ham, cut into small pieces
2 Tbsp. mayo or salad dressing
1-2 tsp. pickle relish
In small bowl combine mix well. May also be chilled.
Egg Salad Filling
2 hard cooked eggs, chopped.
1 tsp. pimento (optional)
1 tsp. celery
1/8 tsp. salt
Mix together, chill. This one only makes 3/4 cup.
Pineapple Cheese Filling
1 (3 oz.) pkg. cream cheese, softened
1/4 cup crushed pineapple, drained
Mix together well and chill overnight. I have to tell you, this one was also delicious!
Creamy Pimento Spread
8 oz. cream cheese, softened
2 Tbsp. milk or half and half
1/8 tsp. Worcestershire sauce
2 oz. (1/2 cup) cheddar cheese, shredded
2 Tbsp. pimento, chopped
In a small bowl, combine first 3 ingredients. Beat until light and fluffy. Add cheese and pimiento, mix well. Chill. Makes 1 1/2 cups.
Variations:
You can also create others from these recipes.
Use 1 (3 oz.) package of softened cream cheese, add any of these to make sandwiches:
1-2 Tbsp. chopped green peppers
1-2 Tbsp. bacon fried, crisp, drained and crumbled
2 oz. (1/2 cup) cheddar cheese, shredded
1-2 Tbsp. pimento, chopped
1-2 Tbsp. green olives, chopped
I really hope someone tries these, they are really good. As usual I had to munch my way through, they are so good and easy! Good Luck to whoever the shower is for. Enjoy!
By Darlene from Fairview, PA