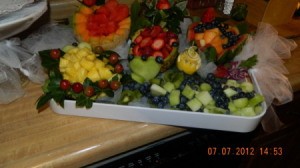 Serves approximately 25.

Time to prepare: 9 hours.
Ingredients:
One large white rectangle tray with handles.
two pedestal serving dishes
a ceramic wedding couple
tulle for decorating purposes on tray and serving dishes
two heart shaped dishes on pedestals decorated with tulle, ribbons and faux pearls.
tongs, serving scoops and small serving ladles with ribbons tied on handles
Fruit: watermelon, cantaloupe, honeydew melon, blueberries, kiwi, lemons, limes, oranges, grapes (white and red seedless), strawberries, raspberries and a whole pineapple
Directions:
The fruit tray was lined with a rectangle paper doily, then hydrangea leaves were placed on the inside of the tray. The halves of a small watermelon and cantaloupe were carved into boats. The pineapple was cut in half; the leaves of one half were cut off and discarded. The fruit of the melons and pineapple were cut into balls or cut into cubes and refrigerated until the tray was assembled.
The lemons and limes and oranges were used for fruit carvings, plus a few of the strawberries were carved into roses for garnishments. English ivy and other types of greenery were used to adorn the garnishments which were used on the completed tray. The heart shaped pedestal bowls were used for fruit dip; these bowls are adored with tulle and resemble a wedding veil. Serve with chocolate and vanilla fruit dip or any fruit dip of your choice.
The fruit tray assembled is:
The cantaloupe on the left side with melon and blueberries in it; garnished with strawberry roses.
In the center is the pineapple boat with the pineapple greenery. The greenery was garnished with variegated ivy, strawberry, rose, and a lemon garnishment.
The watermelon boat was filled with the remaining fruit.
The other half of the pineapple was placed in front of the cantaloupe boat; it was filled with pineapple chunks and loose grapes, and a garnishment of ivy and grapes.
The kiwi and honeydew melon balls filled in the empty places in the front of the tray.
The two-tiered pedestal had grapes filled around the bottom tray. The top tray was adorned with the ceramic wedding couple draped in tulle with faux pearls. A LED light was lit under the bottom of the pedestal which glowed through the tulle which was draped over the top of the second pedestal to the bottom of it and puddled on the table with ribbons tied to the ends.
By JOSE from Collierville, TN