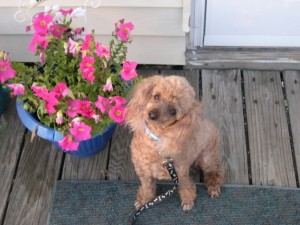 Here is a picture of my sweet girl, Minnie. I had her put to sleep on 6/1/2020. She was a toy poodle, 18 years old and my emotional support animal. To remember her, I bought myself a petunia plant and had it outside all summer. I live in Buffalo, NY, in the Northeast and my petunia still looks fine, but it's now cold and I don't want it to die.
The 10 inch pot has holes drilled on the bottom. Can I keep it alive in my house over the winter? I have a basin that my washing machine drains into, so I thought I could water it in there and somehow have it drain in there overnight and then perhaps put it somewhere in my house. For the summer, I had it outside on a plastic chair that had slats in the bottom for the water to drain from the pot. I have them in the house now on a throw rug that I can shake outside.
Is it a good idea to bring my petunias in? Can I keep them alive inside my home? I'd hate to throw them out. Thanks in advance for any advice!
(The petunias in the picture here are from another summer. Wasn't Minnie beautiful? I miss her so much, my dear, sweet baby :( )