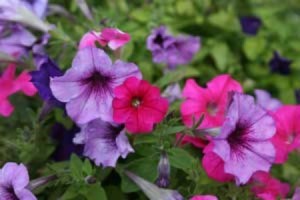 Botanical Name:
Petunia
Life Cycle:
annual
Planting Time:
spring or summer
Height:
6" to 18"
Exposure:
full sun or light shade
Soil:
average to rich, moist, well-drained soil, adapted to poor soil conditions
Hardiness:
n/a
Bloom Time:
summer through fall
Flower:
trumpet-shaped flowers in almost every color imaginable (including stripes and contrasting colors)
Foliage:
green
Propagation:
seeds
Suggested Use:
beds, borders, edging, hanging baskets, window boxes, and displays
Growing Hints:
Plants are widely available for transplanting or can be started form seed. Seeds are tiny and can be started indoors 10 to 12 weeks before last frost date. Do not cover them, as they need light to germinate. Simply press them lightly into the soil surface and germinate at 65º to 70º F. Because petunias are actually tender perennials, they can be brought indoors in the winter (keep them in bright light at 55º to 65º F) and set outdoors the following spring. If they get leggy from mid summer heat, cut stems back by half to produce bushy new growth.
Interesting Facts:
Petunias attract both hummingbirds and moths. A change in growing conditions can cause the white edges on some petunia flowers to change in size. A white border getting wider points to recent hot weather and low soil nutrients. A white border that gets smaller indicated cooler weather and nutrient rich soil.