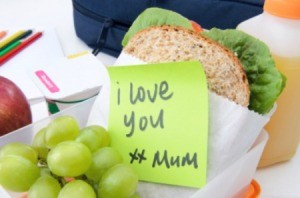 So I don't get bored with my brown bag sandwich lunches, I'm always on the lookout for something more than just cold cuts. These are some of my favorites.
Chicken Pesto Croissant Sandwich: Split 6 croissants in half lengthwise. Spread the bottom with a thoroughly combined mixture of 1/3 cup basil pesto (either home-made or store-bought) and 1/4 cup mayonnaise. Fill with 2 cups sliced cooked or rotisserie chicken. Put together and serve.
Peanut Butter Special: In a bowl combine 1/4 cup peanut butter, 2 Tbsp. applesauce and 2 slices bacon, crisp-cooked and crumbled. Spread on 2 slices buttered bread. Top each with 1/2 cup tart apple, thinly sliced. Top with 2 slices buttered bread.
Ham and Raisin Sandwich: Mix 1 cup minced cooked ham with 1/2 cup seedless raisins and 1 tsp. capers together. Combine with enough mayonnaise to moisten.
Low Cholesterol Tuna or Salmon Salad Sandwiches: 1/4 cup finely chopped apples, 6 stuffed green olives, chopped, 1 green onion, minced, 1/4 tsp. dill weed (or 1 tsp. fresh), 1/4 cup finely chopped celery, 3 drops Tabasco, juice of 1/2 lime. Mix ingredients with just enough reduced-fat mayonnaise to hold it all together.
Weight Watchers Tuna Salad Sandwich: Add to a can of tuna, 1 small apple, chopped, finely chopped celery and onion, 2 Tbsp. reduced-fat mayonnaise, 2 tsp. mustard, alfalfa sprouts. For even less calories and no fat omit the mayonnaise and substitute 2 Tbsp. plain yogurt mixed with 2 tsp. spicy mustard.
Tuna-Pickle Pitas: Mix a 6 oz. drained can of light tuna in water, a couple of spoons of sweet pickle relish, coleslaw dressing (or mayo or any favorite salad dressing), pinch of celery seed if desired, chopped onions, chopped peppers, shredded carrot. Spoon mixture into 4 pita bread halves. Variation: Make a melt by spreading mixture on top of toasted English muffin halves, top with cheese and broil just until cheese is melted.
Salmon Cucumber Sandwiches: Combine 6 oz. can of salmon, drained and flaked, 1/2 cup chopped cucumber, 3 Tbsp. plain yogurt, 1 Tbsp. mayonnaise, 1 Tbsp. lemon juice and 1/2 tsp. dried dill weed in a small bowl. Butter bread or mini sandwich buns, line with lettuce leaves and fill with salmon mixture.
Gourmet Roast Beef Sandwich: Fresh brie makes a roast beef sandwich a cut above.
Salami Sandwich: Grainy mustard on one slice of bread with salami slices over it. Place arugula over that. On the other slice of bread spread some softened cream cheese. A word from the cook: Tastes really good on bread with substance like a 12-grain or even rye.
By sooz from Toronto, ON
I am in need of sandwich ideas for my husband and 23yr. son for their lunches. They're really not picky eaters. Just no PB & J or tuna fish.
Does anyone have any ideas for me? Thanks
By G.maW from Sheridan, MT
Answers
May 24, 2012
0

found this helpful
Wraps are always good and easy to eat, too. Chicken or egg salad, ham and cheese, any cold cuts, or even leftover meatloaf or pot roast or roast chicken. I pack my husband's (and my own) lunch, and I do try to add some variety, like some fresh veggies or fruit, plus chips or a cookie. One of my current favorites is ham and cheese with mayo and sliced bell pepper. There are SO many options, I don't really know where to start (or stop, apparently!).
May 24, 2012
0

found this helpful
You could put chopped ham and cheese on a bun, and at lunch time they can microwave it for a few seconds until the cheese melts. Meatloaf sandwiches using homemade meatloaf is good, as is homemade egg salad or chicken salad. When you cook dinner for the family, cook a little extra and put it in microwave-safe containers for their lunches. I always packed fruit, snack and a napkin in my families lunch bags along with the sandwich.
May 25, 2012
0

found this helpful
I buy a rotisserie chicken and debone it. Dh gets chicken sandwiches with lettuce, cheese, hummus spread and a small pepper (but not too hot) on the side for the sandwich in addition to: 1 bag cookies; 1 bag mixed nuts, mini shredded wheats, and some dried fruit; 1 bag chocolate covered raisins, dried fruit, peasut butter filled pretzels; 1 protein granola bar; 1 Joint Juice beverage, 1 bag with celery, a pickle, cabbage and carrots, 1 Nonni's Biscotti, one healthy high carb granola bar; and a banana.
It's annoying to get all the stuff together to pack the lunch box, so I set up a 'center' in which everything is neatly fit onto 2 shelves in one place and the bags are pre-filled as they run out. The bags of misc items are configured to be small servings and made as healthy as possible using whole grains and organic ingredients. He has an active job, a good metabolism, and requires constant refueling throughout the day in small portions and he does not have diabetes.
May 26, 2012
0

found this helpful
My mother was a genius with sandwiches for 5 school age children.
Boil eggs, peel and slice them long ways. Slice pickles long ways or use bread and butter pickles or dill pickles if you like them. Spread miracle whip on each slice of bread. This was my favorite.
Slightly brown a slice of bologna, add thinly sliced onion, and mustard to taste.
Mom used to spread apple butter on graham crackers and wrap in wax paper. crackers would be soft by lunch time.
Pimento cheese is a good sandwich material. I always add pickle relish to it if I am unable to find it with pickle.
Mom always had cookies in a cookie jar. These were a part of our lunch. I have met with some of the guys I went to school with and they want to know if I cook and bake as she did.
The cookie jar always 1/2 full until Dad came in. She made soft cookies and to this day that is all I will eat. I am past 70.
But one sister would eat only peanut butter and jelly. Mom changed the kind of jelly each day, but it was still the same.
By the way peanut butter and sweet pickle slices are a great sandwich.
Answer

this Question