I am new, so this is my first post, forgive me if I do something wrong. My question is about brown-bagging the floors. Has anyone used the really heavy duty bags like 50 lb. animal feed comes in?
My husband works at a feed mill and can get these without any print on them. My thinking is because they are thicker they will hold up longer on a floor such as in the kitchen where I plan to do this project.
Also, would it be better to use the glue that you use on tiles, to stick the paper down with and then polyurethane it? Which kind of poly would I need to keep the floor light brown like the natural color of the bag? Thank you for any advice or input on this.
By Vanessa from Aberdeen, MS

Answers:
Brown Paper Bag Flooring
Very good idea. Look on the can of poly to see what kind you need. My guess is "clear." (04/21/2009)

Brown Paper Bag Flooring
Hi. Your choice of brown paper bag is fine. When I worked in a restaurant, we did this process on the concrete floors (11 years now). We would tear the paper in large pieces which would take on the look of rocks. We used Elmer's Wood glue to glue it down, overlapping the pieces. Once this was dry, which didn't really take long, we used a heavy polyurethane. This was the same thing they use on gym floors, drying thoroughly and doing another layer.

We touched up the polyurethane at least once a year. We would re-glue torn pieces by gluing them down or just repairing with some more paper, applying the polyurethane over the whole floor (the new pieces wouldn't be as shiny but will be after many applications). Keep in mind this is not very water resistant, it gets slippery and if water did get on it, don't let it set long, wipe it up quickly. I think you will enjoy this floor. We even stenciled ivy vines with grapes on ours and it was always the topic of discussions. (04/21/2009)
By Patsy
Brown Paper Bag Flooring
I saw this once in a small ice cream shop in San Diego's "Old Town" and it has been something I have kept in mind ever since. If you do it, I am sure I speak for everyone when I say we would all love to see it! Good Luck! (04/27/2009)

Brown Paper Bag Flooring
The polyurethane is what protects your paper bag floor. The thicker paper will work, but the main concern when doing this floor is air bubbles and wrinkles. Elmer's Glue seems to be the best glue most agreed upon. You can buy them in 1/2 gallon jugs at some stores. Make sure you ask the hardware employee for a non-yellowing polyurethane so that you have a clear finish.

I've just completed my laundry room, and I used a roll of paper medium thickness. I don't have any pictures, but if you search this groups archives, there's plenty of discussion, pics, etc. on this kind of floor project. (04/28/2009)
By cathy333
Brown Paper Bag Flooring
I have not done this on a floor but have done it on my bathroom walls. I tore the paper in chunks and then crushed it with my hands, and then spray painted in gold and used a foam brush to put on the copper leaf. I papered it like you would any wallpaper, using wallpaper paste. Then, after dry, I coated it with water based polyurethane so it would not yellow. (04/28/2009)

By Elaine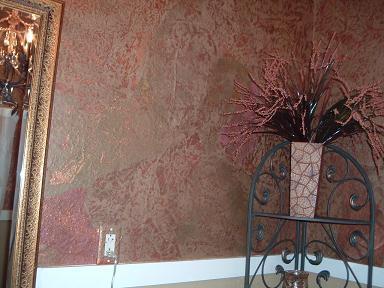 Brown Paper Bag Flooring
I did my kitchen floor with brown bags. I used half Elmer's wood glue and half water. Tear the bags and it will make it look like stone, if you use different shades of bags. Any bags will work. After it was all covered and dried I used Varethane. After first coat, I used a sanding block and sanded it all. Then I cleaned it and added 6 more coats. That was about 8 years ago and it still looks good. If you get a scratch on it you can just redo the scratch. Hope you can understand. I am not very good at giving instructions. (04/28/2009)

By Joan
Brown Paper Bag Flooring
I appreciate all the responses. I will be doing this project this summer when the grandkids are out of school. This way I can throw sandwiches at them (lol) and hubby can cook out on the grill so no one will have to use the kitchen. Will try to post pictures when I get to start. Thank You! (04/28/2009)

By Vanessa
Brown Paper Bag Flooring
Laniegirl, I love your bathroom! If this project turns out like I hope it will: my bath will be next! I want to use the red rosin paper on the bottom and try to figure out how to put a light tint on the bags up on top. Has anyone ever done this (tinting bags)? (04/28/2009)

By Vanessa
Brown Paper Bag Flooring
Vtrejo, I forgot to tell you that I DID use some red rosin paper on the wall too. By using the brown paper and the red rosin paper, it gave it more dimension. Also, the walls in my bathroom are kind of a rough plaster and that added to dimension too! I have a cousin who copied my idea and her walls are smooth and it looked great too. I have more pictures of my bath if you want to see them. Just let me know. I have one of the old claw foot tubs and I made a vanity from a dresser. I get lots of compliments on my bath. (04/29/2009)

By Elaine
Brown Paper Bag Flooring
Yes Laniegirl, I would love to see more pictures. I love to look at pictures and draw from the things others have done to their homes. I have a 14 x 70, 3 bedroom bath and a half mobile home that needs a lot of TLC. I am on a small budget so I have to try to come up with inexpensive ways to try and remodel my home. If anyone has any ideas that could be redone, recycled, or revamped please let me know, and if you have pictures that would be even better because I'm a "need to see" girl. (04/29/2009)

By Vanessa
Brown Paper Bag Flooring
Here is a pic of the wall where the vanity is. Notice the dresser for vanity? The top drawer where the sink is is basically unusable since the sink sits down in it. I have seen the kind that sit on top, and it sounds like you are like me and have to make do with less money. I made the curtains, and the bottom part of the window were some shutter like things that had ugly cheap fabric in them, but had a hardboard backing, so I just put some more of the brown paper and rosin paper on them. (04/29/2009)

By Elaine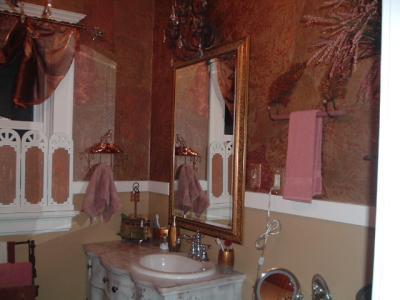 Brown Paper Bag Flooring
Here is a pic of the tub. Made the shower curtain also. (04/29/2009)

By Elaine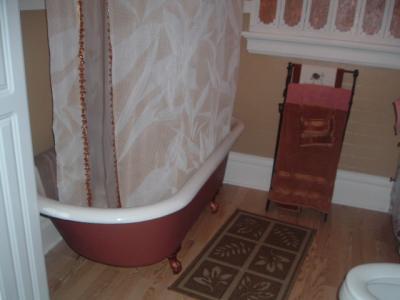 Brown Paper Bag Flooring
Laniegirl, all I can say is breathtakingly beautiful. You are very talented. Thank you for sharing with me. Vanessa. (04/29/2009)

By Vanessa
Brown Paper Bag Flooring
Thank you so much, Vanessa. Let me know how everything turns out! (04/29/2009)

By Elaine
Brown Paper Bag Flooring
Use exterior poly on the floors and the problem with water drips won't be a problem. I painted my counter tops and used exterior poly to protect them and I never have water issues. (05/27/2009)

By Cristi
Brown Paper Bag Flooring
Thank you, Cristikit for responding to my post. I will get the exterior poly because these kids can't seem to get water without part of it going on the floor (lol). Actually, the poly is all I need to get started with this project so your post was all in good timing. Do you have pics of your countertops? What kind of paint did you use? That will be another project that I will be doing as soon as money allows. Again, thank you for responding. (05/27/2009)

By Vanessa