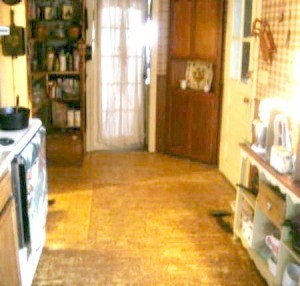 I recently pulled up the carpeting in my kitchen. My home was built in the mid 1800's so I was hoping for some plank wood flooring. Well to my surprise there was old tile, that was glued down using black tar. I was so upset. I now had a bigger problem than the carpet. Well after a bunch of hard work and scraping up all the old tile, we were left with black tar floor and the decision of what to do next.
We aren't rich by any means and the thought of paying for new flooring just made me sick. I used a can of Kilz that I had in my basement which covered the black floor pretty well, but now I was left with a yellow creamy colored floor that was easily scraped off.
After that we were just stumped.
I got an idea to do a faux wood floor. The wood graining tool cost less than $5 and the half gallon of stain cost me $9.00. Here is the turned out faux wood flooring. I love it. I drew black lines indicating plank wood using a black Sharpie marker. Let me know what you think of my kitchen makeover for less than 20$
By Melissa from Caton NY
Comments
July 30, 2009
0

found this helpful
Top Comment
Been there, done that. Same thing happend to us this summer. We had Oak hardwood under our kitchen which we knew. After removing 2 layers of inlaid vinyl, 1 layer of tile, we also found black tar paper which had left a black tar on the floor.
After much sanding we finally got it all off, stained and Poly'd our floor and it looks great. However, we spent much more than you did to get our floor. Several times we wanted to give up but could not figure what else to do. I really wanted the oak floors which we got finally. Love your idea.
July 30, 2009
0

found this helpful
Top Comment
It looks simply wonderful! I thought I'd mention that we covered our kitchen floor (after a fire) with mid-grade vinyl flooring that's made to look like hardwood. This stuff covers a multitude of sins and everyone that came to our house (before we sold it) would say "OH, what wonderful hardwood floors you have... But in the Kitchen!"
It cost more than a "paint-on" floor, but much less than real or engineered wood! Ask about Vinyl that looks like hardwood or plank-wood floors at Home Depot or any flooring store.
It comes in many prices. It's hard to tell from the store samples how nice it looks when installed. You can buy it in individual "planks" or cheaper ones that come in a large sheet. Armstrong even makes a new type that even beginners can install themselves (it bends easily without cracking!). They sell it at Home Depot.
July 29, 2009
0

found this helpful
The floor looks great, like myself, you think there's more than 1 way to do something! Good luck.
July 30, 2009
0

found this helpful
I think you did a FANTASTIC job! I would never have thought of doing something like that - you are very imaginative!
Thanks for sharing with us and God bless you and yours.
Read More Comments