I sent this in already once without a picture
Here is the picture of part of my wall.
Materials:
brown craft paper (or used brown grocery bags)
wallpaper paste
paint brush (inexpensive)
bucket
newspapers
large damp sponge
Instructions:
1.) Tear the craft paper or grocery bags into pieces approximately the size of a large dinner plate. Tear away all straight edges. Crumple each piece tightly into a ball.
2.) Pour the wallpaper paste into the paint tray. Use the paint brush to apply paste onto the wall in about a 4'X 4' section.
3.) Uncrumple each piece of brown paper and press onto the wall. Do not smooth out all the wrinkles. This will give a lot of texture to the finished wall. Lay down the next piece slightly overlapping the first piece. Press down the edges with the damp sponge and remove the excess paste. You may have to periodically rinse and wring out the sponge. Continue rolling on paste and applying the paper until the entire wall is covered. Allow to dry 48 hours.
Makes it look like a leather or suede look. It's fantastic and if there is a spill or a piece is damaged later you can just add a piece.
By Tracey
Answers:
Brown Paper Bag Wall Treatment
I've done this with Mod Podge (craft glue) thinned with water for edging old photos for hanging and also on decoupage projects. It works wonderfully on small bottles and jars if you use small pieces. Cover small projects with diluted Mod Podge, larger projects with thinned varnish. (10/13/2004)

By Doggy
Brown Paper Bag Wall Treatment
I did this in the hallway in my house and want to do my "family room". Sure you can paint it or do anything you want. Many years ago, I tried it on a whim, just doing a small area first and liked it so much I just kept going. One great thing I did was similar to dry brush over the bags directly with eggshell and it gave a great look. In the entry way, I painted it eggshell and very lightly sponged a tiny glitter glue to it. People ask where I got such gorgeous wallpaper. It looks like top of the line embellished rice paper. (02/23/2005)
By klucretia
Brown Paper Bag Wall Treatment
I used this in our entry way of our 53 year old farm house that we are remodeling. I was unsure at first. But my husband wanted something that was a little rustic and more "manly", so... they were pulling the roof off to be reshingled.

Here came my husband with a magazine in hand, Life magazine 1953! They had been on that roof as insulation for God only knows how long. So I salvaged about 4 or 5 of them, as fragile as they were, and took about 50 various pages and did the same, applying them to the left entry wall, that leads to the downstairs. (bi-level home). It is quite amazing I might add. When you stand at the bottom of my stair way and look up. I am original! No one else has an entry way like this. Be creative, be original. I don't want to be like the Jones. (04/13/2005)
By Melissa
Brown Paper Bag Wall Treatment
My mother and I, about 3 1/2 years ago, just 6 months prior to her death at age 60 from a second battle with lung cancer, anyhow, she wanted change in a small hallway/storage area and saw this technique on some TV show. The only difference from reading all your postings is one and an easy one to try, too. Do all the same with the paper, tear by hand, no scissors, no straight edges, let the paper "fray" if it will, leaving a nice kind of fuzzy around the edges, and then the difference.

The show she recorded had all the instructions very explicitly shown and it had you, rather than wall paper paste or mod podge or whatever, it had you using polyurethane of your choice in high gloss to satin. It didn't recommend flat though. Is was the latex fast drying poly. "Not" oil, latex, water based poly.
Crumple your paper and dip into the poly and kind of squeeze/squish it to absorb some of the poly which being latex will at this point look like skim or 2% milk colorwise. It most assuredly dries perfectly clear with not a hint of oil based poly yellow tint. Next remove paper out of the poly and squeeze most of the excess out leaving only enough to allow the paper to slip and slide easily so you have a few minutes to shift it around for the best look/location for the piece. Gently smooth out to your taste at this point, we smoothed heavily and didn't leave a lot of wrinkles. I think this was helped by dipping into and squeezing in the poly so it actually absorbs into the paper fibers. You can do lots of smoothing like we did or I would imagine leaving mostly wrinkles would look great, too. But I just wanted to through my 2 cents into the hat too, hope any of this helps someone out. (01/22/2006)
By Ken K
Update: Brown Paper Bag Wall Treatment
Finished brown paper bag wall treatment.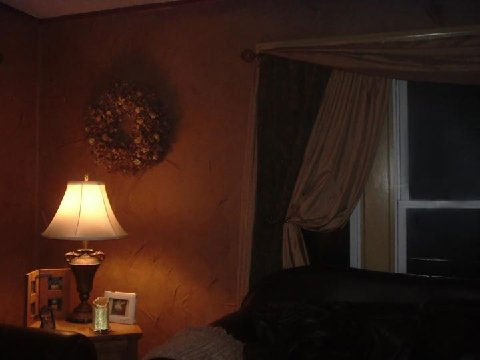 When I did the living room with the brown paper bag wall treatment I was on a roll.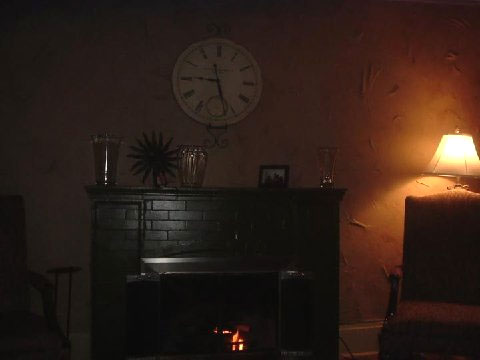 There was this wrapping paper with a leaf print on it and the back was just plain brown so I did the foyer with that. This is the picture. It's kinda busy, but much better then the terrible green, huge flower stuff we had in there when we purchased this old farmhouse that was built before 1836.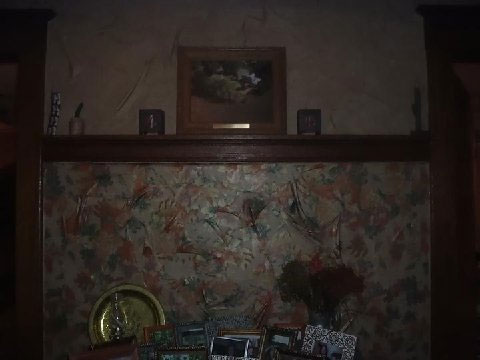 I just used the same things as I used with the brown paper bag wall treatment.

Tracey

<Feedback:</font>
Brown Paper Bag Wallpaper
I have done this many times, I recently put it on my cement basement walls. I use brown bags, tear them and wrinkle the pieces up to make texture. Use regular wallpaper paste, that you mix with water, and stick them on the wall. To make it look more like leather put wax shoe polish on it. When you want to take it off again spray the wall with water let it sit awhile and pull off.
(01/31/2005)

By Monita
Brown Paper Bag Wallpaper
I did this also and used mod podge the pasty stuff. I actually painted mine, when done with a goldish metallic paint and it came out good. It had a really antiqued look. (02/04/2005)

By Kim
Brown Paper Bag Wallpaper
I did this in my son's room at Sherwin Williams they called it animal hide. I put wall paper paste on then glued on tissue paper, it worked really well and was easy to crinkle up on the glue. It was extremely easy and turned out nice. I just can't stand anything on my hands and of course with it being thin some of the glue oozes through while pressing it on. (02/06/2005)

By Vickie B
Brown Craft Paper
Instead of paper bags, try going to your local home improvement store and buying a roll of brown craft paper. It is a lot easier than the bags. (08/02/2005)

By LeNelle
Change Colors
If you would like a different color then brown, you can dye your brown paper with Rit dye. After you tear it to size, wad it up and drop it into the dye. Hot dye will give you a dark color, cold dye will give you lighter color. Everything else is the same process. (01/08/2006)

By Popi
(09/24/2006)
By lewis_admin
Brown Paper Bag Wall Treatment
I did ours with Mod Podge, first pasting the wall, then applying the crumpled paper and then pasting immediately over top, and overlapping a new piece with the same technique. I used smaller pieces and it has the effect of a patchwork leather look. Some pieces are darker and others lighter. It took a long time to do, and I liked the wrinkles. I am still contemplating a colour for it, I'm thinking of trying a orangey brown, and then ragging on an antiquing brown, followed by a copper leaf metallic.

I will post the results if I follow through. This project and my pickiness took about an hour a 4 ft sq, but I'm slow and steady. The nice thing about this project is that if you noticed you missed a spot, you can just cover it up. It was a nice, warm, think rugged rustic look, and although it took me a week to do, between doing other chores in the country, the end result is very pleasing. Much nicer than a boring drywall eggshell coloured wall.

Our house is a style of antique, eclectic, rustic, country theme and this just seemed to warm up the space. It's a project that starts off a little touch and go, you wonder, hmm, what did I get myself into, but when it's done, it really grows on you and I'm sure it would just come right off with little effort. So I say, why not try it, it can't hurt and it's a nice change. Here is the before. (07/07/2007)

By Butterfliesandsunshine - Nolalu, Ontario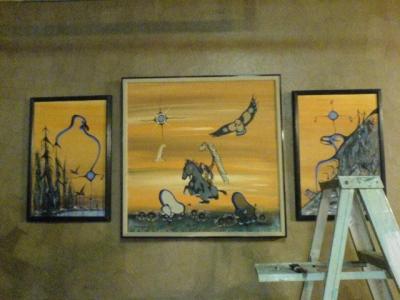 Brown Paper Bag Wall Treatment
Here is the after. I think if I try this again, I will do it in the larger dinner plate sizes, that other people have mentioned. Experimenting is a lot of the fun, it just getting up and going, getting the courage and motivation to try something new, that hold us back. Live! Play! Have fun! (07/07/2007)

By Butterfliesandsunshine - Nolalu, Ontario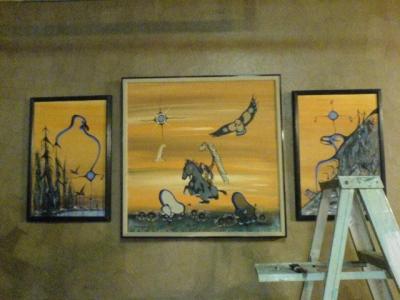 Brown Paper Bag Wall Treatment
Noticed the before pic didn't upload, so here it is, along with a side picture that shows the texture better. (07/07/2007)

By Butterfliesandsunshine - Nolalu, Ontario
Brown Paper Bag Wall Treatment
(07/07/2007)

By Butterfliesandsunshine - Nolalu, Ontario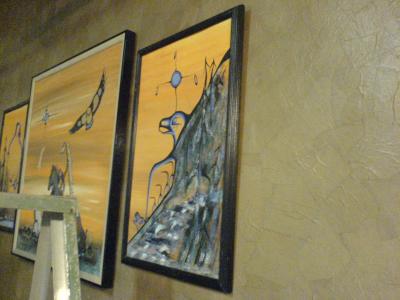 Brown Paper Bag Wall Treatment
Though I am still in the process of completing a similar technique to the master bedroom of our home, here is a before and during shot. There is still much to do and things to change, so I
won't call it an "after" shot, but this gives you an idea.
wuvie (08/10/2007)

By WUVIE
Brown Paper Bag Wall Treatment
For a shiny finish and something that will last, use our Drawtite Clear no-run low odor water base dries in 5-10 minutes. Varnish is too stinky and shoe polish wax dries out the paper. By using Drawtite, you can also add acrylic tint for a more heightened look. See my web: scotchpaint.com (07/24/2008)

By Felicia/Scotch Paint